Nuevo punto de encuentro para Mamás en Pensacola y La Costa!
Por Kairym Lisch
Mamás Colectivas de Pensacola es una plataforma creada para proveer recursos e información a familias locales. Su propósito es conectar a las MADRES del área  y comunicar  detalles actuales sobre eventos, negocios y temas pertinentes e interés. Sus fundadoras son Jane Mcmahon Lauter (Nacida y criada en Pensacola)  y Jen Kinsella (Recientemente trasladada a NAS Pensacola) que no solo llevan una vida de Mamá ajetreada, como todas nosotras, sino que dedican todo su tiempo libre a trabajar de voluntarias en distintas entidades locales además de cumplir con sus deberes profesionales.
Yo tengo el honor de ser la primera latina en contribuir a esta página para compartir experiencias y recetas de cocina casera mayormente enfocadas en comida latina.
He tenido la oportunidad de conversar con estas magníficas mujeres (virtualmente) sobre la creación de Madres Colectivas de Pensacola y discutir su importancia en la costa. Subscribase a www.pensacolamomcollective.com ya que tendrán publicaciones diarias útiles e interesantes.
¿Qué las inspiró a crear Pensacola Mom Collective?
Queríamos encontrar una conexión más profunda, recursos e inclusividad brindando una plataforma para que todas pudieran compartir sus historias y experiencias. Desde un principio queríamos convertirnos en un lugar donde las mamás son celebradas, amadas, apoyadas y empoderadas. Este tema se ha convertido de suma importancia durante la lucha este año contra el COVID-19 e aprendizaje virtual.
¿Cómo se beneficia la comunidad Latina del Golfo?
Estamos creando un espacio donde TODA madre puede aprender la una de la otra. Las personas que tienen una trayectoria o un origen étnico distinto son cruciales para nuestra comunidad mientras tratamos de criar niños generosos y compasivos.
Además, vemos nuestra afiliación con Studer Family Children's Hospital como una herramienta importantísima para educar a las mamás y familias sobre los servicios pediátricos y sus especialidades que afortunadamente le proveen a la población local.
¿Existe la posibilidad de recrear esta página traducida al español?
Estamos trabajando en traducir algunos de nuestros artículos y creando un espacio exclusivo para publicaciones en español en nuestra página web www.pensacolamomcollective.com . Nuestra meta es tenerla disponible para comienzos del 2021.
Algunas palabras para nuestras lectoras, madres latinas?
¡Las invitamos a contribuir a nuestra página! Pueden enviarnos su "historia" a través de nuestra página https//pensacola.momcollective.com/guest-post-submission/ o por correo electrónico a info@pensacolamomcollective.com
También tenemos unos eventos donde podemos conocernos y conectar con otras mamás locales. "Mix and Mingle with Pensacola Mom Collective" el martes 8 de diciembre a las 9am en el Bodacious Cafe.
Para más información, conéctese con nosotras en Facebook, Instagram, Pinterest y Twitter o por email al info@pensacolamomcollective.com.
Connecting all Mom's in Pensacola and the Coast!
By Kairym Lisch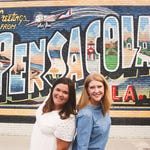 Pensacola Mom Collective is a platform that was created to provide resources and information to local families. Its goal is to connect MOMS in our area and share details on events, businesses, and relevant topics of interest. The founders of this very much needed forum are Jane McMahon Lauter (Pensacola native) and Jen Kinsella (brought to Pensacola by the Navy) who live a hectic MOM life while dedicating most of their time to volunteering at local charities and balancing their careers. You can learn more about these wonderful women and all things "MOM'S of Pensacola" at www.pensacolamomcollective.com .
I am honored to be the first Latina to contribute to this wonderful website and display my home cooking experiences and recipes mostly focused on Latin food.
I've had the opportunity to sit down (virtually) with these brilliant women to talk about Pensacola Mom Collective and its importance in our daily life on the coast. Make www.pensacolamomcollective.com your main webpage so you can enjoy useful and interesting daily topics!
What was your inspiration in creating Pensacola Mom Collective?
We wanted to find deeper connections, resources and inclusivity with all moms by sharing stories that help us feel connected to one another. From the very beginning, we have envisioned a community where all moms are celebrated, loved, supported and empowered. This has become increasingly important as we have all struggled this year during COVID-19 (and e-learning!).
How will the Latin community benefit in our area?
Creating a space where ALL moms can connect and learn from one another, especially those from diverse backgrounds and ethnicities, is incredibly important for our community at-large as we raise our children to be kind and compassionate individuals.
In addition, we see our partnership with Studer Family Children's Hospital as a tremendous asset in educating area moms and families about the pediatric health services and specialties that we are fortunate to have right here in Pensacola.
Does the possibility exist of creating a translated version of this page in Spanish? 
We are working on translating some of our articles into Spanish and creating a dedicated Espanol area on the Pensacola Mom Collective website for those articles. Our goal is to have that available in early 2021.
Any words for our latina mom readers?
We welcome guest contributors at any time. So if you have a story or perspective to share, just submit it through our website (https://pensacola.momcollective.com/guest-post-submission/) or email it to us at info@pensacolamomcollective.com.
Also, come meet our team in person! We have two upcoming events – "Mix and Mingle with Pensacola Mom Collective" – in downtown Pensacola Tuesday, December 8th at 9am at Bodacious. More information can be found on our Facebook page under "Events"
For more information, connect with us on Facebook, Instagram, Pinterest and Twitter or by email at info@pensacolamomcollective.com. 
[adrotate group="1"]