Haas Center desarrolla un tablero en línea con indicadores económicos en Escambia y los condados circundantes
PENSACOLA, Fla. – El Centro Haas de la Universidad de West Florida ha desarrollado un panel de indicadores de mercado en línea que proporciona una navegación fácil, rápida y sencilla para ver las estadísticas de condado a condado. El tablero incluye secciones para tasas de turismo, transacciones de bienes raíces, tasas de empleo / desempleo y recaudaciones de impuestos y ventas en los condados del noroeste de Florida y el sur de Alabama.
El tablero utiliza gráficos de líneas, gráficos de barras y números para examinar los cambios mensuales y anuales, y permite al usuario filtrar por año o seleccionar un condado para un examen más detallado de cada figura individual. Desarrollado a principios de este año, es actualizado principalmente por estudiantes. Las estadísticas se recopilan de varias fuentes oficiales, incluido el Departamento de Oportunidades Económicas de Florida, el Departamento de Trabajo de Alabama, los sitios web de los aeropuertos, el Departamento de Ingresos de Florida y Metro Market Trends Inc. Los usuarios pueden descargar o compartir gráficos y tablas.
Es el único tablero que examina todo el noroeste de Florida en busca de cifras de fabricación. La página más vista en el tablero ha sido el total de pasajeros del tráfico aéreo regional por mes, año y aeropuerto. El indicador muestra una fuerte disminución de pasajeros en 2020, ya que COVID-19 obligó a una abrumadora cantidad de viajeros de aerolíneas a cancelar o posponer sus planes.
Para obtener más información sobre el panel de indicadores de mercado de Haas Center, visite uwf.edu/dashboarddata.
Haas Center develops online dashboard with economic indicators in Escambia and surrounding counties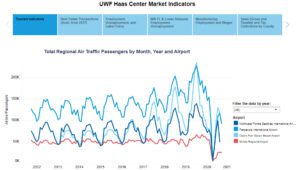 PENSACOLA, Fla. – The Haas Center at the University of West Florida has developed an online market indicators dashboard that provides easy, quick and simple navigation for a look at county-by-county statistics. The dashboard includes tabs for tourism rates, real estate transactions, employment/unemployment rates and sales and tax collections in Northwest Florida and South Alabama counties.
The dashboard uses line graphs, bar charts and numbers to examine monthly and yearly changes, and allows the user to filter by year or select a county for a closer examination into each individual figure. Developed earlier this year, it is updated primarily by students. Statistics are gathered from multiple official sources including the Florida Department of Economic Opportunity, Alabama Department of Labor, airport websites, Florida Department of Revenue and Metro Market Trends Inc. Users can download or share graphs and charts.
It is the only dashboard that examines all of Northwest Florida for manufacturing figures. The most viewed page on the dashboard has been total regional air traffic passengers by month, year and airport. The indicator displays a steep decline in passengers in 2020, as COVID-19 forced an overwhelming number of airline travelers to cancel or postpone their plans.
For more information about the Haas Center's market indicators dashboard, visit uwf.edu/dashboarddata.
[adrotate group="1"]