Minnesota Twins anuncian al personal técnico de Pensacola Blue Wahoos 2020
PENSACOLA, Fla. – Los Minnesota Twins anunciaron a su nuevo personal de entrenadores de las ligas menores Doble A para la temporada 2020 este viernes, trayendo un nuevo equipo de trabajo a Pensacola con una cara familiar al mando. El gerente de los Blue Wahoos de 2019, Ramón Borrego, regresará para liderar a los Blue Wahoos en 2020 después de llevar al equipo a los playoffs de la Liga del Sur con un final de 76-63 la temporada pasada.
Borrego estará rodeado por un personal de apoyo en su mayoría nuevo para este 2020. Ryan Smith se unirá a los Blue Wahoos quien es afiliado del nivel A de los Twins, los Cedar Rapids Kernels, para servir como entrenador de bateo. Pensacola nuevamente empleará a dos entrenadores de lanzamiento con Luis Ramírez y Nat Ballenberg uniéndose a los Blue Wahoos de High-A Fort Myers. El ex-entrenador asistente de béisbol de Quinnipiac, Joe Mangiameli, servirá como entrenador de Pensacola. Travis Koon regresa como entrenador de fuerza y acondicionamiento de Pensacola, mientras que Chris McNeely, ex miembro de la organización Dodgers de Los Ángeles, se convierte en el entrenador atlético del equipo.
Ramón Borrego ha entrenado en la organización de los Twins durante 15 temporadas, incluyendo 11 como gerente. Después de llegar a la Triple-A en una carrera de siete temporadas con los Twins, Borrego se convirtió en entrenador en su natal Venezuela durante cuatro temporadas con el afiliado de los Twins en la Liga de Verano de Venezuela. En 2009, fue ascendido a gerente del equipo de la Liga Dominicana de Verano de los Twins antes de ascender para administrar a los Twins de la Liga de la Costa del Golfo (Rookie) de 2010 a 2017. En 2018, fue ascendido a High-A, llevando al equipo Fort Myers Miracle al título de la Florida State League. En su primera temporada en el nivel de Doble A en 2019, llevó a los Blue Wahoos a los playoffs de la Liga del Sur y graduó a ocho jugadores de la lista del equipo a las Grandes Ligas.
Ryan Smith se une a los Blue Wahoos como entrenador de bateo quien llega de hacer parte de los Cedar Rapids Kernels, equipo afiliado de los Twins. Con Smith entrenando bateadores en 2019, los Kernels terminaron segundos en la Liga del Medio Oeste en jonrones y calificaron para los playoffs con un récord de 78-62. Jugó de manera colegiada en el College of Central Florida y en Valdosta State University, y pasó tres temporadas como entrenador en Central Florida antes de unirse a la organización Twins en 2019.
Un par de entrenadores de lanzamiento suben de High-A Fort Myers a Pensacola en 2019: Luis Ramírez y Nat Ballenberg.
Ramírez pasó cuatro temporadas como entrenador de lanzadores con la afiliada de nivel novato de los Twins Elizabethton antes de ser promovido a Fort Myers en 2019. Bajo su tutela, el personal de lanzadores de Fort Myers registró una efectividad de equipo de 3.11 durante la temporada, el segundo mejor en la Florida State League y lideró la liga con 1,188 lanzamientos. Antes de su carrera como entrenador Ramírez jugó profesionalmente durante 14 temporadas en los Estados Unidos, Venezuela, Colombia y Taiwán.
Ballenberg se unió a los Twins durante la temporada 2019, ayudando al cuerpo técnico de Fort Myers con la evaluación del rendimiento y la capacitación para mejorar el desarrollo del jugador. Pasó nueve temporadas como entrenador en el Haverford College antes de unirse a la organización Twins. Tiene una licenciatura en economía de Haverford College y una maestría en liderazgo deportivo de la Northeastern University.
Mangiameli ingresa a su primera temporada de entrenamiento profesional en 2020 con los Blue Wahoos después de pasar el 2019 con el béisbol de la Universidad de Quinnipiac y las tres temporadas anteriores con la Eastern Connecticut State University. Graduado en 2016 de la Southern New Hampshire con un título en Gestión Deportiva, Mangiameli jugó colegiadamente para el SNHU Penman.
El personal de entrenamiento de Blue Wahoos contará con en el entrenador de fuerza Travis Koon, quien ya hacía parte del personal en 2019, y el entrenador de atletismo Chris McNeely, quien se une a la organización de los Twins después de cuatro temporadas como entrenador de ligas menores de Los Angeles Dodgers.
Los Blue Wahoos abrirán la temporada 2020 el viernes 9 de abril en casa contra los Tennessee Smokies. Los boletos de temporada y los mini planes para la temporada 2020 ya están a la venta en BlueWahoos.com y en la taquilla del estadio Blue Wahoos.
Minnesota Twins Announce 2020 Pensacola Blue Wahoos Coaching Staff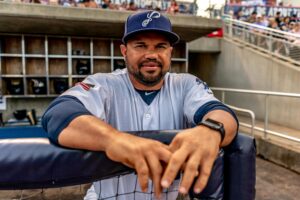 PENSACOLA, Fla. – The Minnesota Twins announced their Double-A minor league coaching staff assignments for the 2020 season on Friday, bringing a new-look staff to Pensacola with a familiar face at the helm. 2019 Blue Wahoos manager Ramon Borrego will return to lead the Blue Wahoos in 2020 after taking the team to the Southern League playoffs with a 76-63 finish last season.
Borrego will be surrounded by an almost entirely new support staff in 2020. Ryan Smith will join the Blue Wahoos from the Twins level A affiliate, the Cedar Rapids Kernels, to serve as hitting coach. Pensacola will once again employ two pitching coaches with both Luis Ramirez and Nat Ballenberg joining the Blue Wahoos from High-A Fort Myers. Former Quinnipiac baseball assistant coach Joe Mangiameli will serve as a coach for Pensacola. Travis Koon returns as Pensacola's strength and conditioning coach while Chris McNeely, formerly of the Los Angeles Dodgers organization, becomes the team's athletic trainer.
Ramon Borrego has coached in the Twins organization for 15 seasons, including 11 as a manager. After reaching Triple-A in a seven-season playing career with the Twins, Borrego became a coach in his native Venezuela for four seasons with the Twins affiliate in the Venezuelan Summer League. In 2009, he was promoted to manager of the Twins Dominican Summer League team before moving up to manage the Gulf Coast League (Rookie) Twins from 2010 through 2017. In 2018, he was promoted to High-A, leading the Fort Myers Miracle to the Florida State League title. In his first season at the Double-A level in 2019, he took the Blue Wahoos to the Southern League playoffs and graduated eight players from the team's roster to the Major Leagues.
Ryan Smith joins the Blue Wahoos as hitting coach from the Cedar Rapids Kernels, the Twins A-affiliate. With Smith coaching hitters in 2019, the Kernels finished second in the Midwest League in home runs and qualified for the playoffs with a 78-62 record. He played collegiately at the College of Central Florida and Valdosta State University and spent three seasons as a coach at Central Florida before joining the Twins organization in 2019.
A pair of pitching coaches move up from High-A Fort Myers to Pensacola in 2019: Luis Ramirez and Nat Ballenberg.
Ramirez spent four seasons as a pitching coach with the Twins rookie level affiliate Elizabethton before being promoted to Fort Myers in 2019. Under his tutelage, the Fort Myers pitching staff posted a 3.11 team ERA during the season, second best in the Florida State League and led the league with 1,188 strikeouts.  Prior to his coaching career, he played professionally for 14 seasons in the United States, Venezuela, Colombia and Taiwan.
Ballenberg joined the Twins during the 2019 season, assisting the Fort Myers coaching staff with performance evaluation and training to enhance player development. He spent nine seasons as a coach at Haverford College before joining the Twins organization. He holds a degree in economics from Haverford College and a Masters in Sports Leadership from Northeastern University.
Mangiameli enters his first season of coaching professionally in 2020 with the Blue Wahoos after spending 2019 with Quinnipiac University baseball and the three previous seasons with Eastern Connecticut State University. A 2016 graduate from Southern New Hampshire University with a degree in Sport Management, Mangiameli played collegiately for the SNHU Penman.
The Blue Wahoos training staff will consist of strength coach Travis Koon, a returnee from the 2019 staff, and athletic trainer Chris McNeely, who joins the Twins organization following four seasons as a coach with the Los Angeles Dodgers minor league system.
The Blue Wahoos will open the 2020 season on Friday, April 9th at home against the Tennessee Smokies. Season Tickets and Mini Plans for the 2020 season are on-sale now at BlueWahoos.com and at the box office at Blue Wahoos Stadium.
[adrotate group="1"]