La Coalición de Alabama por la Justicia de los Inmigrantes presenta a su nueva directora ejecutiva
BIRMINGHAM, Ala. – La Coalición de Alabama por la Justicia de los Inmigrantes (ACIJ) se complace en dar la bienvenida a Ana Delia Espino como su nueva Directora Ejecutiva. Ana Delia posee una amplia experiencia en organización comunitaria, desarrollo de liderazgo, derechos de los inmigrantes y abogacía que contribuirá a ampliar el trabajo de la organización.
Ana Delia ha sido parte del Concilio de Líderes de ACIJ durante 4 años, y se desempeñó como Presidenta de nuestra Mesa Directiva en 2019. Es nativa de Nuevo México y mexicoamericana de primera generación. Criada en el sur de California, vio el crecimiento de la comunidad mexicana en esta región y cómo luchó y floreció en su nuevo hogar. Su pasión por la defensa y los derechos de los inmigrantes creció con la Propuesta 187 (Iniciativa Estatal Anti-inmigrante) de California. Se mudó a Alabama en 2001 y trabajó como defensora de adultos con discapacidades en el Arc de Jefferson County. Ella se une a nosotros después de 5 años en ¡HICA!, donde trabajó como Gerente del Programa Empoderamiento de las Comunidades.
Ana Delia ha recibido capacitación de la Midwest Academy, Movement Matters y se graduó del Programa de Desarrollo de Liderazgo; ella también sirve en la mesa directiva de Alabama Arise. Sus antecedentes y experiencia laboral han contribuido a su dedicación a la justicia de los inmigrantes, y liderará nuestra coalición en la búsqueda de nuestra misión de amplificar las voces y las contribuciones de los inmigrantes en Alabama.
Ana Delia Espino puede ser contactada en anadelia@acij.net.
The Alabama Coalition for Immigrant Justice presents the new executive director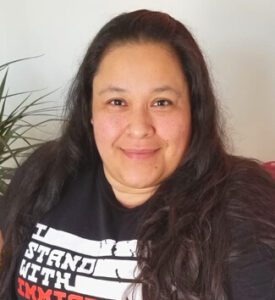 BIRMINGHAM, Ala. – The Alabama Coalition for Immigrant Justice (ACIJ) is pleased to welcome Ana Delia Espino as the new Executive Director. Ana Delia possesses an extensive background in community organizing, grassroots leadership development, immigrant rights, and advocacy that will expand the organization's work.  She has been a part of ACIJ's Leadership Council for 4 years, and she served as our Board President in 2019.
Ana Delia is a native of New Mexico and a first-generation Mexican American. Raised in southern California, she saw the influx of the Mexican community and how they invested, struggled, and flourished in their new home. Her passion for advocacy and immigrant rights grew with California's Prop 187 (Anti-Immigrant State Initiative). She moved to Alabama in 2001 and worked as an advocate for adults with disabilities with the Arc of Jefferson County. She joins us after 5 years at ¡HICA!, where she worked as the Program Manager for their Empowering Communities Program.
Ana Delia has received training from the Midwest Academy, Movement Matters, and graduated from the Grassroots Leadership Development Program; she also serves on the board of Alabama Arise. Her background and work experience have contributed to her dedication to immigrant justice, and she will lead our coalition in pursuing our mission to amplify the voices and contributions of immigrants in Alabama.
Ana Delia can be reached at anadelia@acij.net
[adrotate group="1"]