La Asamblea de los testigos de Jehová del 2018
¡SEA VALIENTE! Es el tema de la Asamblea de los testigos de Jehová de 2018 que se celebrará este mes en el Mitchell Center de la Universidad de South Alabama, Mobile Alabama. La fecha para el programa en español es el 6 al 8 de julio, 2018. Se espera unos tres mil en asistencia. Las sesiones en inglés fueron una semana antes, el 29 de junio al 1 de julio 2018.
Queremos invitar al público a la asamblea de tres días de los testigos de Jehová.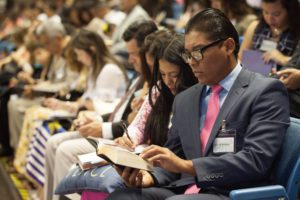 LO MÁS DESTACADO
Discursos y entrevistas. Se darán consejos sobre cómo enfrentar con valor los desafíos presentes y futuros.
Presentaciones multimedia. Podrá ver lecciones de valentía en historias de la vida real e incluso en ejemplos del mundo animal. Se usaran pantallas de 16 pies por 10 pies para sus presentaciones de videos y películas.
Discurso público. ¿Por qué le dijo Jesús "no temas" a un padre que había perdido a su hija en la muerte? (Marcos 5:36). Se dará la respuesta en el discurso bíblico del domingo por la mañana titulado: "La esperanza de la resurrección nos da valor."
Película. ¿Por qué tuvo miedo Jonás y huyó para no cumplir su comisión? Lo verá el domingo por la tarde.
Todo el mundo puede asistir. La entrada es gratuita y no se harán colectas de ningún tipo. Para mas información, llame Benton Block a 985-237-0968.
2018 Convention of Jehovah's Witnesses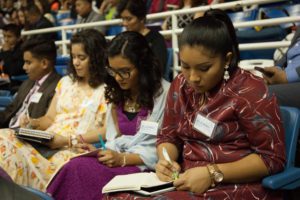 "Be Courageous" is the theme of the Regional Conventions of Jehovah's witnesses this summer in Mobile AL, also held in hundreds of other locations globally. The Mitchell Center on the USA campus will be held in Spanish on July 6 – 8, 2018 with about three thousand in attendance. The English sessions were a week prior, June 29 – July 1 2018.
HIGHLIGHTS
Talks and Interviews: Learn practical ways to face present and future challenges with courage.
Multimedia: Observe what real people—and even five animals—can teach us about courage. Large video walls about 16 feet by 10 feet are used to display these video and movie presentations.
Public Bible Discourse: Find out why Jesus told a grieving father: "Have no fear." (Mark 5:36) Listen to the Bible-based talk to be presented on Sunday morning with the theme "The Resurrection Hope Imparts Courage—How?"
Feature Film: On Sunday afternoon, see why Jonah feared his assignment and ran away.
Everyone is invited. No admission will be charged and no collection will be taken. For more information contact Benton Block at 985-237-0968.
[adrotate group="1"]