Equipos de Gulf Power honrados por asistencia en Puerto Rico
El Edison Electric Institute presentó a Gulf Power el premio especial de asistencia de emergencia 2018 de la asociación para Puerto Rico Power Restoration, que reconoce sus contribuciones a la misión sin precedentes de restauración de energía de emergencia en la isla después del huracán María.
El devastador huracán de categoría 4 tocó tierra en Puerto Rico el 20 de septiembre del 2017, afectando a toda la infraestructura ceitica, dañando al menos el 80 por ciento de la red energética de la isla y dejando a todos los residentes de la isla sin electricidad.
"Nuestros trabajadores de línea, ingenieros, jefes de equipo y personal de apoyo que viajaron a Puerto Rico demostraron grandes esfuerzos para ayudar con la restauración en Puerto Rico," dijo Adrianne Collins, vicepresidenta de Power Delivery de Gulf Power. "Estuvieron lejos de sus familias por mucho más tiempo que un viaje normal de tormenta y, sin embargo, nunca flaquearon por su compromiso con la seguridad y la dedicación para restaurar la electricidad y la esperanza para los residentes."
Gulf Power se unió a sus compañías hermanas en Southern Company, que se encontraban entre casi 60 compañías eléctricas de propiedad de inversionistas y empresas eléctricas públicas que comprometieron personal, equipos y/o materiales para la misión de restauración de energía de emergencia. En general, aproximadamente 3,000 trabajadores de línea de la industria y personal de apoyo participaron en el esfuerzo de restauración en la isla.
Un equipo de tormenta de Gulf Power partió hacia Puerto Rico a fines de enero y trabajó 60 días; otro equipo lo siguió en marzo y trabajó durante 21 días. Además, varios líderes de equipos, ingenieros y empleados de seguridad y IT participaron en el esfuerzo.
Los equipos de tormentas enfrentaron trabajos de restauración y complejos porque grandes porciones de la red de energía de Puerto Rico se encuentran en terrenos escarpados y montañosos que tienen poco o ningún acceso por carretera. Llevar tripulaciones y equipos a Puerto Rico también fue mucho más complicado y requirió más tiempo que el despliegue de asistencia mutua en el continente, y requirió una extensa coordinación entre las compañías que respondieron.
Si bien aún queda mucho trabajo por hacer, la Puerto Rico Electric Power Authority anunció el 22 de mayo que la electricidad había sido restaurada al 99 por ciento de sus clientes en toda la isla y que pueden recibir electricidad. Este es un hito importante alcanzado por la PREPA y sus socios de restauración, incluidos FEMA, el Cuerpo de Ingenieros del Ejército de EE. UU. Y sus contratistas, y equipos de asistencia mutua de la industria. Los recursos, equipos y personas enviadas desde tierra firme aceleraron en gran medida el proceso de restauración
"El esfuerzo para restaurar la electricidad en Puerto Rico fue una misión masiva y sin precedentes, y las compañías eléctricas de todo el país, incluido Gulf Power, respondieron a la llamada de ayuda," dijo el presidente de EEI, Tom Kuhn. "La industria de la energía eléctrica se unió con un objetivo en mente, restaurar la electricidad para la gente de Puerto Rico: realmente era un equipo, una misión. Gulf Power merece este reconocimiento por brindar un tremendo apoyo a PREPA y a nuestros conciudadanos en Puerto Rico."
Gulf Power crews honored for assistance in Puerto Rico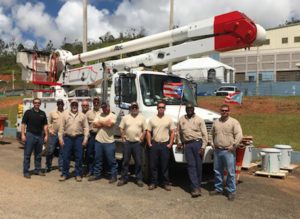 The Edison Electric Institute presented Gulf Power with the association's special 2018 Emergency Assistance Award for Puerto Rico Power Restoration recognizing its contributions to the unprecedented emergency power restoration mission on the island following Hurricane Maria.
The devastating Category 4 hurricane made landfall in Puerto Rico on September 20, 2017, impacting all critical infrastructure, damaging at least 80 percent of the island's energy grid, and leaving all island residents without power.
"Our lineworkers, engineers, team leaders and support staff who went to Puerto Rico demonstrated great efforts in assisting with restoration in Puerto Rico," said Adrianne Collins, Gulf Power's vice president of Power Delivery. "They were away from their families much longer than a normal storm trip and yet never wavered from their commitment to safety and dedication to restoring power and hope to the residents."
Gulf Power joined its sister companies in Southern Company, which were among nearly 60 investor-owned electric companies and public power utilities that committed crews, equipment and/or materials to the emergency power restoration mission. Overall, approximately 3,000 industry lineworkers and support personnel were involved in the restoration effort on the island.
One Gulf Power storm team left for Puerto Rico in late January and worked 60 days; another team followed in March and worked for 21 days. Also, several team leaders, engineers and safety and IT employees took part in the effort.
The storm teams faced challenging and complex restoration work because extensive portions of Puerto Rico's energy grid are in rugged, mountainous terrain that has little or no road access. Getting crews and equipment to Puerto Rico was also much more complicated and time-intensive than deploying mutual assistance in the mainland, and it required extensive coordination among responding companies.
While there is still much work to do, the Puerto Rico Electric Power Authority announced on May 22 that power had been restored to 99 percent of its customers across the island who can receive electricity. This is a significant milestone that was reached by PREPA and its restoration partners, including FEMA, the U.S. Army Corps of Engineers and its contractors, and industry mutual assistance crews. The resources, equipment, and people sent from the mainland, greatly accelerated the restoration process.
"The power restoration effort in Puerto Rico was a massive and unprecedented mission, and electric companies from across the country, including Gulf Power, responded to the call for help," said EEI President Tom Kuhn. "The electric power industry pulled together with one goal in mind, to restore power to the people of Puerto Rico — it truly was one team, one mission. Gulf Power is deserving of this recognition for providing tremendous support to PREPA and our fellow citizens in Puerto Rico."
[adrotate group="1"]