Hombre arrestado por posesión de drogas en Freeport
Por Maria Juliana Ayala
FREEPORT, Fla— Según informe de la Oficina del Sheriff del Condado de Walton (WCSO), un hombre fue arrestado por posesión de cocaína durante una parada de tráfico de rutina el lunes 27 de enero cuando un oficial de K-9 dio alerta de narcóticos ilegales en el vehículo.
Durante la búsqueda, se encontraron 14 bolsas individuales que contenían cocaína dentro de una botella de pastillas. El informe dice que el sospechoso llevaba 8,6 gramos de cocaína, $2.659 en efectivo y bolsas adicionales que coinciden con las que se usaron para empacar la droga.
El hombre de 34 años fue arrestado por posesión de cocaína con la intención de distribución y violación de la licencia de conducción. El WSCO reporta que el sospechoso puede recibir cargos adicionales.
Man arrested for drug possesion in Freeport
By Maria Juliana Ayala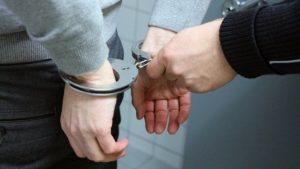 FREEPORT, Fla— According to a Walton County Sheriff's Office (WCSO) report, a man was arrested for possession of cocaine during a routine traffic stop on Mon., Jan 27 when a K-9 officer alerted the deputy of illegal narcotics in the vehicle.
During the search, 14 individual bags containing cocaine were found inside a pill bottle. The report says the suspect was carrying 8.6 grams of cocaine, $2.659 in cash and additional bags that match those that had been used to pack the drug.
The 34-year-old man was arrested for possession of cocaine with the intent to distribute and a driver's license violation. The WSCO report additional charges may be filed.  
[adrotate group="1"]