Hombre Arrestado en Relacion a Agresion Sexual de 2019
DESTIN, Fla. – La Oficina del Sheriff del Condado de Okaloosa dijo que arrestaron a Alesi Castillo de Fort Walton Beach en relación a una agresión sexual y agresión agravada.
El informe de la oficina del sheriff dice que acusaron al hombre de 31 años, , quien también usa el nombre "Michael," de agresión agravada que causó daños corporales y agresión sexual con fuerza.
Según el informe, la víctima dijo que conoció a un empleado de un quiosco llamado "Michael" en el Emerald Grand en agosto de 2019. Dijo que le dio bebidas verdes que ella no sabía que contenían alcohol hasta que comenzó a sentirse embriagada.
La víctima informó que se había ido con "Michael" creyendo que la estaba llevando a su hotel, pero en lugar de eso la llevo al otro lado de la calle hacia un parque en el Calhoun Ave. Luego, "cuando ella negó haber querido tener sexo con él, él la agarró por el cuello y también la puso en una llave de cabeza antes de atacarla," dice el informe. La víctima sufrió una sangrienta contusión en la nariz y la frente, mordió y rascó al hombre y luego huyó de la escena.
La víctima eligió a Castillo de una colección de fotos.
Castillo negó ser responsable. Los investigadores encontraron rasguños y otras pruebas sospechosas del asalto de del Castillo a la persona.
Man arrested in Connection with 2019 sexual assault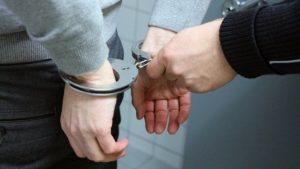 DESTIN, Fla. – The Okaloosa County Sheriff's Office said they have arrested Alesi Castillo of Fort Walton Beach in connection with a sexual assault and aggravated battery.
The sheriff's office report says they charged the 31-year old, who also goes by the name "Michael", with aggravated battery causing bodily harm and sexual assault with force.
According to the report, the victim said she met an employee of a kiosk named "Michael" at the Emerald Grand in August 2019. She said he gave her green slushy drinks which she was unaware contained alcohol until she began feeling intoxicated.
The victim reported leaving with "Michael" believing he was walking her to her hotel, but instead he led her across the street to a park on Calhoun Avenue. Then, "When she denied wanting to have sex with him, he grabbed her by the throat and also put her in a headlock before assaulting her," the report says. The victim suffered a bloody nose and forehead bruising, and bit and scratched the man then fled the scene.
The victim picked Castillo out of a collection of photos.
Castillo has denied being responsible. Investigators found scratches and other suspected evidence of the assault on Castillo's person.
[adrotate group="1"]