Estafadores que se hacen pasar por la Administración del Seguro Social
Pensacola, Fla. – El Better Business Bureau está emitiendo una advertencia para tener cuidado al recibir una llamada de la 'Administración del Seguro Social'. Varios consumidores han informado haber recibido llamadas y les han dicho que su número de seguro social está suspendido debido a una actividad ilegal, incluido el lavado de dinero, se ha vinculado a su cuenta.
El BBB dice que los estafadores llaman a las víctimas alegando ser de la Administración del Seguro Social (SSA) u otra entidad gubernamental. El nombre que figura en el identificador de llamadas del receptor puede incluso respaldar esa afirmación. La persona que llama dice que el número de seguro social de la víctima se ha utilizado para solicitar una tarjeta de crédito de manera fraudulenta o cometer otro delito. Para solucionar la situación, la persona que llama necesita que el receptor confirme el SSN y otra información personal. Si la víctima no coopera, la persona que llama amenaza con llevarla a la corte o bloquear o revocar su número de Seguro Social.
Independientemente de los detalles, las historias están diseñadas para provocar miedo. Los estafadores esperan que, bajo presión, las víctimas le digan su SSN a la persona que llama y otra información personal sensible. Los estafadores pueden usar SSN para cometer robo de identidad y presentar declaraciones de impuestos a nombre de la víctima para robar su reembolso.
BBB le recuerda al público que nunca dé información personal a personas que llaman no solicitadas y que se niegue a brindarles información personal. Recuerde, la SSA nunca lo llamará para pedirle su número de Seguro Social. Nunca pedirán pagos ni amenazarán con revocar los beneficios.
Internet ha hecho posible que los estafadores usen identificaciones falsas cuando llaman a su casa. Si recibe una llamada sospechosa, no tome decisiones importantes basándose en lo que dice su identificador de llamadas. Si le preocupa una llamada de alguien que dice pertenecer a la SSA, puede informar de la llamada a la SSA real al 1-800-772-1213 (TTY 1-800-325-0778).
Scammers Impersonating Social Security Administration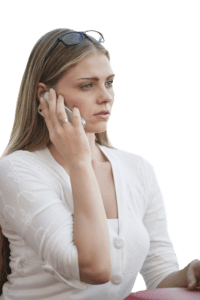 Pensacola, Fla. – The Better Business Bureau is issuing an warning to be cautious when receiving a call from the 'Social Security Administration.' Several consumers have reported to receiving calls and being told that their social security number is being suspended because illegal activity, including money laundering, has been tied to their account.
The BBB says scammers call victims alleging to be from the Social Security Administration (SSA) or another government entity. The name on the receiver's caller ID may even back up that claim. The caller says the victim's social security number has been used to fraudulently apply for a credit card or commit another crime. In order to fix the situation, the caller needs the receiver to confirm the SSN and other personal information. If the victim does not cooperate, the caller threatens to take them to court or have your Social Security number blocked or revoked.
No matter the details, the stories are designed to induce fear. Scammers hope that under pressure, victims will tell the caller their SSN and other sensitive personal information. Scammers can use SSNs to commit identity theft and file tax returns in the victim's name to steal their refund.
The BBB reminds the public to never give personal information to unsolicited callers and refuse to tell them any personal information. Remember, the SSA will never call you asking for your Social Security number. They will never ask for payments or threaten to revoke benefits.
The internet has made it possible for scammers to use fake IDs when they call your home. If you receive a suspicious call, don't make any important decisions based on what your caller ID says. If you are concerned about a call from someone who claims to be with the SSA, the call can be reported to the real SSA at 1-800-772-1213 (TTY 1-800-325-0778).
[adrotate group="1"]