El noroeste de Florida tendrá un nuevo código de área: 448
Se espera que el código de área 850 pronto se quede sin números. Con la demanda de nuevos números de teléfono y la necesidad de garantizar un suministro continuo, la Comisión de Servicios Públicos de Florida (PSC) aprobó un plan de superposición para el Área del Plan de Número 850 (NPA). El nuevo código de área 448 se superpondrá al 850 NPA existente. Esta área consta de 18 condados en el Panhandle de Florida, incluidas las ciudades de Pensacola, Panama City y Tallahassee. A continuación, se incluye información para ayudar a los clientes durante la transición.
Una superposición es la adición de un código de área a la misma región geográfica que los códigos de área existentes. Esta superposición no requiere que los clientes cambien su código de área o número de teléfono existente. A partir del 22 de mayo del 2021, a los clientes se les asignará un número de teléfono con el código de área 448 cuando soliciten un nuevo servicio, una línea adicional o, en algunos casos, trasladen su servicio. El código de área 448 coexistirá en toda la región con el código de área 850.
Los clientes en el área de servicio con el código de área superpuesto 850/448 deben comenzar a marcar 10 dígitos para todas las llamadas locales dentro de la región superpuesta. Será necesario identificar los números de teléfono como un número de 10 dígitos, que incluye el código de área, al proporcionar los números de teléfono. Todos los servicios, equipos de marcación automática u otros tipos de equipos deben reconocer el nuevo código de área 448 como un código de área válido y programar números de teléfono con números de 10 dígitos. Algunos ejemplos incluyen números de teléfono almacenados en listas de contactos en teléfonos inalámbricos e inalámbricos, PBX, máquinas de fax, números de acceso telefónico a Internet, marcadores rápidos, configuraciones de desvío de llamadas, servicios de correo de voz, dispositivos de alerta médica, sistemas de seguridad y puertas de alarma de seguridad, monitores de tobillo, u otro equipo similar. Se deben verificar los sitios web, material de oficina, material publicitario, cheques impresos personales y comerciales, información de contacto y etiquetas de identificación personal o de mascotas para asegurarse de que se incluya el código de área.
Los números de teléfono de los clientes, conteniendo el código de área actual, no cambiarán, ni tampoco el precio de una llamada, área de cobertura u otras tarifas y servicios. Lo que ahora es una llamada local seguirá siendo una llamada local independientemente del número de dígitos marcados. Los clientes aún pueden marcar solo tres dígitos para llamar al 911, así como al 211, 311, 411, 522, 611, 711 u 811 si están disponibles en su comunidad actualmente. 
Northwest Florida to have a new area code: 448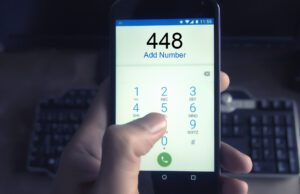 It is expected that the 850 area code will soon run out of numbers. With the demand for new phone numbers and the need to ensure a continuing supply, the Florida Public Service Commission (PSC) approved an overlay plan for the 850 Number Plan Area (NPA). The new 448 area code will overlay the existing 850 NPA. This area consists of 18 counties in the Florida Panhandle, including the cities of Pensacola, Panama City, and Tallahassee. Below is information to assist customers during the transition.
An overlay is the addition of an area code to the same geographic region as existing area codes. This overlay does not require customers to change their existing area code or phone number. Beginning May 22, 2021, customers will be assigned a phone number with the 448 area code when requesting new service, an additional line, or in some cases, moving their service. The 448 area code will co-exist throughout the region with the 850 area code.
Customers in the area served by the 850/448 area code overlay should begin dialing 10 digits for all local calls within the overlay region. Identifying telephone numbers as a 10-digit number, which includes the area code, will be necessary when providing telephone numbers. All services, automatic dialing equipment, or other types of equipment must recognize the new 448 area code as a valid area code, and program telephone numbers with 10-digit numbers. Some examples include stored phone numbers in contact lists in wireless and cordless phones, PBXs, fax machines, Internet dial-up numbers, speed dialers, call forwarding settings, voicemail services, medical alert devices, safety alarm security systems and gates, ankle monitors, or other similar equipment. Websites, business stationery, advertising materials, personal and business printed checks, contact information, and personal or pet ID tags should be checked to ensure the area code is included.
Customers' telephone numbers, including current area code, will not change, nor will the price of a call, coverage area, or other rates and services. What is a local call now will remain a local call regardless of the number of digits dialed. Customers can still dial just three digits to reach 911, as well as 211, 311, 411, 522, 611, 711, or 811 if those are currently available in their community. 
[adrotate group="1"]