El control de mosquitos se prepara para la mitigación y ofrece consejos de prevención para los residentes
CONDADO DE SANTA ROSA, Fla. – Con un aumento en la humedad y la temperatura, viene un aumento de mosquitos. El Departamento de Control de Mosquitos del Condado de Santa Rosa tiene 30 rutas de rociado que cubren todo el condado. Cada semana, se rocían aproximadamente 15 rutas, que generalmente duran desde la puesta del sol hasta la 1 a.m. Las rutas se programan según las llamadas, los informes de campo y los conteos de mosquitos en las trampas en todo el condado.
Tomar unos momentos cada semana revisando las áreas exteriores puede reducir drásticamente el número de mosquitos y los riesgos asociados con la plaga. Simplemente drenando macetas, regaderas, tazones de comida o cualquier recipiente que contenga agua, los propietarios pueden detener el ciclo de crecimiento. Solo recuerde, la mejor manera de prevenir los mosquitos es tirar y escurrir después de la lluvia.
El departamento de control de mosquitos del condado también les pide a los residentes que rastrillen sus patios y limpien regularmente sus canaletas. Aunque no es una tarea agradable, las hojas húmedas y la materia orgánica pueden crear el área perfecta para la reproducción de mosquitos.
Los mosquitos pueden transmitir enfermedades. Las enfermedades transmitidas por mosquitos, también conocidas como arbovirus, son el foco principal del control de mosquitos en Florida. Para ayudar a reducir el riesgo de picaduras de mosquitos, los residentes deben recordar lo siguiente:
Desde el anochecer hasta el amanecer es el período en el que los mosquitos están más activos.
Drene el agua estancada, como en llantas viejas y piscinas para niños.
Vístase con mangas largas y pantalones de colores claros cuando esté afuera.
Deet (N, N-dietil-m-toluamida): si va a estar al aire libre cuando los mosquitos están más activos, asegúrese de aplicar repelente de insectos que contenga DEET. Lea y siga las instrucciones de la etiqueta.
Mosquito control prepares for abatement and offers prevention tips for residents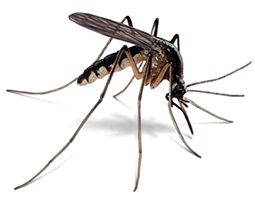 SANTA ROSA COUNTY, Fla. – With a rise in moisture and temperature, comes an increase in mosquitoes. The Santa Rosa County Mosquito Control Department has 30 spray routes that cover the entire county. Each week, approximately 15 routes are sprayed, typically lasting from sundown to 1 a.m. Routes are scheduled based on call-ins, field reports and mosquito counts in traps throughout the county.
Spending a few moments each week checking outside areas can dramatically reduce mosquito numbers, and the risks associated with the pest. By simply draining flowerpots, watering cans, food bowls or any container that holds water, homeowners can stop the growth cycle. Just remember, the best way to prevent mosquitoes is to dump and drain after the rain.
The county's mosquito control department also asks residents to rake their yards and regularly clean their gutters. While not a pleasant task, moist leaves and organic matter can create the perfect mosquito breeding area.
Mosquitoes can carry disease. Mosquito borne diseases, also known as arboviruses are the main focus of mosquito control in Florida. To help reduce the risk of getting bitten by mosquitoes, residents should remember the following:
Dusk to dawn is the timeframe when mosquitoes are most active.
Drain standing water such as in old tires and wading pools.
Dress in light colored long sleeves and pants when you are outside.
Deet (N,N-diethyl-m-toluamide) – If you are going to be outside when mosquitoes are most active, make sure you apply insect repellant that contains DEET. Read and follow label instructions.
[adrotate group="1"]