El evento "Regional Roundup" recolecta 13 toneladas de residuos
ESCAMBIA COUNTY, Fla.—El último evento de Roundup Regional del Condado de Escambia recolectó más de 13 toneladas de desechos domésticos peligrosos, electrónicos y llantas para que sean desechadas de forma gratuita para los residentes del Condado de Escambia.
El evento fue el sábado, 7 de abril en el escuela Bailey Middle School, con 230 participantes que dejaron los artículos.
Durante el evento, los residentes del condado de Escambia trajeron alrededor de 14.160 libras de desechos domésticos peligrosos, como látex y pintura a base de aceite, pesticidas, químicos para piscinas, aceites para automóviles y otros productos químicos domésticos. Se recolectaron unos 423 artículos electrónicos por un total de 7,440 libras, junto con 122 neumáticos que suman 4,420 libras.
Los eventos de desembarque del Roundup regional se llevan a cabo varias veces al año, lo que brinda una oportunidad para que los residentes del condado de Escambia eliminen de manera adecuada los artículos electrónicos, los residuos domésticos peligrosos y hasta cuatro llantas por vehículo, sin cargo.
Para obtener más información acerca de los eventos del Regional Roundup o la eliminación adecuada de los desechos, haga clic aquí o comuníquese con el Departamento de Servicios de Residuos del Condado de Escambia al 850-937-2160 o a wasteservices@myescambia.com
Regional Roundup event collects 13 tons of waste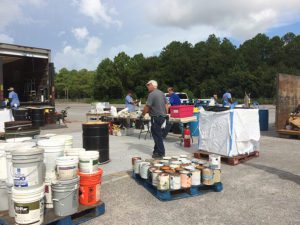 ESCAMBIA COUNTY, Fla.—Escambia County's latest Regional Roundup event collected more than 13 tons of household hazardous waste, electronics and tires to be properly disposed of free of charge for Escambia County residents.
The event was held on April 7 at Bailey Middle School, with 230 participants dropping off items.
During Regional Roundup, Escambia County residents brought about 14,160 pounds of household hazardous waste such as latex and oil-based paint, pesticides, pool chemicals, automotive oils and other household chemicals. About 423 electronic items totaling 7,440 pounds were collected, along with 122 tires totaling 4,420 pounds.
Regional Roundup drop-off events are held multiple times per year, providing an opportunity for Escambia County residents to properly dispose of electronics, household hazardous waste and up to four tires per vehicle, free of charge.
For more information about Regional Roundup events or proper disposal of waste, click here or contact the Escambia County Waste Services Department at 850-937-2160 or wasteservices@myescambia.com
[adrotate group="1"]