Sobreviviente del huracán Irma explica cómo se canceló la preparación para el desastre
ORLANDO, Fla.—Irisaida "Isa" Mendez, especialista en relaciones con los medios contratada localmente que trabaja en la oficina de recuperación de sucursales de FEMA en Miami, dijo que su familia estaba a salvo durante el huracán Irma debido a la preparación.
"Nos mudamos a Florida hace dos años desde Puerto Rico," dijo. "Hemos tenido experiencia con muchos huracanes, por lo que siempre estamos preparados."
Cuando la pareja de Mendez compró su casa unifamiliar en Doral, se aseguraron de documentar todo por dentro y por fuera con videos y fotografías. Aunque no viven en una zona inundable de alto riesgo, compraron seguro contra inundaciones y vientos.
Antes de que llegara la tormenta el 10 de septiembre de 2017, otros miembros de la familia que viven en un área cercana propensa a inundaciones se reunieron en la casa, que parecía un búnker, con contraventanas contra huracanes que cubrían las muchas ventanas y puertas corredizas de vidrio.
"Tuvimos una fiesta de pijamas, con 14 personas, dos perros y un gato," dijo Méndez.
La familia guarda un kit para desastres en un armario debajo de las escaleras.
"Aunque siempre tenemos suficiente agua y otros suministros en nuestra área de almacenamiento para emergencias, salimos de compras temprano antes de que llegara la tormenta. También mantenemos suministros para desastres en nuestros vehículos.
"La preparación básica está en curso, como la compra de lámparas solares y cargadores de teléfonos celulares," dijo Méndez. "Verificamos y mantenemos nuestras contraventanas contra huracanes cada seis meses."
Su estufa de cocina funciona con gas, que rellenan todos los meses. Compraron un generador a gas y latas de gasolina adicionales para mantener los aparatos eléctricos en funcionamiento.
Méndez dijo que sus vecinos no hicieron preparativos para el impacto de Irma.
"Perdimos la electricidad durante tres días," dijo. "Los vecinos se quedaron sin combustible, así que compartimos el nuestro con ellos."
Méndez dijo que su familia siempre sabe qué hacer cuando una tormenta se dirige hacia ellos.
"Si estás preparado, no estarás nervioso." No correrás por ahí tratando de prepararte justo antes de que llegue la tormenta."
Para obtener más información sobre la recuperación, visite www.FEMA.gov/IrmaFL, o síganos en FEMARegion4 en Twitter y en la página de FEMA en Facebook.
Irma Survivor Tells How Disaster Preparation Paid Off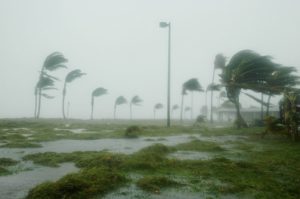 ORLANDO, Fla. – Irisaida "Isa" Mendez, a locally hired media relations specialist who works out of FEMA's branch recovery office in Miami, said her family was safe during Hurricane Irma because of preparation.
"We moved to Florida two years ago from Puerto Rico," she said. "We have had experience with many hurricanes, so we are always prepared."
When the Mendez couple bought their single-family home in Doral they made sure to document everything inside and out with videos and photographs. Although they do not live in a high-risk flood zone they bought flood and wind insurance.
Before the storm hit Sept. 10, 2017, other family members who live in a nearby area prone to flooding gathered at the house, which resembled a bunker, with hurricane shutters covering the many windows and sliding glass doors.
"We had a pajama party, with 14 people, two dogs and a cat," Mendez said.
The family keeps a disaster kit in a closet under the stairs.
"Although we always have enough water and other supplies in our storage area for emergencies, we went shopping early before the storm came. We also keep disaster supplies in our vehicles.
"Basic preparation is ongoing, like buying the solar lamps and cell phone chargers," Mendez said. "We check and maintain our hurricane shutters every six months."
Their kitchen stove works on gas, which they refill every month. They bought a gas-powered generator and extra gas cans to keep the electric appliances running.
Mendez said their neighbors made no preparations for Irma's impact.
"We lost power for three days," she said. "The neighbors ran out of gas, so we shared ours with them."
Mendez said her family always knows what to do when a storm is headed their way.
"If you're prepared, you won't be nervous. You won't be running around trying to get ready just before the storm arrives."
For more recovery information, visit www.FEMA.gov/IrmaFL, or follow us @FEMARegion4 on Twitter and on FEMA's Facebook page.