El condado de Santa Rosa inicia la construcción del nuevo Pea Ridge Connector
SANTA ROSA COUNTY, Fla. – El condado de Santa Rosa inició la construcción del conector Pea Ridge. La nueva autopista dividida de cuatro carriles conectará la autopista 90 con Hamilton Bridge Road, y actuará como un paralelo a Woodbine Road, Chumuckla Highway, West Spencer Field Road y State Road 87. El proyecto incluye carriles para bicicletas y aceras y proporcionará conexiones entre varios centros de actividad identificados.
El Pea Ridge Connector, conocido formalmente como la extensión de Bell Lane, es un proyecto dentro del Florida-Alabama 2045 Long Range Transportation Plan (LRTP). El proyecto Pea Ridge Connector se identificó por primera vez como una necesidad hace 20 años y desde entonces se ha incluido en las actualizaciones de LRTP cada cinco años, según lo exige el proceso de planificación de transporte federal. El análisis se desarrolló en base a una evaluación del uso futuro de la tierra y la demanda de tráfico a lo largo del corredor del proyecto con un volumen proyectado de 8,000 vehículos por día.
"Este es el proyecto de infraestructura vial más grande emprendido por el Condado de Santa Rosa en más de 30 años," dijo el comisionado Sam Parker, Distrito 1. "Aliviará la congestión del tráfico en las carreteras cercanas, permitirá tiempos de respuesta más rápidos por parte de nuestros socorristas y proporcionará al distrito escolar acceso a la propiedad que poseen para un futuro sitio escolar. Esto no hubiera sido posible sin la ayuda y el apoyo de los propietarios que donaron la propiedad y el apoyo de mis compañeros comisionados del condado."
Se espera que el Pea Ridge Connector se complete en el otoño de 2022. Los fondos para el proyecto de $8.8 millones provendrán del Impuesto de Ventas de Opción Local.
Santa Rosa County breaks ground on new Pea Ridge Connector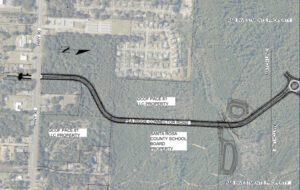 SANTA ROSA COUNTY, Fla. – Santa Rosa County broke ground on the Pea Ridge Connector. The new four-lane, divided highway will connect Highway 90 with Hamilton Bridge Road, and will act as a parallel to Woodbine Road, Chumuckla Highway, West Spencer Field Road and State Road 87. The project includes both bike lanes and sidewalks and will provide connections between several identified activity centers.
The Pea Ridge Connector formally known as the Bell Lane extension is a project within the Florida-Alabama 2045 Long Range Transportation Plan (LRTP). The Pea Ridge Connector project was first identified as a need 20 years ago and has been included in the LRTP updates every five years since as required by federal transportation planning process. The analysis was developed based upon an evaluation of future land use and traffic demand along the project's corridor with a projected volume of 8,000 vehicles per day.
"This is the largest road infrastructure project undertaken by Santa Rosa County in over 30 years," said Commissioner Sam Parker, District 1. "It will alleviate traffic congestion from nearby roadways, allow quicker response times by our first responders and provide the school district access to property they own for a future school site. This would not have been possible without the help and support of the landowners who donated the property and the support of my fellow county commissioners."
The Pea Ridge Connector is expected to be completed in the fall of 2022. Funding for the $8.8 million project will come from the Local Option Sales Tax.  
[adrotate group="1"]