Entradas para Professional Bull Riders de la serie principal a la venta el lunes 24 de agosto
PENSACOLA, Fla. – Por primera vez en la historia de la liga, el evento de élite Unleash The Beast de PBR (Professional Bull Riders o jinetes de toros profesionales se llevará a cabo en Pensacola, en el Pensacola Bay Center del 26 al 27 de septiembre. El PBR invitacional marcará el primer evento con boleto en el Pensacola Bay Center desde el cierre de mediados de marzo.
Esta temporada, el PBR Unleash The Beast en Pensacola es crucial en la carrera por el campeonato hacia las Finales Mundiales de PBR a principios de noviembre, otorgando una hebilla de oro y un bono de un millón de dólares al mejor jinete de toros del mundo. Se anticipa que los corredores que compiten en Pensacola serán liderados por el actual No.1 del mundo, José Vitor Leme, junto con el tres veces campeón del mundo Silvano Alves, el dos veces campeón del mundo Mauney, el campeón del mundo de 2018 Kaique Pacheco y el campeón del mundo de 2016 Cooper Davis.
La acción comienza con montar toros en la Ronda 1 a las 6:45 p.m. el sábado 26 de septiembre, concluyendo con la Ronda 2 y la ronda del campeonato a la 1:45 p.m. el domingo 27 de septiembre. Los 35 jinetes se subirán a un toro cada uno en la Ronda 1 y 2. Después de la Ronda 2 el domingo por la tarde, las puntuaciones individuales de las dos rondas de los jinetes se sumarán y los 15 mejores avanzarán a la ronda del campeonato para una salida más y la oportunidad de ganar el título del evento de $30,000.
Además, en conjunto con la Ronda 1, el evento del sábado por la noche también contará con una Batalla de Bucking 15/15, cuando los 15 mejores jinetes de toros del mundo competirán en una ronda especial, enfrentándose cara a cara contra el mejor toro de la parada para una cartera separada como puntos mundiales.
Los boletos para el evento de dos días salen a la venta el lunes 24 de agosto a las 10:00 a.m. y comienzan en $15. Se pueden comprar en línea en Ticketmaster.com, la taquilla del Pensacola Bay Center o llamando al servicio al cliente de PBR al 1-800-732-1727.
En cooperación con el gobierno local, así como con ASM Global y el Pensacola Bay Center, PBR ha instituido una serie de protocolos de seguridad para los fans para un evento seguro y responsable, que incluyen:
Se requerirá que todos los fans, así como el personal y los competidores usen mascarillas dentro del Pensacola Bay Center.
PBR solo venderá hasta el 50% de la capacidad del estadio para separar a los fanáticos.
Todos los fans estarán en los asientos del POD, lo que aumenta la distancia y minimiza el cruce del ventilador al entrar y salir de sus asientos.
Todo el personal, los pasajeros y los contratistas de acciones de PBR estarán sujetos a las pruebas médicas de COVID-19 (coronavirus).
Mayor higienización de áreas de alto contacto, incluidos baños, vestíbulos, puestos de comida, ascensores, áreas de comedor y la taquilla del Pensacola Bay Center.
Se colocarán estaciones de desinfectante de manos en todo el lugar en áreas de alto punto de contacto para promover la higiene de las manos.
Habrá un enfoque en la emisión de boletos móviles.
Las ventas de mercadería se limitarán a los artículos más vendidos para reducir las filas y fomentar transacciones más rápidas.
Tickets for the premier series' Professional Bull Riders on sale Monday, August 24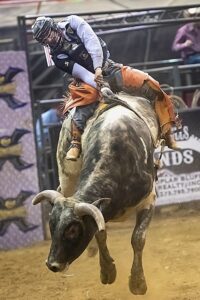 PENSACOLA, Fla. – For the first time in league history, PBR's (Professional Bull Riders) elite Unleash The Beast event will be held in Pensacola, at the Pensacola Bay Center Sept. 26-27. The PBR invitational will mark the first ticketed event at the Pensacola Bay Center since the mid-March shutdown.
This season, the PBR Unleash The Beast in Pensacola is crucial in the championship race to the PBR World Finals in early November, awarding a gold buckle and million-dollar bonus to the world's best bull rider. The riders competing in Pensacola are anticipated to be led by current world No. 1 Jose Vitor Leme, along with three-time World Champion Silvano Alves, two-time World Champion Mauney, 2018 World Champion Kaique Pacheco, and 2016 World Champion Cooper Davis.
The bull riding action begins with Round 1 at 6:45 p.m. CDT on Saturday, September 26, concluding with Round 2 and the championship round at 1:45 p.m. CDT on Sunday, September 27. All 35 bull riders will get on one bull each in Round 1 and 2. Following Round 2 on Sunday afternoon, the riders' individual two-round scores will be totaled with the Top 15 advancing to the championship round for one more out and a chance at the $30,000 event title.
Additionally, in tandem with Round 1, Saturday evening's event will also feature a 15/15 Bucking Battle, when the Top 15 bull riders in the world will compete in a special round, going head-to-head against the stop's top bull power for both a separate purse and world points.
Tickets for the two-day event go on sale Monday, August 24 at 10:00 a.m. CDT and start at $15. They can be purchased online at Ticketmaster.com, the Pensacola Bay Center Box Office, or by calling PBR customer service at 1-800-732-1727.
In cooperation with local government, as well as ASM Global and the Pensacola Bay Center, PBR has instituted a series of fan safety protocols for a safe and responsible event, including:
All fans as well as staff and competitors will be required to wear face masks inside the Pensacola Bay Center.
PBR will only sell up to 50% of arena capacity to separate fans.
All fans will be in POD seating, which increases distancing and minimizes fan crossover when entering and exiting their seats.
All PBR staff, riders and stock contractors will be subject to COVID-19 (coronavirus) medical testing.
Increased sanitization of high-contact areas including bathrooms, concourses, concession stands, elevators, dining areas, and the Pensacola Bay Center Box Office.
Hand sanitizer stations will be placed throughout the venue in high touch point areas to promote hand hygiene.
There will be a focus on mobile ticketing.
Merchandise sales will be limited to best-selling items to reduce lines and encourage speedier transactions.
[adrotate group="1"]