El condado de Santa Rosa comienza a construir nuevo juzgado
MILTON, Fla. – El Santa Rosa County Board of County Commissioners, Ajax Building Company, Sam Marshall Architects y HOK celebraron esta mañana un innovador para el futuro Santa Rosa County Courthouse en Avalon Boulevard en Milton.
"Estoy emocionado de ver que la construcción comience en el nuevo Santa Rosa County Courthouse", dijo el presidente de la Comisión, Sam Parker, del Distrito 1. "Esto proporcionará un palacio de justicia más seguro que el actual, en una ubicación conveniente para una fácil accesibilidad con amplio estacionamiento. El nuevo edificio servirá a los ciudadanos de nuestro condado durante los próximos cien años."
El Vicepresidente Don Salter habló sobre la historia del Santa Rosa County Courthouse y la importancia de este importante proyecto que lleva años preparándose. El palacio de justicia actual se abrió el 4 de julio de 1927.
El juez principal del Primer Circuito Judicial, John Miller, agradeció a la junta de comisionados del condado por su visión y compromiso de proporcionar esta nueva instalación para servir a los residentes del Condado de Santa Rosa ahora y en el futuro. También destacó las muchas funciones y roles que desempeña un juzgado en la comunidad. "Cuando las personas piensan en un juzgado, piensan en procedimientos y juicios. En realidad, hay muchas cosas felices que suceden en un juzgado; procedimientos de adopción; licencias de matrimonio; un juzgado es un lugar de inicio."
El proyecto consistirá en un tribunal del condado de tres pisos de aproximadamente 110,000 pies cuadrados brutos como el primer edificio en el Santa Rosa County Judicial Complex, ubicado en 19 acres. El plan maestro del sitio prevé futuras adiciones al palacio de justicia y dos edificios de oficinas administrativas adicionales para albergar los servicios de apoyo de la corte del condado (fiscal estatal, defensor público, tutor y libertad condicional). El nuevo palacio de justicia incluye siete salas de audiencias, ocho suites de jueces y todos los servicios de apoyo de la corte necesarios, incluida la detención segura de los reclusos, salas de audiencias, una biblioteca jurídica, salas de pruebas, selección de jurado y espacios de deliberación de jurado. Además, los servicios del secretarido de la corte que se brindan actualmente en el juzgado se acomodarán en las nuevas instalaciones junto con las salas de conferencias y el espacio para reuniones de las oficinas del fiscal estatal y del defensor público. El sitio incluirá estacionamiento en el lugar y tres estanques de retención de aguas pluviales.
Santa Rosa County breaks ground on new courthouse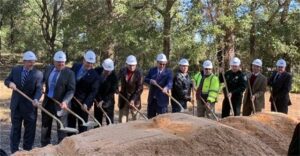 MILTON, Fla. – The Santa Rosa County Board of County Commissioners, Ajax Building Company, Sam Marshall Architects and HOK celebrated a groundbreaking for the future Santa Rosa County Courthouse this morning on Avalon Boulevard in Milton.
"I am excited to see construction begin on the new Santa Rosa County Courthouse," said Commission Chairman Sam Parker, District 1. "This will provide a more secure courthouse than our existing one, in a convenient location for easy accessibility with ample parking. The new building will serve the citizens of our county for the next one hundred years."
Vice Chairman Don Salter spoke of the history of the Santa Rosa County Courthouse and the significance of this important project which has been years in the making. The current courthouse was opened July 4, 1927.
First Judicial Circuit Chief Judge John Miller thanked the board of county commissioners for their vision and commitment to providing this new facility to serve Santa Rosa County residents now and into the future. He also highlighted the many functions and roles a courthouse plays in the community. "When people think of a courthouse, they think of court proceedings and trials. Actually there are a lot of happy things that happen in a courthouse; adoption proceedings; marriages licenses; A courthouse is a place of beginnings."
The project will consist of a three-story county courthouse of approximately 110,000 gross square feet as the first building in the Santa Rosa County Judicial Complex situated on 19 acres. The master site plan provides for future additions to the courthouse and two additional administrative office buildings to house the county court support services (state attorney, public defender, guardian ad litem, and probation). The new courthouse includes seven courtrooms, eight judge's suites and all the necessary court support services including secure holding for inmates, hearing rooms, a law library, evidence rooms, jury selection and jury deliberation spaces. Additionally, the Clerk of Courts services currently provided in the courthouse will be accommodated in the new facility along with conference rooms and meeting space for the state attorney and public defender offices. The site will include on-site parking and three stormwater retention ponds.
[adrotate group="1"]