Dos arrestados por rodeo y concierto no autorizado en Georgia
SOUTH FULTON, Ga.—Georgia. La policía de South Fulton dice que arrestaron a dos hombres por presuntamente organizar un gran rodeo y un concierto sin permisos de la ciudad para organizar un evento especial o vender alcohol. El evento se llevó a cabo en un rancho cerca de Atlanta.
Los oficiales despejaron el evento después de recibir múltiples quejas de residentes cercanos sobre música alta y tráfico pesado. Los informes describen automóviles estacionados en la propiedad del rancho y a lo largo de la carretera causando la congestión.
El jefe de la policía de la ciudad de South Fulton, Keith Meadows, dijo que se requiríó que varios oficiales despejaran el tráfico y el lugar, lo que causó una gran pérdida de recursos para el departamento.
Two arrested for unauthorized rodeo and concert in Georgia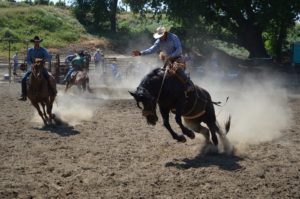 SOUTH FULTON, Ga.—South Fulton Police say they arrested two men for allegedly hosting a large rodeo and concert without city permits to host a special event or sell alcohol. The event was held at a ranch near Atlanta.
Officers cleared out the event after receiving multiple complaints from nearby residents about loud music and heavy traffic. Reports describe cars parked on the ranch property and along the roadway caused the congestion.
City of South Fulton Police Chief Keith Meadows said they it required several officers to clear up the traffic and venue causing a substantial drain on resources for the department.
[adrotate group="1"]