Del refugio al servicio: perros de trabajo del condado
CONDADO DE ESCAMBIA, Fla.— Cada sábado por la mañana, el Escambia County Animal Control Supervisor (Supervisor de Control de Animales del Condado de Escambia), Kevin Monfreda, y su sabueso de 3 años, Bo, visitan los campus y parques a lo largo de la costa del golfo. Los dos no se detienen a jugar fetch o jog (buscar o correr), están perfeccionando rigurosamente las habilidades de Bo como un perro rastreador de olores.
El par ha estado trabajando juntos desde julio de 2015, cuando Monfreda adoptó a Bo del Escambia County Animal Shelter (Refugio de Animales del Condado de Escambia) después de que el Animal Control officers (Oficiales de Control de Animales) sacaron al cachorro de 7 meses de una situación de crueldad animal.
"Era tan lindo, y realmente nos unimos," dijo Monfreda.
Después de dos años de entrenamiento y millas de rastreo de olores en diversos terrenos, Monfreda y Bo ahora están certificados por el North American Police Working Dog Association (Asociación de Perros de Trabajo de la Policía de América del Norte) como un equipo de rastreo de olores.
La pareja ahora forma parte de KLAASKids, una organización de búsqueda y rescate de voluntarios reconocida a nivel nacional que proporciona gerentes de búsqueda, planificadores, buscadores de campo y K-9 para buscar niños desaparecidos y traficados. Monfreda y Bo han participado en tres búsquedas activas de niños desaparecidos.
Otro perro de trabajo del condado que comenzó en el Escambia County Animal Shelter es Britt, un pastor alemán de 5 años.
Britt fue recogida como extraviada por el Animal Control officers oficers en 2015 y fue llevada al Escambia County Animal Shelter y puesta a disposición para su adopción. Ella fue adoptada poco después de ser colocada en el refugio, pero fue devuelta rápidamente.
El oficial Robert Oliver y el sargento Boswell, de la prisión de carretera del condado de Escambia, visitaban el refugio de animales para verificar si un recluso realizaba tareas de trabajo cuando notaron a Britt en su jaula.
"Parecía atenta y entrenable, así que la sacamos de la perrera y nos dirigimos a un area de ejercicio y lo creas o no, ella ya sabía órdenes verbales y tenía una gran cantidad de juguetes," dijo Oliver. "A ella le encantaba jugar a la pelota, y eso es realmente lo que usamos para comenzar a entrenar a nuestros perros narcóticos."
Oliver notó que los perros con una unidad de juguete extremadamente alta son excelentes para rastrear narcóticos debido a su implacable deseo de encontrar un objeto o juguete.
Después de ver el manejo de juguetes de Britt y su capacidad de entrenamiento, Oliver decidió sacarla del refugio para trabajar como un perro de narcóticos para la prisión del Escambia County Road Prison (Prisión de Carretera del Condado de Escambia). Oliver inscribió a Britt en un curso de capacitación con el Escambia County Sheriff's Office (Oficina del Sheriff del Condado de Escambia), y ella completó con éxito 240 horas de capacitación y recibió su certificación de United States Police Canine Association (Asociación de Caninos de la Policía de los Estados Unidos).
Britt ahora trabaja directamente junto a Oliver y busca áreas donde viven y trabajan los reclusos, incluidos armarios, vehículos y varios edificios de la cárcel.
La prisión de carreteras también tiene cuatro beagles y un sabueso que forman el resto del equipo de rastreo.
Britt actualmente tiene 20 hallazgos documentados de narcóticos para el condado de Escambia y ha encontrado marihuana, metanfetamina, especias y pastillas con receta.
From Shelter to Service: County Working Dogs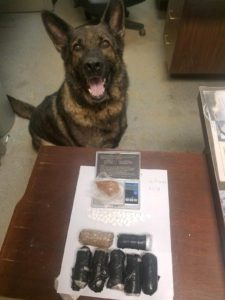 ESCAMBIA COUNTY, Fla.—Each Saturday morning, Escambia County Animal Control Supervisor Kevin Monfreda and his 3-year-old bloodhound, Bo, visit campuses and parks along the Gulf Coast. The two aren't stopping in for a game of fetch or a jog — they're rigorously perfecting Bo's skills as a scent trailing dog.
The pair has been working together since July 2015, when Monfreda adopted Bo from the Escambia County Animal Shelter after Animal Control officers removed the 7-month-old puppy from an animal cruelty situation.
"He was so cute, and we just really bonded," Monfreda said.
After two years of training and miles of scent tracking across various terrain, Monfreda and Bo are now certified by the North American Police Working Dog Association as a scent trailing team.
The pair are now part of KLAASKids, a nationally recognized volunteer search and rescue organization that provides search managers, planners, field searchers and K-9s to search for missing and trafficked children. Monfreda and Bo have participated in three active searches for missing children.
Another county working dog who got her start at the Escambia County Animal Shelter is 5-year-old German Shepherd mix, Britt.
Britt was picked up as stray by Animal Control officers in 2015 and was taken to the Escambia County Animal Shelter and made available for adoption. She was adopted shortly after she was placed at the shelter, but was quickly returned.
Officer Robert Oliver and Sgt. Boswell of the Escambia County Road Prison were visiting the animal shelter to check on an inmate performing work duties when they noticed Britt in her kennel.
"She seemed attentive and trainable, so we took her out of the kennel and went over to an exercise pen and believe it or not, she already knew verbal commands and had a very high toy drive," Oliver said. "She just loved to play ball, and that's actually what we use to start training our narcotics dogs."
Oliver noted that dogs with an extremely high toy drive make great narcotics tracking dogs because of their relentless desire to find an object or toy.
After seeing Britt's toy drive and trainability, Oliver decided to pull her from the shelter to work as a narcotics dog for the Escambia County Road Prison. Oliver enrolled Britt in a training course with the Escambia County Sheriff's Office, and she successfully completed 240 training hours and received her certification from the United States Police Canine Association.
Britt now works directly alongside Oliver and searches areas where inmates live and work, including lockers, vehicles and various jail buildings.
The Road Prison also has four call beagles and one call bloodhound that make up the rest of the tracking team.
Britt currently has 20 documented narcotics finds for Escambia County, and has found marijuana, methamphetamine, spice and prescription pills.
John Robinson, Animal Services manager, said his staff is always looking for dogs that come into the shelter that might make great tracking or search and rescue dogs. 
[adrotate group="1"]