Cantante Latina de ópera toma el centro del escenario en Pensacola
PENSACOLA, Fla.—Pensacola ha tenido su cuota de celebraciones latinas en los últimos dos meses, pero rara vez tenemos la oportunidad de enfocarnos en Argentina como Pensacola ha tenido este año. La Choral Society of Pensacola no solo incluyó la interpretación argentina de Misa Criolla de Ariel Ramirez en su producción de "Música Hispana" del 3 de noviembre, sino que la Pensacola Opera interpretará a María de Buenos Aires el 10 y 12 de noviembre.
Los asistentes al asado argentino del 29 de octubre en Pensacola obtuvieron un pequeño adelanto de la actuación. El asado argentino fue un beneficio para Global Corner, una organización sin fines de lucro que enseña culturas del mundo en escuelas públicas en los condados de Escambia y Santa Rosa para promover la conciencia global. Su programa se centra en un país cada año. Este año, su enfoque está en Argentina. Fue aquí donde los asistentes fueron presentados a Evelyn Saavedra, quien cantó para la audiencia.
Saavedra, quien nació en Cuba y se crió en Miami, ha regresado a la Pensacola Opera para su segunda temporada. Se la puede ver en los papeles de María (compartida con Camille Sherman) en María de Buenos Aires, Kate Pinkerton en Madama Butterfly y Antonia en Man of La Mancha. El concierto "Musica Hispana" también presenta a Saavedra en "Siete Canciones Populares Españolas."
La talentosa y joven cantante de ópera fue elogiada como "cantante joven talentosa para ver" por South Florida Classical Review. Ella ha actuado en producciones notables incluyendo el papel del título femenino de Epiphany Proudfoot en "Falling Angel" por el que fue descrita como una "soprano seductora [que] trajo sensibilidad a Epiphany" en el Wall Street Journal. Uno de los papeles favoritos de Saavedra fue Susanna en Le Nozze di Figaro (Las Bodas de Fígaro).
"Fue la mejor experiencia de mi vida," dijo Saavedra.
Saavedra también ha sido presentada en el escenario de conciertos en Mozart's Coronation Mass y el Handel's Messiah con la Choral Society of Pensacola. Ha trabajado con directores de orquesta como solista de soprano con la Brevard Music Center Orchestra the Pensacola Symphony Orchestra y entrenada con artistas de renombre. Tiene una Maestría en Interpretación Vocal y Literatura de la Eastman School of Music y una Licenciatura en Interpretación Vocal de Florida International University.
Las entradas para Maria de Buenos Aires ya están a la venta. Las presentaciones son en español y abren el 10 de noviembre a las 7:30 p.m. y el 12 de noviembre a las 2 p.m. en el Ashmore Auditorium at Pensacola State College. La ópera cuenta la historia de una mujer apasionada pero ferozmente independiente, María, al compás del tango argentino por Astor Paizzola y la poesía de Horacio Ferrer. El escenario está dirigido por Octavio Cárdenas de Des Moines Metro Opera y Opera Grand Rapids, originalmente de Guadalajara.
Latina opera singer takes center stage in Pensacola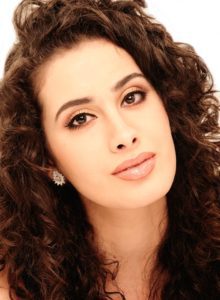 PENSACOLA, Fla.—Pensacola has had its share of Latino celebrations over the last two months, but rarely do we get an opportunity to focus on Argentina as Pensacola has this year. Not only has the Choral Society of Pensacola included the Argentine folk-style performance of Misa Criolla by Ariel Ramirez in their November 3 "Musica Hispana" production, but the Pensacola Opera will perform Maria de Buenos Aires November 10 and 12.
Attendees of the Argentinian barbecue on October 29 in Pensacola got a short preview of the performance. The Argentinian barbecue was a benefit for the Global Corner, a nonprofit organization that teaches cultures of the world in public schools in Escambia in Santa Rosa Counties to promote global awareness. Their program focuses on one country each year. This year, their focus is on Argentina. This is where attendees were introduced to Evelyn Saavedra who sang for the audience.
Saavedra, who was born in Cuba and raised in Miami, has returned to the Pensacola Opera for her second season. She can be seen in the roles of Maria (shared with Camille Sherman) in Maria de Buenos Aires, Kate Pinkerton in Madama Butterfly and Antonia in Man of La Mancha. The Musica Hispana concert also features Saavedra in "Siete Canciones Populares Españolas."
The talented, young opera singer was praised as "gifted young singer to watch" by the South Florida Classical Review. She has performed in notable productions including the female title role of Epiphany Proudfoot in "Falling Angel" for which she was described as an "alluring soprano [who] brought sensitivity to Epiphany" in the Wall Street Journal. One of Saavedra's favorite roles was Susanna in Le Nozze di Figaro (The Marriage of Figaro).
"It was the best experience of my life," Saavedra said.
Saavedra has also been featured on the concert stage in Mozart's Coronation Mass and Handel's Messiah with the Choral Society of Pensacola. She has worked with esteemed conductors as a soprano soloist with the Brevard Music Center Orchestra the Pensacola Symphony Orchestra and coached with renowned artists. She holds a Masters Degree in Vocal Performance & Literature from the Eastman School of Music and a Bachelors Degree in Vocal Performance from Florida International University.
Tickets for Maria de Buenos Aires are on sale now. Performances are in Spanish and open on November 10 at 7:30 p.m. and November 12 at 2 p.m. at the Ashmore Auditorium at Pensacola State College. The opera tells the story of an impassioned yet fiercely independent woman, Maria, to the beat of Argentine tango by Astor Paizzola's and poetry of Horacio Ferrer. The stage is directed by Octavio Cardenas of Des Moines Metro Opera and Opera Grand Rapids, originally of Guadalajara.
[adrotate group="1"]