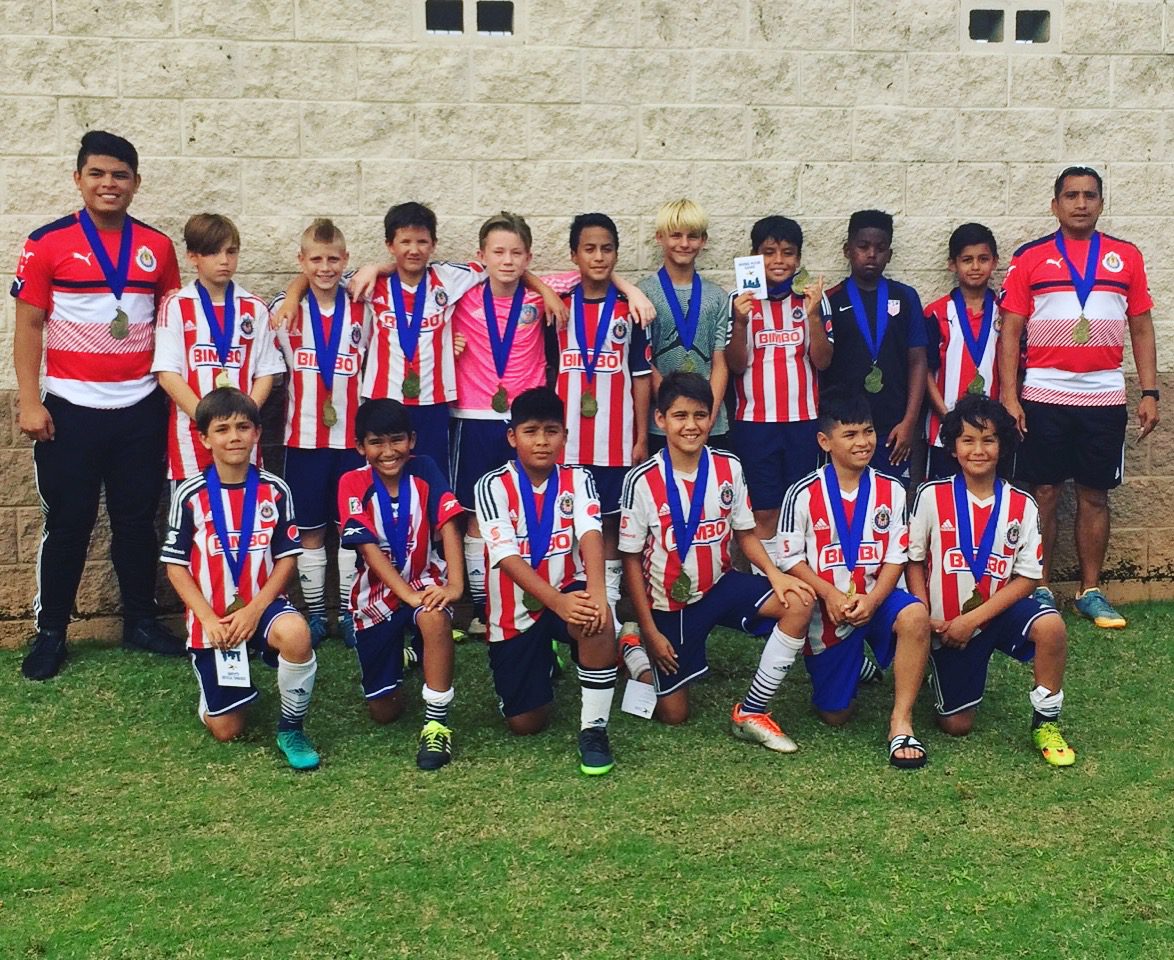 Equipo de fútbol juvenil obtiene la medalla de oro en la competencia nacional
FORT WALTON BEACH, Fla.—Algunos de nuestros mas pequeños héroes locales tienen algunas grandes noticias. El equipo de fútbol Chivas de Fort Walton Beach ganó la medalla de oro en el torneo de fútbol de los Juegos Estatales de América 2017, un evento bienal, multideportivo, de estilo olímpico en el que compiten los campeones de los Juegos Estatales de todo el país. Los juegos del 2017 se llevaron a cabo del 3 al 6 de agosto en West Michigan.
Entrenado por los voluntarios Jhonatan Cárdenas, Sr. y Mario Olvera, el equipo ha estado jugando desde la edad de siete años.
El entrenador Cárdenas dice que comenzaron con 3 vs 3 – miembros del torneo con miembros del equipo Frank Lupella, Jhonatan Cárdenas Jr., Brandon Olvera y Dominic Castellanos.
"El equipo tuvo tanto éxito que obtuvo el segundo lugar en el torneo nacional de ESPN en Orlando," dijo Cárdenas. "Otros jugadores del área comenzaron a unirse a nosotros, haciendo que el equipo sea lo que es hoy."
Cárdenas, que ha estado entrenando durante siete años en los Estados Unidos y en Inglaterra mientras servía en la Fuerza Aérea, dice que el equipo de Chivas planea competir en el campeonato estatal con la esperanza de competir en los juegos nacionales nuevamente. La próxima competencia estatal está programada para el próximo verano y los juegos nacionales se llevarán a cabo en Virginia.
Hasta entonces, el equipo continúa practicando dos veces por semana en los campos deportivos de Oakland Heights.
El equipo recibirá una merecida felicitación durante el Festival Latino en Pensacola, el 5 de noviembre. El equipo participará en el desfile de apertura del festival al mediodía y luego se les presentará un "Certificado Nacional de Atleta" oficial de los Juegos Estatales de América.
Las fotos estarán disponibles en www.LaCostaLatina.com.
Youth Soccer Team Takes Gold Medal at National Competition
FORT WALTON BEACH, Fla.—Some of our littlest hometown heroes have some big news. The Chivas soccer team of Fort Walton Beach won the gold medal in the soccer tournament in the 2017 State Games of America, a biennial, multi-sport, Olympic-style event that features competition between State Games champions from across the country. The 2017 games took place on August 3 – 6 in West Michigan.
Coached by volunteers Jhonatan Cardenas, Sr. and Mario Olvera, the team has been playing since they were seven years old.
Coach Cardenas says they started with a 3 vs. 3-member tournament with team members Frank Lupella, Jhonatan Cardenas Jr., Brandon Olvera, Dominic Castellanos. "The team was so successful that got Second place in the ESPN National tournament in Orlando," Cardenas said. "Other players from the area started join us, making the team what it is today." Cárdenas, who has been coaching for seven years in the U.S. and in England while serving in the Air Force, says the Chivas team plans to compete in the state championship in hopes to compete in the national games again. The next state competition is scheduled for next summer and the national games will be held in Virginia.
Until then, the team continues to practice twice a week at the Oakland Heights athletic fields.
The team will be given a well deserved congratulatory celebration at the Latino Festival in Pensacola, November 3. The team will walk in the festival opening parade at noon and later will be presented with an official "National Athlete Certificate" from the State Games of America.
Photos will be available at www.LaCostaLatina.com.