Camión de helado robado en Okaloosa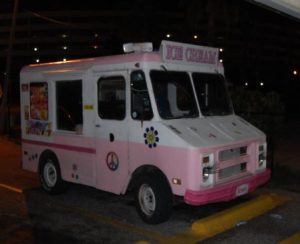 OKALOOSA ISLAND, Fla.—Es difícil robar un camión de helados y hacer una escapada que nadie nota.
Pero los oficiales de la Oficina del Sheriff del Condado de Okaloosa dicen que William Grappy, de 30 años, hizo un intento de todos modos, tomando un camión de helados de color rosado y blanco del 216 de la avenida Angler en  Okaloosa Island poco después de la medianoche.
La novia del propietario vio el crimen y siguió a Grappy hasta donde abandonó el camión detrás del Tom Thumb en el 1209 Miracle Strip Parkway y escapó.
Las autoridades de OCSO encontraron a Grappy,  quien dicen que se disculpó por "ser un idiota."
Grappy está acusado de robo, hurto mayor de un vehículo de motor y posesión de marihuana, después de que se encontraron dos "nuggets" en los bolsillos de su pantalón.
El propietario, dice que el camión contenía aproximadamente $1,200 en helados, le dijo a los agentes que las llaves se habían dejado dentro del vehículo sin llave.
Ice cream truck stolen in Okaloosa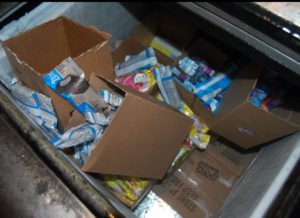 OKALOOSA ISLAND, Fla.—It's tough to steal an ice cream truck and make a getaway that no one notices.
But Okaloosa County Sheriff's Office deputies say 30-year old William Grappy made an attempt anyway, taking a pink and white ice cream truck from outside 216 Angler Avenue on Okaloosa Island shortly after midnight.
The owner's girlfriend spotted the crime taking place and followed Grappy to where he ditched the van behind the Tom Thumb at 1209 Miracle Strip Parkway and ran away.
OCSO deputies found Grappy, who they say became apologetic for "being an idiot".
Grappy is charged with burglary, grand theft of a motor vehicle, and possession of marijuana, after two "nuggets" were found in his pants pockets.
The owner, who says the truck contained about $1,200 worth of ice cream, told deputies the keys were left inside the unlocked vehicle.