Blue Wahoos y Bubba Watson abren campo de golf de disco en el estadio
PENSACOLA, Fla. – El Pensacola Blue Wahoos y el copropietario del equipo Bubba Watson se han asociado para traer un nuevo deporte al Estadio Blue Wahoos. A partir del viernes 15 de mayo, el Diamond Disc Golf Challenge de Bubba Watson se abrirá en el estadio Blue Wahoos, brindando a los fanáticos una experiencia de golf de 9 hoyos en el campo en el estadio, diseñado por el dos veces campeón del Masters Tournament.
"Hemos hecho muchas cosas interesantes en el Estadio Blue Wahoos antes, pero crear un campo de golf de disco puede ser una de nuestras ideas más creativas," dijo Watson, dos veces campeón del Torneo de Maestros. "No creo que ningún otro equipo de béisbol haya hecho esto. Para cualquiera que no haya jugado al golf de disco, es una excelente manera de pasar tiempo al aire libre y es un juego fácil de aprender, para que cualquiera pueda salir y jugar. ¡Lo he estado jugando con mis amigos durante años cuando no estoy en el campo de golf o en un juego de Blue Wahoos! "
El curso cubre la totalidad de la superficie de juego en el Estadio Blue Wahoos y está abierto al público de 12 p.m. a 8 p.m. los viernes, sábados y domingos. La entrada es de $5 por jugador por ronda. Los niños de 6 a 12 años, los adultos mayores, los militares y los socorristas recibirán un descuento de admisión de $1. Los niños de 5 años y menores reciben entrada gratuita con un adulto pagado.
Para garantizar la seguridad de los participantes y cumplir con las pautas de COVID-19, se permitirá que nuevos grupos comiencen a jugar el curso cada quince minutos. Se alienta a los jugadores a traer sus propios discos o comprar un paquete de inicio de tres discos de Blue Wahoos por $25. El alquiler de discos no está disponible de acuerdo con las recomendaciones de seguridad y saneamiento.
Los jugadores deben ingresar a través de las puertas principales del estadio Blue Wahoos y visitar la tienda Bait & Tackle Store detrás del home plate (plato) para registrarse. Se proporcionará un cuadro de mando y un mapa del curso a cada jugador.
Blue Wahoos And Bubba Watson Open Stadium Disc Golf Course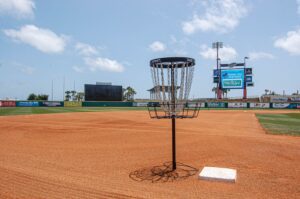 PENSACOLA, Fla. – The Pensacola Blue Wahoos and team co-owner Bubba Watson have partnered to bring a new sport to Blue Wahoos Stadium. Starting Friday, May 15, Bubba Watson's Diamond Disc Golf Challenge will open at Blue Wahoos Stadium, giving fans a 9-hole disc golf experience on the field at the ballpark, designed by the two-time Masters Tournament champ.
"We have done a lot of cool things at Blue Wahoos Stadium before, but creating a disc golf course may be one of our most creative ideas," Watson, a two-time Masters Tournament champ, said. "I don't think any other baseball team has ever done this. For anyone who has not played disc golf, it's a great way to spend some time outdoors and an easy game to learn, so anyone can come out and play. I've been playing it with my friends for years when I'm not on the golf course or at a Blue Wahoos game!"
The course covers the entirety of the playing surface at Blue Wahoos Stadium and is open to the public from 12 p.m. to 8 p.m. on Fridays, Saturdays, and Sundays. Admission is $5 per player per round. Children ages 6-12, seniors, military members, and first responders will receive a $1 admission discount. Children 5 and under receive free admission with a paid adult.
To ensure the safety of participants and in adherence with COVID-19 guidelines, new groups will be allowed to begin playing the course every fifteen minutes. Players are encouraged to bring their own discs or to purchase a three-disk starter pack from the Blue Wahoos for $25. Disc rental is not available in accordance with safety and sanitation recommendations.
Players should enter through the main gates at Blue Wahoos Stadium and visit the Bait & Tackle Store behind home plate to register. A scorecard and course map will be provided to each player.
[adrotate group="1"]