BCC del condado de Walton anuncia nuevo sitio web rediseñado
La Comisión del Condado de Walton anunció el lanzamiento de su nuevo sitio web el 13 de enero.
"Es importante que el condado proporcione información fácil de encontrar, válida y precisa al público," dijo el presidente de BCC y comisionado del Distrito 4, Trey Nick. "Este rediseño proporciona un acceso más rápido y sencillo a la información que más busca nuestro público."
Los administradores del condado de Walton dicen que el sitio web, http://www.co.walton.fl.us, ahora tiene una mayor funcionalidad, así como un diseño más limpio y fácil de navegar.
La página de inicio del sitio web presenta nuevos módulos que incluyen:
Botones de inicio rápido actualizados
NewsFlash actualizado
Calendario actualizado con eventos y fechas de reuniones
Nuevo módulo del condado que destaca historias sobre lo que está sucediendo en todo el condado
Con el nuevo sitio web, el BCC del condado de Walton espera poder aumentar su participación comunitaria y mejorar la comunicación entre los residentes y el gobierno local.
Walton County BCC announces new redesigned website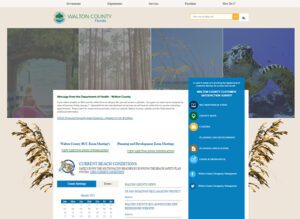 The Walton County Board of County Commissioners announced the launch of its new website on January 13.
"It is important for the County to provide easy to find, valid and accurate information to the public," said BCC Chairman and District 4 Commissioner Trey Nick.  "This redesign provides quicker and easier access to information that is most searched out by our public."
Walton County administrators say the website, http://www.co.walton.fl.us, now has increased functionality as well as a cleaner, easier layout to navigate.
The website's homepage features new modules including:
Updated Quick Launch Buttons
Updated NewsFlash
Updated Calendar with Events and Meeting Dates
New County Spotlight Module with stories about what is happening throughout the County
With the new website, the Walton County BCC hopes to be able to increase its community engagement and enhance the communication between residents and the local government. 
[adrotate group="1"]