Latinos se unen a la celebración de Mardi Gras en Pensacola
PENSACOLA, Fla.—Mardi Gras salió con una fanfarria exuberante el 13 de febrero, "Fat Tuesday." La celebración regional siempre es el día antes del Miércoles de Ceniza. En Mobile, las festividades detienen a la ciudad, cerrando negocios y el tráfico de la calle con un programa de desfiles continuos que se ejecuta durante todo el día
Pensacola celebra Fat Tuesday de manera diferente, ya que el gran desfile se alineó en las calles del centro el sábado anterior al Fat Tuesday. El final de la temporada de Mardi Gras se celebró con una fiesta pública llamada "Priscus." Las festividades celebran el final de la temporada y el aprecio por el desfile de krewes e incluye una coronación del rey y la reina de Mardi Gras.
Este año, los Latinos tienen una presencia más visible en la tradición sureña. Krewe de Karnaval participó en el gran desfile por segunda vez. El krewe exhibió su carroza recientemente renovada, decorada de forma colorida con un animado retrato de Celia Cruz en el costado.
Pero no todo es diversión y juegos. Los krewes de Mardi Gras también suelen recaudar fondos para beneficiar a una organización benéfica. Krewe de Karnaval dedica sus esfuerzos a apoyar al Council on Aging. El grupo recolecta ventiladores y unidades de aire acondicionado para los ancianos que lo necesitan.
"Elegimos apoyar al Council on Aging porque culturalmente, nos enseñaron que nuestros mayores son el centro de nuestras familias y que es honorable respetarlos y cuidarlos," dijo Rosy Carrion, la fundadora del krewe.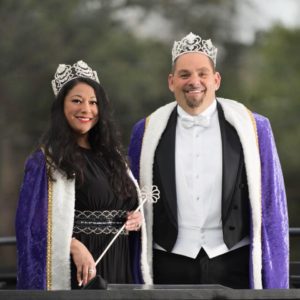 Otro participante nuevo es el Krewe de SWAT, dirigido por Brian y Cristina Williams, dueños de Kool Karts en Pensacola. Cristina, cuya familia es de El Salvador, se mudó a Pensacola desde Nueva Orleans, una ciudad famosa por las celebraciones del Mardi Gras. Brian y Cristina Williams fueron los 2018 Mardi Gras rey y reina en Pensacola.
Cualquier persona interesada en unirse a Krewe of Karnaval debe enviar un correo electrónico a krewedekarnaval@gmail.com.
Latinos join Mardi Gras celebration in Pensacola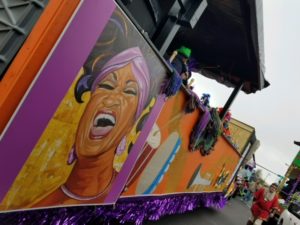 PENSACOLA, Fla.—Marti Gras went out with exuberant fanfare on February 13, Fat Tuesday. The regional celebration is always the day before Ash Wednesday. In Mobile, the festivities bring the city to a halt, closing businesses and street traffic as a schedule of continuous parades runs throughout the day
Pensacola celebrates Fat Tuesday differently, in that the grand parade lined downtown streets on the Saturday prior to Fat Tuesday. The Mardi Gras season finale was celebrated with a public party called the "Priscus." The festivities celebrates the end of the season and appreciation for the parade krewes and includes a coronation of the Mardi Gras king and queen.
This year, Latinos make a more visible presence in the Southern tradition. Krewe de Karnaval participated in the grand parade for the second time. The krewe showcased their newly renovated parade float, decorated colorfully with a lively portrait of Celia Cruz on the side.
It's not all fun and games, though. Mardi Gras krewes also usually raise funds to benefit a charity. Krewe de Karnaval dedicates their efforts to support Council on Aging. The group collects fans and air condition units for the elderly in need.
"We chose to support Council on Aging because culturally, we are taught our elders are the center of our families and it's honorable to respect and care for them," said Rosy Carrion, the krewe's founder.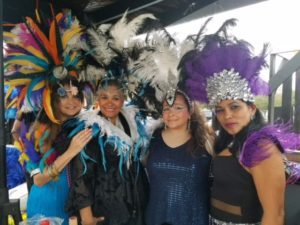 Another young participant is the Krewe of SWAT, led by Brian and Cristina Williams, owners of Kool Karts in Pensacola. Cristina, whose family is from El Salvador, moved to Pensacola from New Orleans, a city famous for Mardi Gras celebrations.  Brian and Cristina Williams were the 2018 Mardi Gras king and queen in Pensacola.
Anyone interested in joining Krewe of Karnaval should email krewedekarnaval@gmail.com.