Ya está disponible el calendario de limpieza del vecindario del alcalde 2021
PENSACOLA, Fla. – El programa de limpieza de vecindarios del alcalde de 2021 ya está disponible, y la primera limpieza del año está programada para el sábado 30 de enero en el centro de la ciudad, incluidas partes de los vecindarios circundantes.
A través del programa de limpieza de vecindarios del alcalde, todos los vecindarios de la ciudad tienen una limpieza una vez al año durante los meses de enero a octubre. Además de los servicios de saneamiento que recolectan los artículos que se dejan en la acera, Code Enforcement realiza un barrido del área de limpieza y aborda cualquier violación del código.
La limpieza del vecindario del alcalde permite a los residentes en las áreas de limpieza dejar los artículos elegibles en la acera el día de la limpieza para ser recogidos por los Servicios Sanitarios de la Ciudad de Pensacola. La limpieza incluye artículos a granel como electrodomésticos, muebles y colchones, bicicletas y juguetes, llantas y pintura vieja.
Se enviará y publicará más información sobre cada limpieza en el sitio web de la Ciudad de Pensacola antes de la fecha de limpieza. Los residentes también recibirán una postal por correo con la fecha de limpieza.
2021 Mayor's Neighborhood Cleanup Schedule Now Available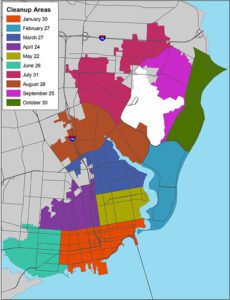 PENSACOLA, Fla. – The 2021 mayor's neighborhood cleanup schedule is now available, with the first cleanup of the year scheduled for Saturday, Jan. 30 in the downtown area, including portions of surrounding neighborhoods.
Through the Mayor's Neighborhood Cleanup program, all city neighborhoods have a cleanup once a year during the months of January through October. In addition to sanitation services collecting items left at the curb, Code Enforcement conducts a sweep of the cleanup area and addresses any code violations.
The mayor's neighborhood cleanup allows residents in the cleanup areas to leave eligible items at the curb on cleanup day to be picked up by City of Pensacola Sanitation Services. The cleanup includes bulk items such as household appliances, furniture and mattresses, bicycles and toys, tires and old paint.
More information about each cleanup will be sent out and published on the City of Pensacola website prior to the cleanup date. Residents will also receive a postcard in the mail with their cleanup date. 
[adrotate group="1"]