Nuevo sheriff del condado de Okaloosa juramentado
CONDADO DE OKALOOSA, Fla. – El ex comandante de la Oficina de Administraciones Eric Aden fue juramentado oficialmente hoy por el secretario de la corte de Okaloosa, JD Peacock, también ex diputado de la OCSO.
El sheriff Aden corrió sin oposición al asiento, poniéndolo a cargo de una agencia con un personal de 459 entre ellos juramentados y civiles.
El alguacil Aden dijo que convertirse en alguacil es el mayor honor de su vida y que sus metas son aprovechar el éxito actual de la OCSO como una agencia acreditada a nivel estatal y nacional que disfruta de un apoyo comunitario excepcional.
Le dio crédito al alguacil saliente Larry Ashley, diciendo que trajo gran integridad a la OCSO y llamándolo uno de los líderes más grandes que he conocido.
"Trazaremos la línea en la arena y mantendremos esa línea para proteger a nuestros ciudadanos del mal," dijo Aden. "Es lo que quieren y esperan y lo proporcionaremos."
El nuevo alguacil de OCSO es Charlie Nix y el nuevo jefe adjunto es Ken LaPee.
New Okaloosa County Sheriff sworn in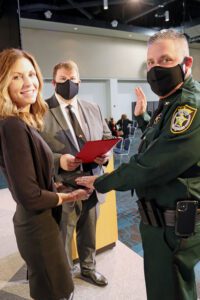 OKALOOSA COUNTY, Fla. – Former Administrations Bureau Major Eric Aden was officially sworn in today by Okaloosa Clerk of Court JD Peacock, also a former OCSO deputy.
Sheriff Aden ran unopposed for the seat, putting him in charge of an agency with 459 sworn and civilian personnel.
Sheriff Aden said becoming Sheriff is the greatest honor of his life and his goals are to build on the OCSO's current success as a state and nationally accredited agency that enjoys outstanding community support.
He credited outgoing Sheriff Larry Ashley, saying he brought great integrity to the OCSO and calling him one of the greatest leaders I've ever known.
"We will draw the line in the sand and hold that line to protect our citizens from evil," Aden said. "It's what they want and expect and we will provide it."
The new OCSO Undersheriff is Charlie Nix and the new Chief Deputy is Ken LaPee. 
[adrotate group="1"]