WSRE quiere tu historia de "Credo Estadounidense"
PENSACOLA / CRESTVIEW, Fla.—Junto con la película "American Creed" que se estrenará el 27 de febrero en estaciones de PBS en todo el país, la televisión pública de WSRE auspiciará eventos locales y patrocinará una campaña de narración para que el público comparta historias personales sobre lo que significa ser un americano.
WSRE ofrece tres maneras de unirse a la conversación nacional provocada por esta película: un proyecto de narración de historias que se desarrollará hasta el 1 de marzo; una proyección de película gratuita de "American Creed" en Crestview el 15 de febrero; y un evento de proyección de la serie Public Square Speakers con Tegan Griffith y Terrence Davenport (de la película) en Pensacola el 20 de febrero.
Se invita al público a enviar historias digitales entrevistando modelos positivos que estén dispuestos a responder la pregunta: "¿Qué significa para usted ser estadounidense o vivir en Estados Unidos?." Los videos no deben superar los tres minutos y pueden enviarse a través de YouTube. de acuerdo con las pautas de entrada publicadas en wsre.org/AmericanCreed.
La primera proyección pública se llevará a cabo a las 7 p.m. el jueves 15 de febrero en el Elegant Vue Event Center ubicado en 544 Main St. en Crestview.
La segunda proyección pública se realizará a las 7 p.m. el martes 20 de febrero en el WSRE Jean & Paul Amos Performance Studio en el campus Pensacola State College en 1000 College Blvd. Un panel de discusión que incluye miembros del elenco y la audiencia preguntas y respuestas continuarán despues de la película.
La entrada es gratuita para todos los eventos, y las reservaciones se pueden hacer en wsre.org/AmericanCreed. Los boletos no son obligatorios
WSRE wants your "American Creed" story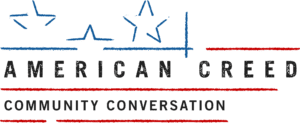 PENSACOLA/CRESTVIEW, Fla.―In conjunction with the film "American Creed" which premieres February 27 on PBS stations nationwide, WSRE public television is hosting local events and sponsoring a storytelling campaign for the public to share personal stories about what it means to be an American.
WSRE is offering three ways to join the national conversation sparked by this film: a storytelling project going on now through March 1; a free film screening of "American Creed" in Crestview on February 15; and a Public Square Speakers Series screening event featuring a Tegan Griffith and Terrence Davenport (from the film) in Pensacola on February 20.
The public is invited to submit digital stories by interviewing positive role models willing to answer the question: "What does it mean to you to be an American or live in America?" Videos must be no longer than three minutes and can be submitted via YouTube according to the entry guidelines posted at wsre.org/AmericanCreed.
The first public screening will be held at 7 p.m. on Thursday, Feb. 15 at the Elegant Vue Event Center located at 544 Main St. in Crestview.
The second public screening will be held at 7 p.m. on Tuesday, Feb. 20 at the WSRE Jean & Paul Amos Performance Studio on the Pensacola State College campus at 1000 College Blvd. A panel discussion including cast members and audience Q&A will follow the film.
Admission is free for all events, and reservations can be made at wsre.org/AmericanCreed. Tickets are not required.
[adrotate group="1"]