Leadership Pensacola anuncia el proyecto del 2018
PENSACOLA, Fla.—Leadership Pensacola se asociará con la City of Pensacola y la National Fitness Campaign para instalar tres canchas de acondicionamiento físico en toda el área como parte del proyecto de la clase grupal 2018, "LeaP into Fitness."
Las canchas de acondicionamiento físico NFC ofrecen un "programa de entrenamiento físico libre y al aire libre diseñado para todos los niveles." Las canchas se instalarán en Bayview Park, Legion Field y Vince J. Whibbs Sr. Community Maritime Park. La construcción de las canchas de acondicionamiento físico será posible a través de patrocinios y donaciones.
Leadership Pensacola, un programa de Pensacola Chamber Foundation, se estableció en 1982 con el objetivo de garantizar que el grupo de líderes talentosos en la comunidad se renove continuamente. Cada año, la clase elige un proyecto orientado a la comunidad para completar.
La National Fitness Campaign se asoció con más de 4.000 ciudades para construir canchas de acondicinamiento físico, dijeron las autoridades. Las pistas de 34.5'x32 'son un circuito de entrenamiento con siete estaciones, peso corporal y un sistema de entrenamiento de salud. Cada cancha de acondicinamiento físico tiene 30 piezas individuales de equipo, un piso deportivo resistente a los golpes, y se compone de estaciones de ejercicio que permiten que hasta 28 personas usen la cancha al mismo tiempo.
Las canchas ofrecen cientos de rutinas diseñadas para apoyar el entrenamiento físico para una variedad de grupos de edad y niveles de intensidad.
Se planea una ceremonia de inauguración para inaugurar el primero de las tres canchas en el Community Maritime Park el 27 de abril.
Leadership Pensacola announces 2018 project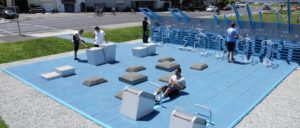 PENSACOLA, Fla.—Leadership Pensacola will partner with the City of Pensacola and the National Fitness Campaign to install three fitness courts throughout the area as part of the group's 2018 class project, "LeaP into Fitness."
NFC's fitness courts offer a "free, outdoor, bodyweight fitness program designed for all levels." The courts will be installed at Bayview Park, Legion Field, and the Vince J. Whibbs Sr. Community Maritime Park. Construction of the courts will be made possible through sponsorships and donations.
Leadership Pensacola, a program of the Pensacola Chamber Foundation, was established in 1982 with the goal of ensuring the community's pool of talented leaders would be continually renewed. Each year's class chooses a community-oriented project to complete.
The National Fitness Campaign has partnered with more than 4,000 cities to build fitness courts, officials said. The 34.5'x32' courts are a seven-station, bodyweight fitness circuit and health training system. Each fitness court features 30 individual pieces of equipment, a shock-resistant sports flooring, and is comprised of exercise stations that allow for up to 28 individuals to use the court at the same time. The courts offer hundreds of routines intended to support fitness training for a variety of age groups and intensity levels.
A ribbon-cutting ceremony is planned to unveil the first of the three courts at the Community Maritime Park on April 27.