Una niña reporta un extraño encuentro en una parada de bus
CRESTVIEW, Fla. – Una niña de 12 años dice que un hombre en un vehículo deportivo negro de dos puertas con llantas negras se le acercó después de que se bajó de su autobús escolar al norte de Crestview en febrero, y le preguntó: "¿Puede ayudarme a encontrar ¿Mis hijos?" La niña dice que ignoró al hombre y siguió caminando por Amanda Court. Informó que el hombre, descrito como un hombre blanco, calvo, con ojos marrones y unos cuarenta años, gritó "¡Hey!" Así que ella comenzó a correr y él se fue en la dirección opuesta.
Como medida de precaución, el Okaloosa County Sheriff's Office compartió este informe y solicitó que cualquier comportamiento sospechoso similar o individuos sean reportados a las autoridades locales.
Girl reports strange encounter at bus stop
C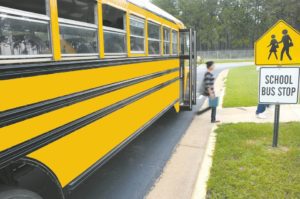 RESTVIEW, Fla. – A 12- year old girl says a man in a black two door sport vehicle with black rims approached her after she got off her school bus north of Crestview in February, asking "Can you help me find my kids?" The girl says she ignored the man and continued walking on Amanda Court. She reported the man, described as a white male, bald, with brown eyes and in his forties, then yelled "Hey!" so she began running and he left in the opposite direction.
As a precaution, the Okaloosa County Sheriff's Office shared this report and asked that any similar suspicious behavior or individuals be reported to local law enforcement.  
[adrotate group="1"]