UWF gana el máximo galardón por el trabajo de asentamiento de Luna
Por Derek Cosson, publicado originalmente en PulsGulfCoast.com

PENSACOLA, Florida.- La University of West Florida ganó un premio nacional de arqueología por su trabajo que desenterró el asentamiento de 1559 de Tristan de Luna en Pensacola, el primer asentamiento europeo multianual en la actualidad de los Estados Unidos, y tres naufragios asociados.
La Society for Historical Archaeology presentó recientemente la UWF's Division of Anthropology and Archaeology con el Premio Daniel G. Roberts del 2018 Excellence in Public Historical Archaeology. Formado en 1967, el SHA es el grupo académico más grande relacionado con la arqueología del mundo moderno. El premio fue presentado en la reunión anual de la sociedad, celebrada a principios de este mes en New Orleans.
Los arqueólogos del UWF descubrieron dos naufragios asociados con el asentamiento de Luna 1559 en 1992 y 2006. En diciembre del 2015, el programa de arqueología del UWF identificó la ubicación del asentamiento terrestre de Luna cerca de Pensacola Bay y en junio del 2016 el equipo descubrió un tercer naufragio.
"Nuestro equipo del Proyecto Luna ha estado trabajando durante varias décadas, primero en los naufragios y recientemente en el asentamiento, para explorar vestigios arqueológicos de los barcos y colonos de Luna," dijo la Dra. Elizabeth Benchley, directora del Division of Anthropology and Archaeology y el Archaeology Institute. "Desde el principio, nos hemos comunicado con la gente de Pensacola para compartir nuestros hallazgos a través de conferencias, sitios de internet, visitas guiadas y oportunidades prácticas, mientras compilamos esta importante historia. Estamos en deuda con el apoyo y el interés de la comunidad, y especialmente de los vecinos de Luna que nos han permitido excavar en sus patios. Nos sentimos muy honrados de recibir este prestigioso premio Excellence in Public Historical Archaeology."
El Premio Roberts, uno de los cuatro principales honores anuales de SHA, se estableció para reconocer y honrar a Daniel G. Roberts, un pionero en arqueología histórica pública. El premio reconoce logros sobresalientes y sostenidos en arqueología histórica pública por individuos, instituciones educativas, empresas u organizaciones con fines de lucro o sin fines de lucro, museos, agencias gubernamentales y patrocinadores privados.
El asentamiento de Luna en Pensacola es anterior al asentamiento español en San Agustín, Florida, por seis años, y el asentamiento inglés en Jamestown, Virginia, por 48 años. Un mes después de la llegada de Luna, el asentamiento fue devastado por un huracán que hundió a seis de los barcos anclados en alta mar, lo que provocó la pérdida de gran parte de los suministros de los colonos. Después de una lucha de dos años para establecer el asentamiento, Luna y sus colonos restantes fueron evacuados a México.
UWF wins top award for Luna settlement work
By Derek Cosson, originally posted in PulsGulfCoast.com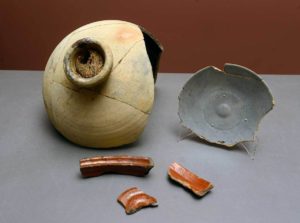 PENSACOLA, Fla.—The University of West Florida has won a national archaeology award for its work unearthing Tristan de Luna's 1559 settlement in Pensacola — the first multi-year European settlement in the present-day United States — and three associated shipwrecks.
The Society for Historical Archaeology recently presented UWF's Division of Anthropology and Archaeology with the 2018 Daniel G. Roberts Award for Excellence in Public Historical Archaeology. Formed in 1967, the SHA is the largest scholarly group concerned with the archaeology of the modern world. The award was presented at the society's annual meeting, held earlier this month in New Orleans.
UWF archaeologists discovered two shipwrecks associated with Luna's 1559 settlement in 1992 and 2006. In December 2015, the UWF archaeology program identified the location of Luna's land settlement near Pensacola Bay, and in June 2016, the team discovered a third shipwreck.
"Our Luna Project team has been working for several decades, first on the shipwrecks and recently on the settlement, to explore archaeological traces of Luna's ships and colonists," said Dr. Elizabeth Benchley, director of the Division of Anthropology and Archaeology and the Archaeology Institute. "From the beginning, we have reached out to Pensacolians to share our findings through lectures, websites, tours, and hands on opportunities, as we piece together this important story. We are indebted to the support and interest from the community, and especially the Luna neighbors who have allowed us to excavate in their yards. We are very honored to receive this prestigious award for Excellence in Public Historical Archaeology from the Society for Historical Archaeology."
The Roberts Award, one of SHA's top four annual honors, was established to recognize and honor Daniel G. Roberts, a pioneer in public historical archaeology. The award recognizes outstanding, sustained accomplishments in public historical archaeology by individuals, educational institutions, for-profit or non-profit firms or organizations, museums, government agencies, and private sponsors.
Luna's settlement in Pensacola predates the Spanish settlement in St. Augustine, Fla. by six years, and the English settlement in Jamestown, Va. by 48 years. Just a month after Luna arrived, the settlement was devastated by a hurricane which sunk six of the ships anchored offshore, resulting in the loss of much of the colonists' supplies. After a two-year struggle to establish the settlement, Luna and his remaining settlers were evacuated to Mexico.
[adrotate group="1"]