Una compañía de carga con sede en el área de Tampa comenzará a hacer paradas regulares en Pensacola
Por Jim Little, jwlittle@pnj.com Originalmente publicado en Pensacola News Journal, 26 de enero de 2018
PENSACOLA, FL—World Direct Shipping, que tiene su sede en Palmetto, planea realizar navegaciones semanales entre el Puerto de Pensacola y el Puerto de Coatzacoalcos en Veracruz, México, según un comunicado de prensa del viernes de la ciudad de Pensacola.
Se espera que el primer barco llegue a Pensacola el jueves.
La compañía ya realiza viajes semanales del Puerto de Manatee a Coatzacoalcos, y Pensacola complementará las operaciones del Puerto de Manatee de la compañía, dijo Carlos Díaz, director de World Direct Shipping, en el comunicado de prensa.
"Lo más importante es que proporcionaremos a los cargadores entre los Estados Unidos y México flexibilidad adicional para satisfacer sus necesidades de envío con nuestro historial comprobado de velocidad, confiabilidad y atención personalizada a los clientes," dijo Díaz. "Es emocionante tener esta oportunidad de abrir otra ruta oceánica entre Florida y México."
La compañía también planea comenzar a prestar servicios a otro puerto en la región norte de la Costa del Golfo de México.
World Direct Shipping posee un buque de carga, el M/V Queen B de 435 pies, y está operando un segundo buque alquilado de un tamaño similar. La Queen B puede transportar 128 contenedores de carga refrigerados, según el sitio web de la compañía.
La directora del puerto de Pensacola, Amy Miller, dijo en el comunicado que entrar en el mercado de contenedores es un gran negocio para el puerto y confía en que el servicio crecerá y prosperará en la ciudad.
"Si bien las operaciones de contenedores a gran escala pueden estar fuera del alcance de nosotros, siempre hemos sabido que había mercados de contenedores pequeños y especializados que tenían sentido," dijo Miller.
A cargo company based in the Tampa area will begin making regular stops in Pensacola.
By Jim Little, jwlittle@pnj.com Originally published in Pensacola News Journal, January 26, 2018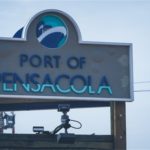 PENSACOLA, FL—World Direct Shipping, which is based in Palmetto, plans to make weekly sailings between the Port of Pensacola and the Port of Coatzacoalcos in Veracruz, Mexico, according to a Friday press release from the city of Pensacola.
The first ship is expected to arrive in Pensacola on Thursday.
The company already makes weekly trips from Port Manatee to Coatzacoalcos, and Pensacola will complement the company's Port Manatee operations, said Carlos Diaz, director of World Direct Shipping, in the news release.
"Most importantly, we will be providing shippers between the U.S. and Mexico additional flexibility in meeting their shipping needs with our proven track record of speed, reliability and personalized care to customers," Diaz said. "It's exciting to have this opportunity to open another ocean route between Florida and Mexico."
The company is also planning to begin service to another port in the northern region of Mexico's Gulf Coast.
World Direct Shipping owns one cargo vessel, the 435-foot M/V Queen B, and is operating a second charted vessel of a similar size. The Queen B can carry 128 refrigerated cargo containers, according to the company's website.
Pensacola Port Director Amy Miller said in the release that breaking into the container market is a big deal for the port and she is confident the service will grow and thrive in the city.
"While large-scale container operations may be out of reach for us, we've always known that there were smaller, niche container markets out there that made sense," Miller said.
[adrotate group="1"]