Renovando la esperanza para Venezuela
Renovar la esperanza para Venezuela es un equipo de misioneros en EE. UU. y misioneros locales venezolanos y voluntarios conscientes de la crisis que enfrentan los venezolanos. Las familias no tienen acceso a alimentos, niños, ancianos y las comunidades más vulnerables del país están muriendo de hambre por la falta de recursos para sus seres queridos. Al comprender esta realidad, comenzamos a ayudar a las comunidades hace meses, ya que la cantidad de personas que atendemos sigue creciendo, la crisis es grave y Venezuela nos necesita ahora.
Estamos comprometidos a plantar semillas de Esperanza entre la comunidad al proporcionar comidas dignas y nutritivas. En este momento, Dios nos ha permitido abrir siete comedores en diferentes regiones del país. Servimos alrededor de 500 comidas al mes en un centro de asistencia de St. Martin the Pores en Rubio Táchira, Hospital Central de San Cristobal, Hospital Padre Justo en Rubio (área rural en Delicias), Iglesia Cristo es la Esperanza en Colonia Tovar, en Iglesia Hay Vida en Jesus en Upata, Bolivar y pronto en Maturin in Anaco. Estamos brindando no solo comidas sino también compartiendo el Amor de Dios y la esperanza con nuestros hermanos y hermanas venezolanos, todos son bienvenidos en nuestros centros.
Nuestra visión es ayudar a las familias brindando comidas en un ambiente digno y pacífico, todos los que sirven están comprometidos en Amor y servir. Creemos que unidos somos la mejor Venezuela. Estamos comprometidos a continuar ayudando un niño, una familia, una comunidad a la vez; Pero no podemos hacer esto solos, necesitamos su apoyo.
Entendemos que el poder del Amor puede transformar el país. Confiamos en DIOS y su apoyo para continuar brindando esperanza diaria a las familias. Gracias por ser parte de este esfuerzo en nuestra obediencia a nuestro llamado a servir.
Venezuela Yohana Carrillo, Coordinadora, 251-421-2047
Renewing hope for Venezuela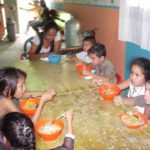 Renewing Hope for Venezuela is a team of missionaries in USA and Venezuelan local missionaries and volunteers who aware of the crisis Venezuelans are facing. Families don't have access to food. Children, elderly and the most vulnerable communities in the country are starving, many are dying. Understanding this reality, we started helping communities months ago. Since then, the number of people we serve keeps growing. The crisis is severe and Venezuela needs us right now.
We are committed to plant seeds of Hope among the community by providing dignifying and nutritious meals. Right now God has allowed us to open seven soup kitchens in different regions of the country. We are serving about 500 meals each month at St. Martin the Pores assisted living facility in Rubio Táchira, Hospital Central de San Cristobal, Padre Justo Hospital in Rubio (a rural area in Delicias), Cristo es la Esperanza Church in Colonia Tovar, and at Hay Vida en Jesus Church in Upata, Bolivar and soon in Maturin in Anaco. We are providing not only meals but also sharing the Love of God and hope with our Venezuelan brothers and sisters, everyone is welcome in our centers.
Our vision is to help families by providing meals in a dignify and peaceful environment, everyone serving is committed to Love. We believe that united we are the best Venezuela. We are committed to continue helping one child, one family, one community at a time; But we cannot do this alone. We need your support.
We understand that the power of Love can transform the country. We trust in Gog and your support to continue providing daily hope to families. Thank you for being part of this efforts in our obedience to our call to serve.
Please visit our link, https://www.gofundme.com/Renewinghopeforvenezuela.
Yohana Carrillo, Coordinator, 251-421-2047