Los servicios de la ciudad, el condado y el parque se preparan para que los transbordadores comiencen el servicio de pasajeros a mediados de mayo
Por Melissa Nelson Gabriel, mnelsongab@pnj.com. Cortesía de Pensacola News Journal.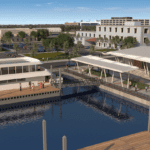 PENSACOLA, Fla.—El Gulf Islands National Seashore, ciudad de Pensacola y funcionarios del condado de Escambia dicen que deberían estar listos para comenzar el servicio de transbordador de pasajeros a mediados de mayo.
"Hay muchas, muchas piezas en movimiento, pero estamos programados para tener un operador de transbordaor bajo contrato esta primavera," dijo Dan Brown, superintendente de Gulf Islands National Seashore.
Los dos transbordadores de 150 pasajeros originalmente estaban programados para comenzar el servicio entre el centro de Pensacola, Pensacola Beach y Fort Pickens en la primavera del 2017, pero el servicio se retrasó durante un año debido a problemas para construir los transbordadores y encontrar un contratista para operar los transbordadores
"Estamos en un lugar muy diferente hoy que hace un año," dijo Brown, quien espera tener el servicio de transbordador en funcionamiento para el 19 de mayo.
El servicio del parque está evaluando las ofertas de las compañías que desean operar los transbordadores y los muelles de los transbordadores en el centro de Pensacola y en Fort Pickens, dijo.
Todavía no está terminada la zona de desembarco de transbordadores del condado de Escambia en Quietwater Beach, detrás del centro comercial Boardwalk de la playa.
Joy Tsubooka, vocera del condado, dijo que se adjudicó un contrato para el anclaje.
"Nuestro objetivo es completar las mejoras en mayo, si no hay retrasos," dijo Tsubooka en un comunicado enviado por correo electrónico.
Los dos transbordadores, llamados Turtle Runner y Pelican Perch en un concurso que involucra a escolares locales, están siendo financiados con $5.2 millones en fondos de restitución pagados por el gigante petrolero BP luego del derrame de petróleo del 2010 Deepwater Horizon. Gulf Islands National Seashore está encabezando el proyecto.
Proporcionar el servicio del transbordaor se ha complicado debido a que muchas entidades gubernamentales están involucradas, dijo Brown.
"Ha sido un desafío porque tenemos tantas entidades diferentes que hemos tenido que unirnos," dijo. "Hemos estado muy, muy ocupados trabajando en esto."
El anclaje del transbordador del National Park Service abarca un antiguo edificio de almacenamiento de minas, construido en 1900 y recientemente convertido para su uso como área de concesión y exposición de historia. El servicio del parque también proporcionará paseos en tranvía para los pasajeros del transbordador que deseen acceder a otras partes del Gulf Islands National Seashore's Fort Pickens Area.
El sitio de la ciudad, frente a la calle Commendencia,St. cerca del PalafoxPier, contará con un quiosco temporal y un área de concesión durante la mayor parte del 2018, mientras se está llevando a cabo la construcción en una terminal permanente de transbordadores.
"El muelle y el edificio de la terminal de $3.5 millones serán adiciones icónicas al litoral del centro de Pensacola y servirán como puerto base para la ubicación de los dos barcos," dijo la ciudad en su sitio web.
Los dos transbordadores, cubiertos con una envoltura protectora de plástico, se encuentran actualmente en dique seco en el puerto de Pensacola y se pueden ver desde el nuevo muelle de la ciudad.
Brown dijo que los transbordadores saldrán del dique seco en abril y serán sometidos a una serie de pruebas en el mar por el U.S. Coast Guard.
El calendario del 2018 requiere que el servicio comience el 19 de mayo, el fin de semana antes del Memorial Day, y continúe diariamente hasta agosto. El servicio de solo fin de semana continuará hasta octubre. En el 2019, el servicio de fin de semana comenzará en marzo con un servicio diario de mayo a agosto y el servicio de fin de semana continuará hasta octubre.
"En última instancia, el horario dependerá del operador del transbordador y pueden proponer un calendario más amplio si ven una demanda," dijo.
Brown dijo anteriormente que las entradas deberían costar alrededor de $19 con precios especiales para niños, adultos mayores y militares, pero los precios podrían estar sujetos a cambios según las necesidades del operador del transbordador. La velocidad promedio de los transbordadores será de aproximadamente 12 nudos o 14 millas por hora, lo que significa que cada etapa del viaje debería tomar entre 35-45 minutos.
City, county and park service prepare for ferries to start passenger service in mid May
By Melissa Nelson Gabriel, mnelsongab@pnj.com. Courtesy of Pensacola News Journal.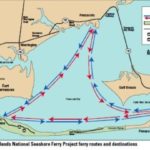 PENSACOLA, Fla.—Gulf Islands National Seashore, the city of Pensacola and Escambia County officials say they should be ready to start passenger ferry service in mid May.
"There are many, many, many moving pieces, but we are on schedule to have a ferry operator under contract by this spring," said Dan Brown, superintendent of Gulf Islands National Seashore.
The two, 150-passenger ferries were originally scheduled to begin service between downtown Pensacola, Pensacola Beach and Fort Pickens in the spring of 2017, but service was delayed for a full year because of problems constructing the ferry landings and finding a contractor to operate the ferries.
"We are in a far different place today than we were a year ago," said Brown, who hopes to have ferry service running by May 19.
The park service is evaluating bids from companies wanting to operate the ferries and ferry docks are in place in both downtown Pensacola and at Fort Pickens, he said.
Still unfinished is Escambia County's ferry landing area at Quietwater Beach behind the beach's boardwalk shopping center.
Joy Tsubooka, spokeswoman for the county, said a contract for the landing has been awarded.
"Our goal is to have the improvements completed in May, barring any delays," Tsubooka said in an emailed statement.
The two ferries, named Turtle Runner and Pelican Perch in a contest involving local school children, are being funded with $5.2 million in restitution funds paid by oil giant BP in the aftermath of the 2010 Deepwater Horizon oil spill. Gulf Islands National Seashore is spearheading the project.
Providing the ferry service has been complicated because so many government entities are involved, Brown said.
"It has been challenging because we have so many different entities that have had to come together," he said. "We have been very, very busy working on this."
The National Park Service ferry landing encompasses a former mine storage building, built in 1900 and recently converted for use as a concession area and history exhibit. The park service will also provide trolley rides for ferry passengers wanting to access other parts of Gulf Islands National Seashore's Fort Pickens Area.
The city's site, off Commendencia Street near the Palafox Pier, will have a temporary kiosk and concession area through most of 2018, while construction is underway on a permanent ferry terminal.
"The $3.5 million dock and terminal building will be iconic additions to Pensacola's downtown waterfront and will serve as the homeport for location for the two vessels," the city said on its website.
The two ferries, covered in protective plastic wrapping, are currently in dry dock at the Port of Pensacola and can be seen from the city's new ferry dock.
Brown said the ferries are scheduled to be taken out of dry dock in April and will undergo a series of sea trials by the U.S. Coast Guard.
The 2018 schedule calls for the service to start on May 19, the weekend before Memorial Day, and continue daily through August. Weekend-only service will continue through October. In 2019, weekend-only service will start in March with daily service from May to August and weekend-only service continuing through October.
"Ultimately the schedule will be up to the ferry operator and they can propose a more expansive schedule if they see a demand," he said.
Brown has previously said tickets should cost around $19 will special fares for children, seniors and the military, but prices could be subject to change based on the needs of the ferry operator. The average speed of the ferries will be about 12 knots or 14 miles per hour, meaning each leg of the trip should take between 35-45 minutes.
[adrotate group="1"]