Sin cambios en las ventas de Goya en la costa del Golfo
PENSACOLA, Fla . – El CEO de Goya, Bob Unanue, está en el centro de una controversia reciente. Cuando en la Casa Blanca, Unanue anunció que Goya donaría dos millones de libras de alimentos a los bancos de alimentos de los Estados Unidos y luego dijo, "Todos estamos verdaderamente bendecidos al mismo tiempo por tener un líder como el presidente Trump."
El elogio de Unanue para Trump ha generado una gran reacción en las redes sociales por parte de aquellos sienten que su elogio al presidente es sordo, dado el historial de la política negativa de Trump hacia ciudadanos latinos e inmigrantes. Desde entonces, ha habido llamados a boicots y "buycotts" de los productos Goya.
A nivel local, las empresas han visto pocos cambios en sus ventas. Aunque deseaban permanecer en el anonimato, aquellos que se comunicaron solo informaron que todo seguía funcionando como siempre o que, para empezar, nunca llevaron productos Goya. Nos comunicamos con Goya para obtener comentarios, pero rechazaron una entrevista.
No change in Goya sales in the Gulf Coast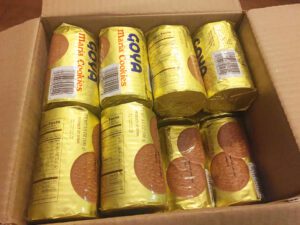 PENSACOLA, Fla. – Goya CEO Bob Unanue is at the center of a recent controversy. While at the White House Unanue announced that Goya would be donating two million pounds of food to food banks across the United States then went on to say, "We're all truly blessed at the same time to have a leader like President Trump."
Unanue's praise for Trump has garnered a great backlash on social media from those who feel his praise for the president is tone-deaf, given Trump's negative policies towards Latino citizens and immigrants. Since then, there have been calls for boycotts and "buycotts" of Goya products.
Locally, businesses have seen little change in their sales. Though they wished to remain anonymous, those that reached out only reported that it was business as usual or that they never carried Goya products to begin with. We reached out to Goya distributors for comment, but they declined an interview.  
[adrotate group="1"]