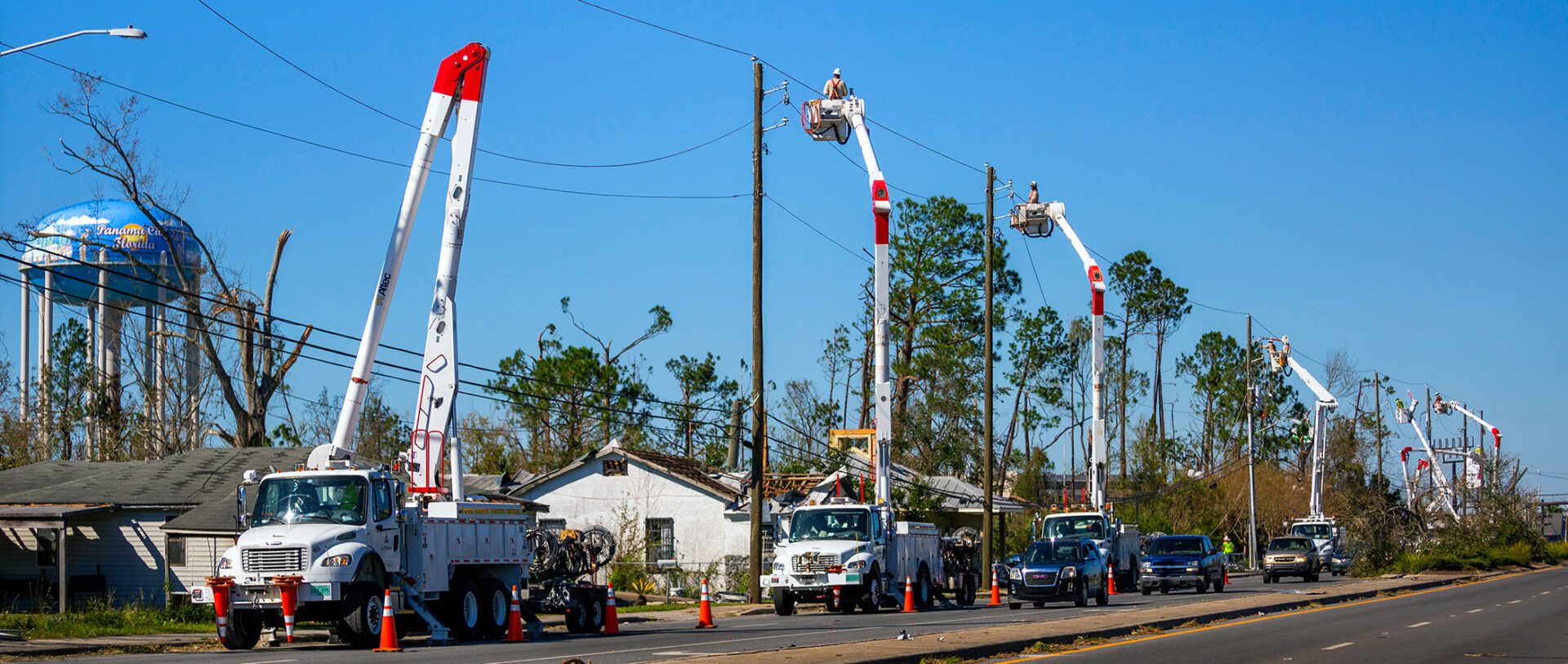 Recordatorio de leyes de seguridad después de que mataron a trabajadores de linea
La noticia de un accidente fatal de choque y fuga en Chilpley, Florida, que involucra a trabajadores de línea que trabajaban para restablecer la electricidad después del huracán Michael es un recordatorio trágico de los peligros de trabajar en la carretera.
"Nada importa más que la seguridad de nuestros clientes y nuestros equipos de tormenta, y después de una tormenta de esta magnitud, todos debemos permanecer vigilantes," dijo Adrianne Collins, vicepresidenta de Power Delivery de Gulf Power. "El riesgo del tráfico que se aproxima es uno de los peligros más grandes que enfrentan nuestros trabajadores de línea, y nuestra comunidad puede ayudar a proteger a todos los miembros de nuestro equipo de restauración al observar la ley Move Over."
La ley de "Move Over" (moverse a un lado) proporciona espacio de seguridad para aquellos que trabajan o asisten a otros a lo largo de los caminos de la Florida, incluye a los agentes de la ley, personal de emergencias, trabajadores de servicios públicos y de saneamiento y otros servidores públicos.
La ley requiere que los automovilistas se muevan hacia otro carril al pasar.
Si no pueden moverse, entonces deben reducir la velocidad a 20 mph por debajo del límite de velocidad publicado.
Si los conductores violan la ley Move Over, se les podría emitir un boleto, lo que podría resultar en una multa, así como tambien de tres puntos en su licencia de conducir.
El peligro cada vez mayor de los conductores distraídos que no brindan a los socorristas y sus ocupantes el amortiguador adecuado para realizar sus trabajos de manera segura cuando se encuentran en las carreteras estatales es un riesgo  que los equipos de las utilidades, así como los conductores de vehículos de emergencia y las fuerzas del orden público, enfrentan diariamente. Este riesgo solo aumenta con las distracciones adicionales que vienen con un área que ha sido tan impactada por una tormenta tan destructora como el huracán Michael.
Drivers reminded of safety laws after lineworkers killed
News of a fatal hit-and-run accident in Chilpley, Fla. involving lineworkers who were working to restore power after Hurrican Michael is a tragic reminder of the dangers of working along the roadside.
"Nothing matters more than the safety of our customers and our storm crews, and after a storm of this magnitude, all of us must remain vigilant," said Adrianne Collins, Gulf Power's vice president of Power Delivery. "Risk from oncoming traffic is one of the biggest dangers our lineworkers face, and our community can assist with the protection of all our restoration team members by observing the Move Over law."
The Move Over law provides safety buffers for those working or assisting others along Florida's roadways including law enforcement, emergency responders, utility and sanitation workers and other public servants.
The law requires motorists to move over a lane when passing.
If they cannot move over, then they should slow down to 20 mph below the posted speed limit.
If drivers violate the Move Over law, they could be issued a ticket, which could result in a fine as well as three points on their driver's license.
Increasing danger from distracted drivers who fail to give first responders and their occupants the proper buffer to conduct their jobs safely when out on the state's roadways is a risk that utility crews, as well as emergency vehicle drivers and law enforcement, face on a daily basis. This risk is only heightened with the additional distractions that come with an area that has been so greatly impacted by a storm as destructive as Hurricane Michael.
[adrotate group="1"]