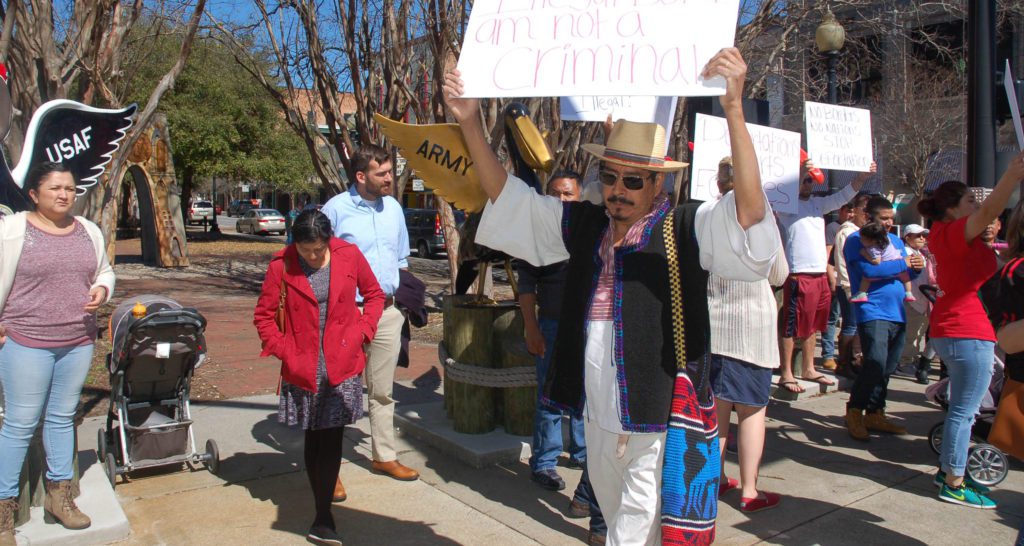 Los progresistas locales se solidarizan con las protestas nacionales
Por C.S. Satterwhite. Esta historia fue publicada originalmente en IN Weekly y fue editada para la longitud. Lea la versión completa en inglés en www.INWeekly.net
El 8 de noviembre de 2016, los votantes estadounidenses eligieron a Donald J. Trump como el 45º presidente de los Estados Unidos. En pocas horas, comenzaron las protestas y no muestran señales de detenerse.
Las protestas políticas son una parte de la cultura de los Estados Unidos y han sido desde que los fundadores encerraron la libertad de solicitar al gobierno en la Constitución de los Estados Unidos.
En caso de que haya olvidado, la Primera Enmienda dice lo siguiente:
El Congreso no hará ninguna ley sobre el establecimiento de la religión, ni prohibirá su libre ejercicio; O abreviar la libertad de expresión, o de la prensa; O el derecho del pueblo a reunirse pacíficamente, y solicitar al Gobierno una reparación de los agravios.
En pocas palabras, puedes orar y protestar como quieras, simplemente no hagas daño a nadie.
Esta libertad básica, número uno en la Declaración de Derechos, a menudo se da por concedido. No hoy, sin embargo. Durante el mes pasado solo, numerosas protestas importantes tuvieron lugar en todo el país y el mundo, y Pensacola no es una excepción.
Desde la inauguración del presidente Trump el 20 de enero, las órdenes ejecutivas, las citas en el gabinete y hasta los tweets aleatorios han mantenido a los activistas en pie.
Por ejemplo, las órdenes ejecutivas del presidente pidiendo la exclusión de los inmigrantes de siete países de mayoría musulmana alimentaron temores de una "prohibición musulmana"- que envió a la gente a las calles.
Otra orden ejecutiva pidió la construcción de un muro físico entre los Estados Unidos y México, lo que también envió a la gente a las calles.
Otra orden ejecutiva pidió la revisión acelerada del impacto ambiental en proyectos de infraestructura de alta prioridad, en gran parte considerados como una "luz verde" para el controvertido Proyecto Dakota Access Pipeline, lo que también envió a la gente a las calles.
Para los activistas de todo el país, las últimas cuatro semanas han estado ocupadas y muchos organizadores se están preparando activamente para los próximos cuatro años para estar muy ocupados.
El 27 de enero, el Presidente Trump emitió una amplia orden ejecutiva para detener la inmigración de cientos de personas de siete países predominantemente musulmanes que enviaban impactos fuertes hacia las comunidades de inmigrantes. Los funcionarios de inmigración detuvieron a refugiados y residentes legales en aeropuertos en el extranjero y mantuvieron a otros en instalaciones de detención en los aeropuertos estadounidenses. En dos días, miles de estadounidenses llevaron sus protestas a los aeropuertos para oponerse a la prohibición de inmigración del presidente. Los abogados fueron a los aeropuertos en busca de gente para ayudar, y los activistas crearon fuertes manifestaciones para mostrar una oposición vocal a la orden ejecutiva anti-inmigrante del presidente. Aunque la orden ejecutiva se dirigió a personas de siete países musulmanes, personas de diferentes orígenes se unieron a la protesta de solidaridad.
Uno de los que asistieron a la protesta del aeropuerto en Pensacoloa conoce muy bien la difícil situación de los inmigrantes, especialmente los detenidos. Grace McCaffery es empresaria y activista comunitaria dentro de la creciente comunidad latina de Pensacola. Después de la elección, McCaffery organizó un foro para discutir el rápido aumento de los crímenes de odio contra los inmigrantes.
Una década antes, McCaffery ayudó a organizar una de las mayores protestas en la memoria de Pensacola para apoyar a la relativamente nueva comunidad de inmigrantes latinos, muchos de los cuales llegaron por primera vez a reconstruir la ciudad en los días siguientes al huracán Ivan.
A medida que la convocatoria nacional para una huelga del "Día sin Inmigrantes" se trasladó a los medios de comunicación en español, similar a los llamados una década antes, muchos se dirigieron a McCaffery para pedir ayuda.
"La gente de nuestra comunidad de inmigrantes latinos quería hacer algo ya que muchos planeaban participar en el "Día sin Inmigrantes," dijo McCaffery. Editora del periódico latino regional La Costa Latina, McCaffery dijo que muchos inmigrantes se comprometieron a cerrar sus negocios, a quedarse en casa y no enviar a sus hijos a la escuela. La idea era que este boicot enviaría un mensaje sobre el papel de los inmigrantes en las comunidades americanas.
"Mientras el boicot nacional llamaba a los inmigrantes a quedarse en casa, [la comunidad de inmigrantes latinos de Pensacola] quería demostrar públicamente su activismo," dijo McCaffery. "Así que me pidieron que lo organizara."
El propósito de la manifestación fue demostrar que los inmigrantes "desempeñan un papel vital en nuestras comunidades y nuestra economía y merecen ser respetados," dijo McCaffery. Los organizadores también querían llamar la atención sobre los refugiados centroamericanos que se encuentran actualmente en centros de detención estadounidenses, pero no pueden regresar a sus hogares por temor a la violencia.
"Ellos merecen ser libres," dijo McCaffery.
Desde el primer discurso político del presidente Trump de la campaña de 2016, México y los mexicanos han sido un blanco frecuente de su retórica. A menudo, la información negativa difundida sobre los inmigrantes mexicanos, especialmente los indocumentados, se basa en generalizaciones salvajes y falsedades.
Los participantes en la manifestación del Día sin Inmigrantes llevaron carteles en inglés y español, llevaron banderas mexicanas y americanas y oraron en inglés y en español.
"Muchas personas, incluso aquellas personas que apoyan a los inmigrantes, carecen de educación sobre la situación, el proceso y las personas de las comunidades de inmigrantes indocumentados," dijo McCaffery. El propósito de la manifestación fue demostrar la fuerza y determinación de la comunidad de inmigrantes latinos de Pensacola. Aunque lejos de ser un estudio científico, la mayoría de los transeúntes ofrecieron apoyo positivo con el pulgar hacia arriba y bocinazos de apoyo.
Local progressives stand in solidarity with national protests
By C.S. Satterwhite. This story was originally published in IN Weekly and was edited for length. Read the full English version at www.INWeekly.net
On Nov. 8, 2016, American voters elected Donald J. Trump as the 45th president of the United States. Within hours, the protests began—and they show no signs of stopping.
Political protests are a part of the culture of the United States and have been since the founders encased the freedom to petition the government in the U.S. Constitution.
In case you've forgotten, the First Amendment reads as follows:
Congress shall make no law respecting an establishment of religion, or prohibiting the free exercise thereof; or abridging the freedom of speech, or of the press; or the right of the people peaceably to assemble, and to petition the Government for a redress of grievances.
In short, you can pray and protest how you like, just don't hurt anyone.
This basic freedom, number one in the Bill of Rights, is often taken for granted. Not today, though. Over the past month alone, numerous major protests took place throughout the country and globe, and Pensacola is no exception.
Since the inauguration of President Trump on Jan. 20, executive orders, cabinet appointments, and even random tweets have been keeping activists on their toes.
For example, the president's executive orders calling for an exclusion of immigrants from seven Muslim-majority countries stoked fears of a "Muslim Ban"—this sent people to the streets.
Another executive order called for the construction of a physical wall between the United States and Mexico—this too sent people to the streets.
Yet another executive order called for the expedited review of environmental impact on high-priority infrastructure projects, largely seen as a "green light" for the contentious Dakota Access Pipeline Project—this also sent people to the streets.
For activists across the nation, the last four weeks have been busy and many organizers are actively preparing for the next four years to be just as busy.
On Jan. 27, President Trump issued a broad executive order halting immigration of hundreds of people from seven predominately-Muslim nations sending shock waves throughout immigrant communities. Immigration officials stopped refugees and legal residents at airports overseas and held others in US airport detention facilities. Within two days, thousands of Americans brought their protests to the airports to stand against the president's immigration ban. Lawyers went to airports looking for people to assist, and activists created loud demonstrations to show vocal opposition to the president's anti-immigrant executive order. Although the executive order targeted people from seven Muslim countries, people from many different backgrounds joined in the solidarity protest.
One of those who attended the airport protest in Pensacoloa knows very well the plight of immigrants, especially those under detention. Grace McCaffery is businessperson and community activist within Pensacola's growing Latino community. After the election, McCaffery organized a forum to discuss the rapid rise of hate crimes against immigrants.
A decade before, McCaffery helped organize one of the largest protests in Pensacola memory to support the relatively new Latino immigrant community, many of whom first arrived to rebuild the city in the days following Hurricane Ivan.
As the national call for a "Day Without Immigrants" strike carried over to Spanish language media, similar to the calls a decade earlier, many turned to McCaffery for help.
"People from our Latino immigrant community wanted to do something since many were planning on participating in the 'Day Without Immigrants'," said McCaffery. Publisher of the regional Latino newspaper La Costa Latina, McCaffery said many immigrants pledged to close their businesses, stay home from work, and not send their children to school. The idea was that this boycott would send a message about the role of immigrants in American communities.
"While the national boycott called for immigrants to stay home, they [Pensacola's Latino immigrant community] wanted to demonstrate their activism publicly," said McCaffery. "So they asked me to organize it."
The purpose of the rally was to show immigrants "play a vital role in our communities and our economy and deserve to be respected," said McCaffery. Organizers also wanted to bring attention to Central American refugees, currently being held in U.S. detention facilities, but cannot return to their homes for fear of violence.
"They deserve to be free," said McCaffery.
Since President Trump's first political speech of the 2016 campaign, Mexico and Mexicans have been a frequent target of his rhetoric. Often the negative information spread about Mexican immigrants, especially the undocumented, is based on wild generalizations and falsehoods.
Participants in the Day without Immigrants rally held signs in English and Spanish, carried Mexican and American flags, and prayed in English and in Spanish.
"Many people, even those people who support immigrants, lack education about the plight, process, and people of undocumented immigrant communities," said McCaffery. The purpose of the rally was to demonstrate the strength and determination of Pensacola's Latino immigrant community. Although far from a scientific study, most passers-by offered positive reinforcement with thumbs up and honks of support.
[adrotate group="1"]