Pelosi y Demócratas de la Florida Ratifican su Compromiso por los Venezolanos en Estados Unidos
El 3 de octubre, la presidenta de la Cámara de Representantes Nancy Pelosi, las congresistas Debbie Wasserman Schultz, Debbie Mucarsel-Powell y Donna Shalala se reunieron con el Embajador de Venezuela en los EEUU Carlos Vecchio, líderes y miembros de la comunidad venezolana para discutir propuestas de ayuda a Venezuela y a los venezolanos en Estados Unidos.
Las demócratas ratificaron su compromiso por lograr la libertad de Venezuela y resaltaron el trabajo que han hecho en Washington por los venezolanos en Estados Unidos, incluyendo la aprobación de un Estatus de Protección Temporal (TPS) y que actualmente se encuentra estancado en el Senado de mayoría republicana.
Pelosi and Florida Democrats Reiterate their Support Venezuelans in the US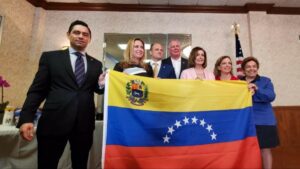 October 3, House Speaker Nancy Pelosi, US Representatives Debbie Wasserman Schultz, Debbie Mucarsel-Powell and Donna Shalala, along with Venezuelan Ambassador Carlos Vecchio, met with Venezuelan community leaders to discuss proposals to help Venezuela and Venezuelans in the United States.
The Democrats reiterated their commitment to the freedom of Venezuela and highlighted their work in Washington for the Venezuelan community, including passing the Temporary Protected Status (TPS) for Venezuelans, a bill that is currently stalled in the Republican-controlled Senate.
[adrotate group="1"]