Las colecciones TDT de agosto muestran un crecimiento positivo para South Walton
WALTON COUNTY, Fla. — Los números oficiales recién publicados muestran el fortalecimiento de las visitas durante el mes de agosto para South Walton. Según el Walton County Clerk of Courts, el Tourist Development Tax Collection mostró un aumento del 10.2 por ciento para agosto de 2019, un aumento impresionante con respecto al año anterior. El Condado de Walton registró aproximadamente $2,927,522 en impuestos de desarrollo turístico en agosto, un aumento de aproximadamente $270,854.
"Con un menor número de familias que pueden viajar debido a los horarios de inicio temprano de la escuela, los fuertes números de agosto demuestran la continua demanda de South Walton durante la estación intermedia," señala el Director de Comunicaciones de South Walton, David Demarest. "Esto es muy importante para la economía local y el empleo durante todo el año en el Condado de Walton."
El  Tourist Development Tax, o "bed tax" (impuesto de cama), es un impuesto del cuatro por ciento recaudado en hoteles, condominios y otros alquileres a corto plazo. Es la mejor manera de evaluar las visitas y las tendencias de demanda en South Walton. Los ingresos apoyan el marketing turístico y las operaciones de playa, incluidas la limpieza y el mantenimiento de playas, salvavidas, mejoras de destino e iniciativas de preservación.
August TDT Collections Shows Positive Growth for South Walton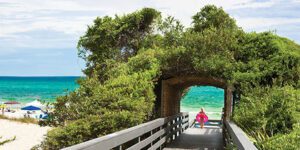 WALTON COUNTY, Fla. — Official numbers just released show strengthening in visitation during August for South Walton. According to the Walton County Clerk of Courts, the Tourist Development Tax Collection showed a 10.2 percent increase for August 2019, an impressive increase over the previous year. Walton County recorded approximately $2,927,522 in Tourist Development taxes in August, an increase of approximately $270,854.
"With fewer families able to travel because of early school start schedules, strong August numbers prove continued demand for South Walton during shoulder season," notes South Walton Director of Communications David Demarest. "This is hugely important for the local economy and year-round employment in Walton County."
The Tourist Development Tax, or bed tax, is a four percent tax collected on hotels, condos and other short-term rentals. It is the best way to gauge visitation and demand trends in South Walton. The revenue supports tourism marketing and beach operations including cleaning and maintaining beaches, lifeguards, destination improvements and preservation initiatives.  
[adrotate group="1"]