Niño desaparecido es encontrado en zona boscosa
PACE, Fla. – El 15 de septiembre, justo antes de las 11 a.m., los agentes del Santa Rosa County Sheriff's Office respondieron a un niño desaparecido de tres años con necesidades especiales. El niño, sin saberlo, abrió una puerta cerrada a la casa de su abuela en Pace y entró en una gran área boscosa cerca de la casa. Después de que la búsqueda inmediata del área no tuvo éxito, los sabuesos del sheriff llegaron al lugar para ayudar.
Los sabuesos del Santa Rosa County Sheriff's comenzaron a rastrear el área de inmediato y llevaron a los manipuladores de K-9 aproximadamente 200 yardas a un área extremadamente boscosa y fangosa. Los sabuesos de sangre ubicaron al niño acurrucado firmemente debajo de un área de matorrales pesados donde lo sacaron de inmediato y lo llevaron al personal de EMS.
El sheriff Johnson implementó los sabuesos en la agencia hace aproximadamente un año. Dentro de ese tiempo, los sabuesos han localizado a nueve personas para incluir personas mayores desaparecidas, delincuentes que huyen y niños desaparecidos. 
Missing child found in wooded area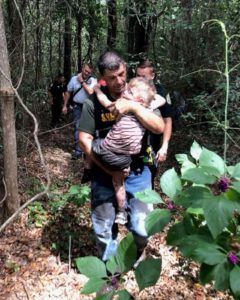 PACE, Fla. – On Sept. 15 just before 11 a.m., deputies with the Santa Rosa County Sheriff's Office responded to a missing three-year-old child with special needs. The child unknowingly opened a locked door to his grandmother's house in Pace and wandered into a large wooded area near the home. After the immediate search of the area was unsuccessful, sheriff's bloodhounds arrived on scene to assist.
Santa Rosa County Sheriff's bloodhounds immediately began to track the area and took the K-9 handlers approximately 200 yards into an extremely wooded and muddy area. The bloodhounds located the child huddled tightly under a heavy brush area where he was immediately removed and taken to awaiting EMS personnel.
Sheriff Johnson implemented the bloodhounds into the agency approximately one year ago. Within that time, the bloodhounds have located nine individuals to include missing senior citizens, criminals on the run and missing children.
[adrotate group="1"]