Móvil construirá un nuevo estadio
MOBILE, Ala.—La ciudad de Mobile está buscando formar una asociación público-privada con la Universidad del Sur de Alabama para construir un nuevo y avanzado estadio de fútbol. Este sería el nuevo hogar de los Jaguares de EE. UU., el Reese's Senior Bowl, el Dollar General Bowl, el Gulf Coast Challenge y eventos futuros que pueden promover el desarrollo económico en Mobile.
La Ciudad invertiría $10 millones en el transcurso de 20 años. El costo para mantener el estadio Ladd-Peebles durante el mismo período de 20 años excedería los $33 millones. La alcaldesa de Mobile City, Sandy Stimpson, dice que la ciudad no cuenta con los fondos para mantener este nivel de mantenimiento, y que es muy probable que en el futuro no sea segura para su uso.
"Estados Unidos donará $2.5 millones para crear una instalación más moderna y polivalente en Ladd Stadium que serviría a la comunidad circundante y a los equipos de la escuela secundaria," dijo Stimpson.
La comunidad tendrá la oportunidad de dar su opinión sobre el futuro del Ladd Stadium Complex.
Mobile to build new stadium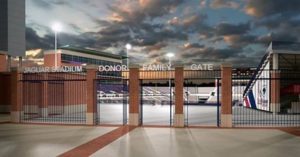 MOBILE, Ala.—The City of Mobile is seeking to form a public-private partnership with the University of South Alabama to construct a new, state of the art football stadium. This would be the new home of the USA Jaguars, the Reese's Senior Bowl, the Dollar General Bowl, the Gulf Coast Challenge and future events that can promote economic development in Mobile.
The City would invest $10 million over the course of 20 years. The cost to maintain Ladd-Peebles Stadium during the same 20-year period would exceed $33 million. Mobile City Mayor, Sandy Stimpson says the City does not have the funding to maintain this level of maintenance, and it is highly probable it could be rendered unsafe for use in the future.
"USA will be donating $2.5 million to create a more modern, multi-purpose facility at Ladd Stadium that would serve the surrounding community and high school teams," Stimpson said.
The community will be given opportunities to provide feedback on the future of the Ladd Stadium Complex.
[adrotate group="1"]