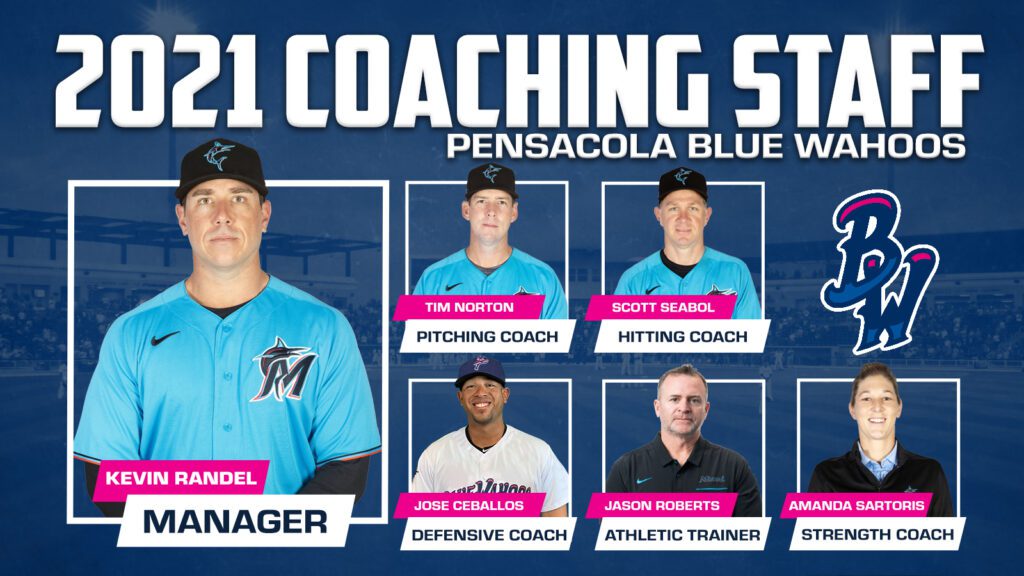 Miami Marlins anuncian al cuerpo técnico de Blue Wahoos 2021
PENSACOLA, Fla. – Los Miami Marlins anunciaron el lunes sus asignaciones de cuerpo técnico de ligas menores Doble-A para la temporada 2021. Kevin Randel liderará a Pensacola como gerente del equipo después de pasar la temporada 2019 al mando del Jacksonville Jumbo Shrimp.
Randel fue seleccionado por los Marlins en la decimatercera ronda del Draft de la MLB 2002 y jugó ocho temporadas como jardinero en las Menores de 2002 a 2009. Durante su carrera como jugador, Randel alcanzó el nivel Triple-A y mantuvo un promedio de bateo de .267 con 83 jonrones en 824 juegos.
El entrenador de pitcheo Tim Norton se unirá al personal de Randel. Norton fue seleccionado por los Yankees de Nueva York en la séptima ronda del Draft de la MLB 2006 procedente de Connecticut. Norton lanzó en las Menores del 2006 al 2011 y registró efectividad de 2.41 en 85 apariciones. Después de que concluyó la carrera como jugador Norton permaneció dentro de la organización de los Yankees como entrenador del 2013 al 2019.
Scott Seabol se une a los Blue Wahoos como entrenador de bateo del equipo. Seabol ocupó la misma posición con los Yankees de Pulaski en 2017 y 2019 y con los RiverDogs de Charleston en 2018. Como jugador, Seabol fue seleccionado en la ronda 88 del draft de 1996 por los Yankees. Jugó 14 temporadas profesionales como jardinero, llegando a las Grandes Ligas con Nueva York en el 2001 y St. Louis en el 2005. En total, jugó 60 partidos a nivel de Grandes Ligas y 1.177 partidos en las Ligas Menores, además de pasar tres temporadas jugando internacionalmente.
El entrenador defensivo José Ceballos se une a los Blue Wahoos en su octava temporada como entrenador con la organización de los Marlins. Ceballos comenzó su carrera como entrenador con Greensboro en el 2014, pasando dos temporadas con los Grasshoppers. Pasó el 2016 en Júpiter antes de entrenar en Jacksonville del 2017 al 2020.
Antes de su carrera como entrenador, Ceballos fue receptor en el sistema de los Marlins de 2007 a 2013. Jugó 211 partidos de ligas menores y alcanzó la Doble-A.
El personal de entrenamiento de los Blue Wahoos estará compuesto por la entrenadora de fuerza y ​​acondicionamiento Amanda Sartoris y el entrenador de atletismo Jason Roberts.
Sartoris se convierte en la primera mujer en ocupar un puesto de entrenadora con los Blue Wahoos. Anteriormente trabajó con los Clinton LumberKings de clase A en el 019 y estaba programada para unirse a Jacksonville en 2020. Antes de su tiempo en las ligas menores de béisbol, trabajó para IMG Academy en Bradenton del 2016 al 2018 y fue directora de fuerza y ​​acondicionamiento en la Universidad de Salem del 2018 al 2019.
Roberts ha pasado las últimas 13 temporadas como entrenador atlético en el sistema de los Rangers. Después de pasar del 2007 al 2008 en la Doble-A y del 2009 al 2015 en la Triple-A, Roberts trabajó como Coordinador Médico de los Rangers del 2015 al 2019. En 2014, Roberts fue nombrado Entrenador Atlético del Año de la Costa del Pacífico con el Triple-A Round Rock Express. Antes de su tiempo en el sistema de los Rangers, pasó cuatro años con la organización Dodgers de Los Angeles.
Los Pensacola Blue Wahoos comenzarán su temporada el 4 de mayo en la carretera contra los Bravos de Mississippi antes de jugar su primer partido en casa el 11 de mayo contra los Birmingham Barons. La información sobre la disponibilidad de boletos se publicará antes de la temporada a medida que estén disponibles las pautas de capacidad y seguridad del estadio a cuenta de COVID-19. 
Miami Marlins Announce Blue Wahoos 2021 Coaching Staff
PENSACOLA, Fla. – The Miami Marlins announced their Double-A minor league coaching staff assignments for the 2021 season on Monday. Kevin Randel will lead Pensacola as the team's manager after spending the 2019 season at the helm for the Jacksonville Jumbo Shrimp.
Randel was drafted by the Marlins in the 13th round of the 2002 MLB Draft and played eight seasons as an infielder in the Minors from 2002-2009. During his playing career, Randel reached the Triple-A level and held a career .267 batting average with 83 home runs in 824 games.
Joining Randel's staff will be pitching coach Tim Norton. Norton was selected by the New York Yankees in the seventh round of the 2006 MLB Draft out of Connecticut. Norton pitched in the Minors from 2006-2011 and posted a 2.41 ERA in 85 appearances. After Norton's playing career concluded, he stayed within the Yankees organization as a coach from 2013-2019.
Scott Seabol joins the Blue Wahoos as the team's hitting coach. Seabol held the same position with the Pulaski Yankees in 2017 and 2019 and the Charleston RiverDogs in 2018. As a player, Seabol was selected in the 88th round of the 1996 draft by the Yankees. He played 14 professional seasons as an infielder, reaching the Major Leagues with New York in 2001 and St. Louis in 2005. In total, he played 60 games at the MLB level and 1,177 games in the Minor Leagues as well as spending three seasons playing internationally.
Defensive coach Jose Ceballos joins the Blue Wahoos in his eighth season as a coach with the Marlins organization. Ceballos began his coaching career with Greensboro in 2014, spending two seasons with the Grasshoppers. He spent 2016 in Jupiter before coaching in Jacksonville from 2017-2020.
Prior to his coaching career, Ceballos was a catcher in the Marlins system from 2007-2013. He played 211 Minor League games and reached Double-A.
The Blue Wahoos training staff will consist of strength and conditioning coach Amanda Sartoris and athletic trainer Jason Roberts.
Sartoris becomes the first woman to hold a coaching position with the Blue Wahoos. She previously worked with the Class-A Clinton LumberKings in 2019 and was set to join Jacksonville in 2020. Prior to her time in Minor League Baseball, she worked for IMG Academy in Bradenton from 2016-2018 and was the Director of Strength and Conditioning at Salem University from 2018-2019.
Roberts has spent the past 13 seasons as an athletic trainer in the Rangers system. After spending 2007-2008 in Double-A and 2009-2015 in Triple-A, Roberts worked as the Rangers Medical Coordinator from 2015-2019. In 2014, Roberts was named Pacific Coast Athletic Trainer of the Year with the Triple-A Round Rock Express. Prior to his time in the Rangers system, he spent four years with the Los Angeles Dodgers organization.
The Pensacola Blue Wahoos will begin their season on May 4 on the road against the Mississippi Braves before playing their home opener on May 11 against the Birmingham Barons. Information on ticket availability will be released leading up to the season as COVID-19 ballpark safety and capacity guidelines become available.
[adrotate group="1"]