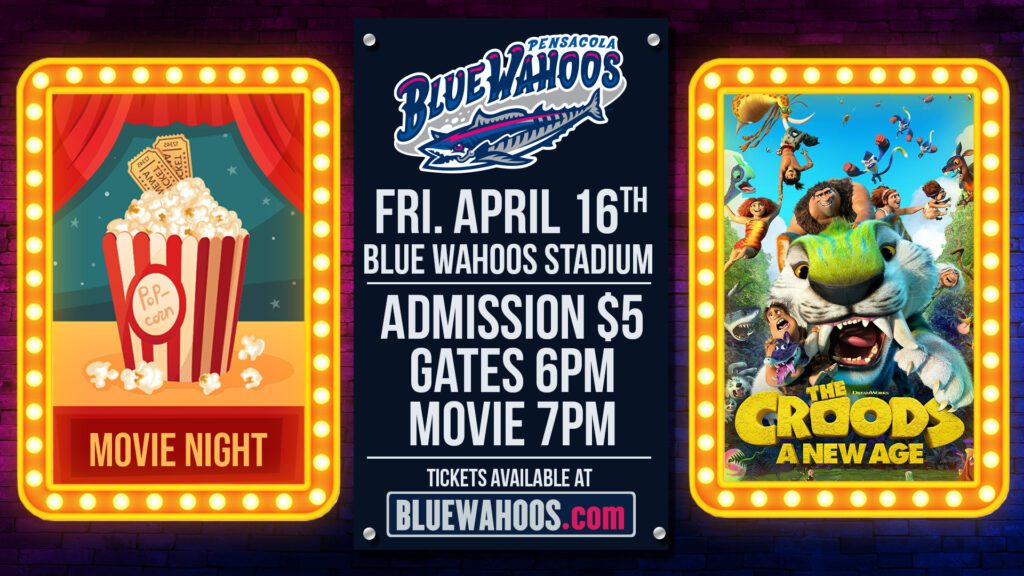 Las noches de películas y fuegos artificiales regresan al estadio Blue Wahoos el 16 de abril
PENSACOLA, Fla. – Las Noches Comunitarias de Películas y Fuegos Artificiales regresan al Blue Wahoos Stadium en abril. Los Pensacola Blue Wahoos mostrarán Croods: A New Age en el Blue Wahoos Stadium el viernes 16 de abril a las 7 p.m. Los boletos cuestan $5 por persona e incluyen tanto la película como un espectáculo de fuegos artificiales posterior a la película. Las puertas del estadio Blue Wahoos se abrirán a las 6 p.m.
Los invitados podrán sentarse en el campo del estadio Blue Wahoos o en las gradas para ver la película en el tablero de video del estadio. Se anima a los invitados a traer una manta para que su grupo se siente. No se permiten sillas ni comida o bebida traída de afuera.
Las concesiones estarán disponibles durante el evento en múltiples ubicaciones en todo el estadio.
Se venderán boletos limitados y están disponibles ahora en la taquilla de Blue Wahoos o en BlueWahoos.com.
Se requieren máscaras en el Blue Wahoos Stadium y no se permitirá que ningún grupo de más de 10 personas se sienten juntos. Todos los grupos separados deberán sentarse a una distancia mínima de seis pies de acuerdo con las pautas de distancia física locales y estatales. 
Movie and fireworks nights return to Blue Wahoos Stadium on April 16
PENSACOLA, Fla. – Community Movie and Fireworks Nights are back at Blue Wahoos Stadium in April. The Pensacola Blue Wahoos will be showing Croods: A New Age at Blue Wahoos Stadium on Friday, April 16 at 7 p.m. Tickets are $5 per person and include both the film and a post-movie fireworks show. The gates at Blue Wahoos Stadium will open at 6 p.m.
Guests will be allowed to sit on the field at Blue Wahoos Stadium or in the stands to watch the movie on the stadium's videoboard. Guests are encouraged to bring a blanket for their group to sit on. Chairs and outside food or drink are not permitted.
Concessions will be available during the event at multiple locations throughout the stadium.
Limited tickets will be sold and are available now at the Blue Wahoos Box Office or at BlueWahoos.com.
Masks are required at Blue Wahoos Stadium and no group larger than 10 people will be permitted to sit together. All separate groups will be required to sit a minimum of six feet apart in accordance with local and state physical distancing guidelines.
[adrotate group="1"]