Marinero de Pensacola muere en accidente aéreo del Navy
Tres marineros del U.S. Navy se perdieron en el mar cuando un avión C-2A Greyhound se estrelló en el Mar de Filipinas en ruta hacia el USS Ronald Reagan el 22 de noviembre. Dos de los marineros perdidos y supuestamente muertos eran de Florida, uno era Aviation Ordnanceman Airman Apprentice Bryan Grosso de Pensacola. Él tenía 18 años.
El avión transportaba 11 tripulantes y pasajeros. Ocho personas fueron recuperadas en la escena. En el transcurso de dos días de esfuerzos de búsqueda continua para los marineros, los buques y aeronaves cubrieron casi 1000 millas náuticas cuadradas.
Grosso asistió a West Florida High School y se unió a la Marina inmediatamente después de su graduación en mayo. Grosso fue asignado al Naval Air Technical Training Center (NATTC) en Pensacola después del campamento de entrenamiento, y posteriormente fue enviado a Japón a principios de noviembre.
Los padres de Grosso están planeando un funeral militar para él en el Cementerio Nacional de Barrancas en Pensacola con todos los honores. También es recordado por su familia, su novia y amigos que colocaron banderas estadounidenses en la casa de sus padres. La escuela guardó un momento de silencio en su memoria.
El gobernador de Florida Rick Scott ordenó que bajaran las banderas a media asta para honrar a los marineros de Florida. La causa del accidente sigue bajo investigación.
Pensacola sailor killed in Navy plane crash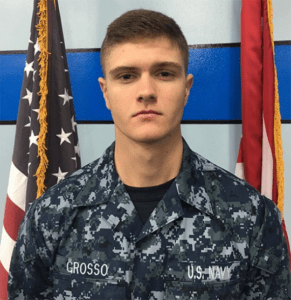 Three U.S. Navy sailors were lost at sea when a C-2A Greyhound aircraft crashed in the Philippine Sea en route to the USS Ronald Reagan on Nov. 22. Two of the sailors lost and presumed dead were from Florida, one was Aviation Ordnanceman Airman Apprentice Bryan Grosso of Pensacola. He was 18 years old.
The aircraft was carrying 11 crew and passengers. Eight personnel were recovered on the scene. Over the course of two days of continuous search efforts for the Sailors, ships and aircraft covered nearly 1000 square nautical miles.
Grosso attended West Florida High School and joined the Navy immediately after graduation in May. Grosso was assigned to Naval Air Technical Training Center (NATTC) in Pensacola after boot camp, then sent to Japan in early November.
Grosso's parents are planning a military funeral for him at Barrancas National Cemetery in Pensacola with full honors. He is also remembered by his family, girlfriend and friends who placed American flags at his parents' home. The school held a moment of silence in his memory.
Florida Governor Rick Scott ordered all flags to be lowered to half-mast to honor the Florida sailors. The cause of the crash is still under investigation.