Los precios de la gasolina podrían aumentar 5-20 centavos como resultado de los ataques con aviones no tripulados en Arabia Saudita
TAMPA, Fla., – AAA dice que los conductores de la Florida pronto podrían ver subir los precios del gas, ya que los precios del crudo subieron durante la noche después de una serie de ataques con aviones no tripulados en las instalaciones petroleras de Arabia Saudita durante el fin de semana.
Los ataques con aviones no tripulados se dirigieron a dos grandes plantas de procesamiento saudies, destruyendo la mitad de la capacidad petrolera del reino y casi el seis por ciento de lo que el mundo consume todos los días. Varios informes de noticias han sugerido que otros países aumentarían la producción para compensar la escasez. Durante la noche, el presidente Trump autorizó la liberación de petróleo de la Reserva Estratégica de Petróleo en un esfuerzo por equilibrar el mercado.
Los precios futuros del petróleo crudo y la gasolina se abrieron con fuerza el domingo por la noche. El índice de referencia de Estados Unidos, West Texas Intermediate, subió un 11 por ciento o un total de más de $6 por barril de petróleo. Los futuros de la gasolina también aumentaron un 11 por ciento o alrededor de 17 centavos por galón.
"Esta es una situación fluida que se encendió rápidamente, pero también podría apagarse, dependiendo de cómo responda el mercado en los próximos días", dijo Mark Jenkins, portavoz de AAA – The Auto Club Group. "Si los precios del petróleo se mantienen en los niveles actuales, los conductores podrían ver que los precios del gas comiencen a aumentar de 5 a 20 centavos para el final de la semana."
Los conductores de la Florida actualmente pagan un precio promedio de $2.40 por galón. El promedio estatal es de 3 centavos menos que hace una semana, y 34 centavos menos que esta vez el año pasado. El precio promedio diario más alto en lo que va del año fue de $2.80 por galón; el más bajo fue de $ 212.
Precios regionales
Los mercados de metro más caros: Panamá City ($2.53), West Palm Beach-Boca Ratón ($2.51), Tallahassee ($2.48)
Mercados de metro menos costosos: Tampa-St. Petersburg-Clearwater ($2.33), Pensacola ($2.36), Orlando ($2.36)
Encuentre los precios de la gasolina en la Florida
Los promedios diarios del precio de la gasolina se pueden encontrar en Gasprices.aaa.com
Los promedios estatales y del metro se pueden encontrar en https://gasprices.aaa.com/?state=FL 
Gas prices could rise 5-20 cents as a result of drone attacks in Saudi Arabia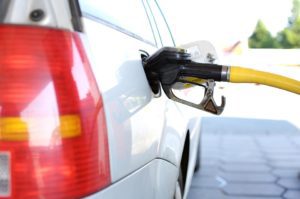 TAMPA, Fla., — AAA says Florida drivers could soon see gas prices move higher, as crude oil prices surged overnight after a series of drone attacks on Saudi Arabian oil facilities during the weekend.
The drone attacks targeted two huge Saudi processing plants, knocking out half the kingdom's oil capacity, and nearly six percent of what the world consumes every day. Various news reports have suggested other countries would ramp up production to offset the shortage. Overnight, President Trump authorized the release of oil from the Strategic Petroleum Reserve in effort to balance the market.
Crude oil and gasoline futures prices opened with a bang Sunday night. US benchmark – West Texas Intermediate – jumped 11 percent or a total of more than $6 for a barrel of oil. Gasoline futures also rose 11 percent or about 17 cents per gallon.
"This is a fluid situation which has quickly ignited, but could also flame out – depending on how the market responds over the next couple of days," said Mark Jenkins, spokesman, AAA – The Auto Club Group. "If oil prices hold at current levels, drivers could see gas prices begin to rise anywhere from 5-20 cents by the end of the week."
Florida drivers are currently paying an average price of $2.40 per gallon. The state average is 3 cents less than a week ago, and 34 cents less than this time last year. The highest daily average price so far this year was $2.80 per gallon; the lowest was $2.12.
Regional Prices
Most expensive metro markets – Panama City ($2.53), West Palm Beach-Boca Raton ($2.51), Tallahassee ($2.48)
Least expensive metro markets – Tampa-St. Petersburg-Clearwater ($2.33), Pensacola ($2.36), Orlando ($2.36)
Find Florida Gas Prices
Daily gas price averages can be found at Gasprices.aaa.com
State and metro averages can be found at https://gasprices.aaa.com/?state=FL
[adrotate group="1"]