El fútbol (Americano) de la UWF genera $9.7 millones en impacto económico
PENSACOLA, Fla. – Un análisis de impacto económico realizado por Haas Center en la University of West Florida muestra que la temporada de fútbol 2018 generó un estimado de $9.7 millones en ventas en el condado de Escambia.
El Haas Center utilizó varias entradas, incluyendo información sobre boletos, concesiones y ventas de mercancías de la UWF Athletics, gastos de estudiantes y otros datos en sus cálculos. Casi la mitad del impacto económico fue resultado de más de 13,000 visitantes al área y sus gastos en ventas minoristas, restaurantes, bares, alojamientos y otros artículos.
El impacto económico del fútbol de la UWF se asoció con $6.1 millones en valor agregado a la economía, apoyando 94 empleos y generando aproximadamente $4.6 millones en ingresos personales. El estudio realizado por el Haas Center también detalla información sobre los visitantes de fuera de la ciudad que asistieron a juegos en casa. Se estima que el 55% se quedó en Pensacola durante la noche, y el 33% se alojó en alojamientos pagos como hoteles o condominios. La mayoría se quedó en el centro de Pensacola, donde representaron aproximadamente $1.2 millones en ventas.
"Los objetivos iniciales del informe eran ilustrar a las partes interesadas clave del valor económico del programa, los juegos y sus visitantes," dijo Amy Newburn, directora de investigación de mercado del Haas Center. "También destaca medidas cualitativas clave, como la experiencia de juego o recomendar un juego Argo a un amigo, que muestra cuánto disfruta la comunidad de la presencia del fútbol de la UWF en el centro de Pensacola."
La UWF será el anfitrión de la Virginia University de Lynchburg en su primer partido de la temporada de fútbol de 2019 a las 6 p.m. el sábado 21 de septiembre en el estadio Blue Wahoos. Los Argos albergarán cinco partidos de fútbol en casa esta temporada.
UWF football generates $9.7 million in economic impact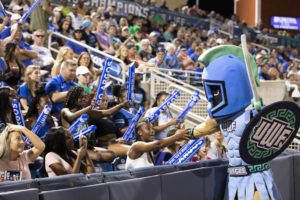 PENSACOLA, Fla. – An economic impact analysis completed by the Haas Center at the University of West Florida shows the 2018 football season generated an estimated $9.7 million in sales in Escambia County.
The Haas Center used various inputs, including ticket, concessions and merchandise sales information from UWF Athletics, student spending and other data in its calculations. Nearly half of the economic impact resulted from more than 13,000 visitors to the area and their spending on retail, restaurants, bars, accommodations and other items.
UWF football's economic impact was associated with $6.1 million in value added to the economy, supporting 94 jobs and generating approximately $4.6 million in personal income. The study completed by the Haas Center also details information about out-of-town visitors who attended home games. An estimated 55% stayed in Pensacola overnight, with 33% staying in paid accommodations such as hotels or condos. The majority stayed in downtown Pensacola, where they accounted for approximately $1.2 million in sales.
"The report's initial goals were to illustrate to key stakeholders the economic value of the program, the games and its visitors," said Amy Newburn, director of market research for the Haas Center. "It also highlights key qualitative measures, like game experience or recommending an Argo game to a friend, that show how much the community enjoys the presence of UWF football in downtown Pensacola."
UWF will host the Virginia University of Lynchburg in its 2019 football home season opener at 6 p.m. on Saturday, Sept. 21 at Blue Wahoos Stadium. The Argos will host five home football games this season. 
[adrotate group="1"]