Los mejores dulces de San Valentín por estado
El día de San Valentín se trata de amor, romance y gastar dinero para demostrarlos. Este año no será diferente. La Federación Nacional de Minoristas pronostica que, después de una fuerte temporada de vacaciones de invierno, el gasto del Día de San Valentín también será fuerte. De hecho, predicen que superará el récord del año pasado en un 32%.
Si crees que algo de eso es de los dulces, ¡tienes razón!
Entre los placeres de San Valentín, los dulces son relativamente económicos. También se han convertido en tradición y es un gesto agradable y fácil de hacer. Se espera que las personas gasten más de $ 2.4 mil millones este año, $ 600 millones  más con respecto al año pasado.
Utilizando datos de ventas de los últimos 12 años de una tienda de dulces al por mayor en línea y socios de la industria, CandyStore.com ha compilado datos de ventas para determinar los dulces más populares de San Valentín.
Los corazones de conversación (dulces en forma de corazón con palabras impresas en ellos) habían aumentado en popularidad en los últimos años, y finalmente habían superado las populares cajas de bombones en forma de corazón. Todo eso cambió el año pasado cuando los corazones de conversación de SweetHearts estuvieron ausentes del mercado. La caída no fue tan grande como se predijo. Otras marcas, como la de Brach, ocuparon el vacío dejado por SweetHearts. Sin embargo, no fue suficiente para defenderse de las cajas de bombones en forma de corazón en sus muchas presentaciones.
El año pasado, M&M obtuvo más top #3 que nunca. Y continúa ascendiendo en el ranking este año. M&M reclamó este año en tres nuevos lugares el puesto #1, aprovechando la caída de los corazones de conversación en cada uno de esos estados: Arizona, Kansas y Nueva Jersey.
Desde la presentación del M&M con Mensaje de Cupido en 2017, las ventas de M & M para el Día de San Valentín han aumentado. La mezcla de M & M de colores de Cupido para San Valentín también ha sido muy popular. El relanzamiento de White Cheesecake M & M's también ayudó a impulsarlos.
A medida que las pastillas de caramelo con temática festiva han disminuido ligeramente en las últimas vacaciones, se mantuvo relativamente estable para el Día de San Valentín de 2019. El maíz de Cupido incluso saltó al lugar #2 en Michigan.
Entonces, ¿qué dulce del Día de San Valentín ama más tu estado? Alabama clasificó los collares de dulce como su opción #1, seguida de corazones de conversación y luego la caja de bombones en forma de corazón. En Florida, la caja de bombones en forma de corazón ocupa el lugar #1, seguido de corazones de conversación y rosas de chocolate. Vea la lista completa de los favoritos del estado en latinomediainc.com.
Dulces del Día de San Valentín
El 43% de las personas dijeron que se comprarán una caja de bombones este año.
Se compran 58 millones de libras de chocolate durante la semana de San Valentín.
El período máximo de ventas para los corazones de conversación es de solo 6 semanas.
Los fabricantes tardan 11 meses en producir lo suficiente para esas 6 semanas.
El vodka con infusión de dulces siguió siendo popular al igual que los corazones de conversación el año pasado.
Los niños reciben el 39 por ciento de todos los dulces y regalos de San Valentín.
Top Valentine's Day candy by state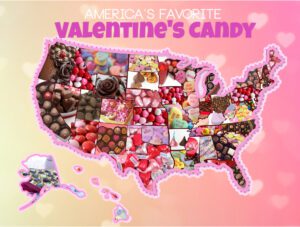 Valentine's Day is about love and romance and spending money to demonstrate them. This year will be no different. The National Retail Federation is forecasting that, after a strong winter holiday season, Valentine's Day spending will be strong as well. In fact, they predict it will smash last year's record by 32%.
If you think some of that is from candy, you're right!
As Valentine's indulgences go, candy is a relatively inexpensive one. It's also become tradition and is a nice and easy gesture to make. People are expected to spend over $2.4 Billion this year – up $600M from last year.
Using sales data from the past 12 years from an online bulk candy store and industry partners, CandyStore.com has compiled sales data to determine the most popular Valentine's Day candy.
Conversation hearts (heart-shaped candy with words printed on them) had been rising in popularity for years, and had finally overtaken those omnipresent heart-shaped boxes of chocolates. That all changed last year when SweetHearts Conversation hearts were absent from the market. The drop was not as large as predicted. Other brands, like Brach's, did step into the vacuum left by SweetHearts. It wasn't enough to fend off heart-shaped boxes of chocolates in their many iterations though.
Last year, M&M's cracked more top 3 spots than ever. And it's continuing to ascend the rankings this year. M&M's claimed three more #1 spots this year, taking advantage of a drop-off in Conversation hearts in each of those states: Arizona, Kansas and New Jersey.
Since introducing the Cupid's Message M&M's in 2017, M&M's sales for Valentine's Day have risen. Cupid's Mix of Valentine's Day colored M&M's has also been very popular. The re-introduction of White Cheesecake M&M's helped boost them as well.
As holiday themed candy corn has trended slightly down the past few holidays, it held relatively steady for Valentine's Day 2019. Cupid corn even jumped up a spot to #2 in Michigan.
So, which Valentine's Day candy does your state love the most? Alabama ranks candy neclaces as their #1 choice followed by Conversation hearts then heart-shaped box of chocolates. In Florida, heart-shaped box of chocolates takes the #1 spot, followed by Conversation hearts then chocolate roses. See the full list of state's favorites at latinomediainc.com.
Valentine's Day Candy Quick Facts
43% of people said they will buy themselves a box of chocolates this year.
58 million pounds of chocolate are bought during Valentine's Day week.
The peak selling period for Conversation hearts is only 6 weeks long.
It takes manufacturers 11 months to produce enough for those 6 weeks.
 Vodka infused with candy remained popular with Conversation hearts last year.
Children receive 39 percent of all Valentine's Day candy and gifts.
Estado
Favorito dulce para San Valentine
Segundo Favorito
Tercer Favorito
Alabama
Collares de dulces

Candy neclaces

Corazones de conversación

Conversation hearts

Caja de bombones en forma de corazón

Heart-Shaped Box of Chocolates

Alaska
Caja de bombones en forma de corazón

Heart-Shaped Box of Chocolates

Corazones de conversación

Conversation hearts

Osos de canela

Cinnamon Bears

Arizona
M & Ms
Caja de bombones en forma de corazón

Heart-Shaped Box of Chocolates

Corazones de conversación

Conversation hearts

Arkansas
Besos de Hershey

Hershey Kisses

Corazones de conversación

Conversation hearts

Caja de regalo de Ghirardelli

Ghirardelli gift box

California
Caja de bombones en forma de corazón

Heart-Shaped Box of Chocolates

Corazones de conversación

Conversation hearts

Rosas de chocolate

Chocolate Roses

Colorado
Caja de bombones en forma de corazón

Heart-Shaped Box of Chocolates

M & Ms,
Corazones de conversación

Conversation hearts

Connecticut
Caja de bombones en forma de corazón

Heart-Shaped Box of Chocolates

Corazones de conversación

Conversation hearts

M & Ms
Delaware
Besos de Hershey

Hershey Kisses

Corazones de conversación

Conversation hearts

Corazones de chocolate

Chocolate Hearts

Florida
Caja de bombones en forma de corazón

Heart-Shaped Box of Chocolates

Corazones de conversación

Conversation hearts

Rosas de chocolate

Chocolate Roses

Georgia
Caja de bombones en forma de corazón

Heart-Shaped Box of Chocolates

Rosas de chocolate

Chocolate Roses

Corazones de conversación

Conversation hearts

Hawaii
Corazones de conversación

Conversation hearts

Caja de bombones en forma de corazón

Heart-Shaped Box of Chocolates

Collares de caramelos

Candy necklaces

Idaho
M & Ms
Corazones de conversación

Conversation hearts

Besos de Hershey

Hershey Kisses

Illinois
Corazones de conversación

Conversation hearts

Rosas de chocolate

Chocolate roses

M & Ms
Indiana
Caja de bombones en forma de corazón

Heart-Shaped Box of Chocolates

Corazones de conversación

Conversation hearts

Rosas de chocolate

Chocolate roses

Iowa
M & Ms
Corazones de conversación

Conversation hearts

Caja de regalo Ghirardelli

Ghirardelli gift box

Kansas
M & Ms
Caja de bombones en forma de corazón

Heart-Shaped Box of Chocolates

Caja de regalo Ghirardelli

Ghirardelli gift box

Kentucky
Corazones de conversación

Conversation hearts

Rosas de chocolate

Chocolate roses

M & Ms
Louisiana
Corazones de conversación

Conversation hearts

Caja de bombones en forma de corazón

Heart-Shaped Box of Chocolates

M & Ms
Maine
Corazones de chocolate

Chocolate hearts

Caja de regalo de Ghirardelli

Ghirardelli gift boxes

Corazones de conversación

Conversation hearts

Maryland
M & Ms
Corazones de conversación

Conversation hearts

Caja de bombones en forma de corazón

Heart-Shaped Box of Chocolates

Massachusetts
Caja de bombones en forma de corazón

Heart-Shaped Box of Chocolates

Corazones de chocolate

Chocolate hearts

Corazones de conversación

Conversation hearts

Michigan
Caja de bombones en forma de corazón

Heart-Shaped Box of Chocolates

Maíz de cupido

Cupid corn

 Corazones de conversación

Conversation hearts

Minnesota
Caja de bombones en forma de corazón

Heart-shaped box of chocolates

M & Ms
Corazones de conversación

Conversation hearts

Mississippi
Caja de bombones en forma de corazón

Heart-shaped box of chocolates

Corazones de conversación

Conversation hearts

Rosas de chocolate

Chocolate roses

Missouri
Corazones de conversación

Conversation hearts

Caja de bombones en forma de corazón

Heart-shaped box of chocolates

Besos de Hershey

Hershey Kisses

Montana
Corazones de conversación

Conversation hearts

Corazones de chocolate en forma de corazón

Heart-shaped box of chocolates

Caja de bombones
Nebraska
Corazones de chocolate
Caja de bombones en forma de corazón,
Maíz de cupido
Nevada
Caja de bombones en forma de corazón,
Corazones de conversación,
Rosas de chocolate
New Hampshire
Caja de bombones en forma de corazón,
Corazones de conversación,
Caja de bombones en forma de corazón

Heart-shaped box of chocolates

New Jersey
M & Ms,
Caja de bombones en forma de corazón,
Corazones de conversación
New México
Caja de bombones en forma de corazón

Heart-shaped box of chocolates

Rosas de chocolate

Chocolate roses

Collares de dulces

Candy necklaces

new York
Caja de bombones en forma de corazón

Heart-shaped box of chocolates

Corazones de conversación

Conversation hearts

Osos de canela

Cinnamon Bears

North Carolina
Caja de bombones en forma de corazón

Heart-shaped box of chocolates

Maíz de cupido

Cupid corn

Corazones de conversación

Conversation hearts

North Dakota
Corazones de conversación

Conversation hearts

M & Ms
Caja de bombones en forma de corazón

Heart-shaped box of chocolates

Ohio
Caja de bombones en forma de corazón

Heart-shaped box of chocolates

Maíz de cupido

Cupid corn

Corazones de conversación

Conversation hearts

Oklahoma
Corazones de conversación

Conversation hearts

Caja de bombones en forma de corazón

Heart-shaped box of chocolates

Rosas de chocolate

Chocolate roses

Oregon
Rosas de chocolate

Chocolate roses

M & Ms
Caja de bombones en forma de corazón

Heart-shaped box of chocolates

Pennsylvania
M & Ms
Caja de bombones en forma de corazón

Heart-shaped box of chocolates

Corazones de conversación

Conversation hearts

Rhode Island
Corazones de chocolate

Chocolate hearts

Caja de bombones en forma de corazón

Heart-shaped box of chocolates

Corazones de conversación

Conversation hearts

South Carolina
Corazones de conversación

Conversation hearts

Caja de bombones en forma de corazón

Heart-shaped box of chocolates

Caja de regalo Ghirardelli
South Dakota
Besos de Hershey,
Corazones de conversación,
Corazones de chocolate
Tennessee
Corazones de conversación

Conversation hearts

Caja de bombones en forma de corazón

Heart-shaped box of chocolates

Bolos de bayas silvestres
Texas
Besos de Hershey

Hershey Kisses

Caja de bombones en forma de corazón

Heart-shaped box of chocolates

Corazones de conversación

Conversation hearts

Utah
Besos de Hershey

Hershey Kisses

M & Ms
Corazones de conversación

Conversation hearts

Vermont
Corazones de conversación

Conversation hearts

Caja de bombones en forma de corazón

Heart-shaped box of chocolates

Collares de caramelo

Candy necklaces

Virginia
Corazones de conversación

Conversation hearts

Caja de bombones en forma de corazón

Heart-shaped box of chocolates

Maíz de cupido

Cupid corn

Washington
Caja de bombones en forma de corazón

Heart-shaped box of chocolates

Rosas de chocolate

Chocolate Roses

Corazones de conversación

Conversation hearts

Washington, D.C.
Caja de bombones en forma de corazón

Heart-shaped box of chocolates

Corazones de conversación

Conversation hearts

Osos de canela

Cinnamon Bears

West Virginia
Corazones de conversación,
Maíz de cupido

Cupid corn

Collares de caramelo

Candy necklaces

Wisconsin
Corazones de conversación,
Besos de Hershey

Hershey Kisses

Caja de regalo de Ghirardelli
Wyoming
Rosas de chocolate,
Corazones de conversación

Conversation hearts

Caja de bombones en forma de corazón

Heart-shaped box of chocolates
[adrotate group="1"]