Double Bridge Run atrae a miles de personas a Pensacola
Por Maria Juliana Ayala
Alrededor 4,300 personas se dieron cita el pasado 1 de Febrero en la 23nd Double Bridge Run en la ciudad de Pensacola. La carrera estuvo dividida en dos categorías donde corredores de todas las edades tuvieron la oportunidad de disfrutar del aire libre y la belleza natural de Pensacola, Gulf Breeze y Pensacola Beach. El evento fue organizado por Pensacola Sports.
Los corredores de la categoría 15k hicieron un recorrido atravesando dos puentes por la Bahía de Pensacola y Santa Rosa Beach Sound. El punto de salida estuvo ubicado en el centro de Pensacola. La carrera incluyó el distrito histórico y Bayfront Parkway, Gulf Breeze y como punto de llegada la playa de Pensacola.
Para la categoría 5K corredores y caminantes tuvieron la oportunidad de recorrer desde Gulf Breeze hasta la playa de Pensacola en la isla de Santa Rosa y la costa de Las Islas del Golfo.
Julián Gómez Colombiano y su esposa quienes participaron en la categoría 5K comentaron, "Vivimos y trabajamos en Pensacola así que nos gusta participar en este tipo de eventos deportivos y al mismo tiempo divertirnos."
La alcaldesa de Gulf Breeze Cherry Fitch expresó estar feliz con este tipo de eventos deportivos.
"Nosotros, Gulf Breeze, hemos acompañado esta carrera por muchos años. Es grandioso ver no solo a muchos de nuestros residentes sino también a mucha gente de otros lugares que vienen a correr y tienen la oportunidad de conocer Gulf Breeze, algo muy positivo para nosotros."
"Aunque la carrera no está apoyando a ninguna causa, parte de los ingresos están destinados para algunas de las organizaciones de nuestros voluntarios, donaciones específicas y para otros programas que nosotros dirigimos" comenta Ray Palmer presidente de Pensacola Sports.
La carrera contó con el apoyo de la policía del área, "Son varios los departamentos de policía que colaboraron en este evento, todo comenzó a organizarse desde las 3:30 a.m." comentó el Capitán Kerstan Tatro del Departamento de Policía de Gulf Breeze.
En la carrera 15K en la división femenina Kelsey Hodges de 27 años de Huntsville, Alabama se llevó el primer puesto con un tiempo de 54:38 minutos. Tyler McCandless con 33 años de Boulder, Colorado, ganó la división masculina en un tiempo de 45:07. ¡Felicitaciones a todos los corredores!  
Double Bridge Run brings thousands to Pensacola
By Maria Juliana Ayala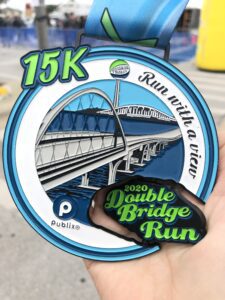 Around 4,300 people gathered on February 1 at the 23nd Double Bridge Run in the city of Pensacola. The race was divided into two categories where runners of all ages had the opportunity to enjoy the outdoors and the natural beauty of Pensacola, Gulf Breeze and Pensacola Beach. The event was organized by Pensacola Sports.
The runners of the 15K category took a tour crossing two bridges through the Pensacola Bay and Santa Rosa Beach Sound. The starting point was in Downtown Pensacola. The race included the historic district and Bayfront Parkway, Gulf Breeze and Pensacola Beach as a point of arrival.
For the 5K category, runners and walkers had the opportunity to travel from Gulf Breeze to Pensacola Beach on the island of Santa Rosa and the Gulf Islands coast.
Julián Gómez, Colombian, and his wife, who participated in the 5K category commented, "We live and work in Pensacola so we like to participate in this type of sporting events and at the same time have fun."
The mayor of Gulf Breeze Cherry Fitch said she was happy with these kind of sporting events.
"We, Gulf Breeze, have hosted this race for many years. It's great to see not only many of our residents but also many people from other places that come to run and have the opportunity to meet Gulf Breeze, something very positive for us."
"Although the race is not supporting any cause, part of the proceeds are destined for some of our volunteer organizations, specific donations and for other programs that we direct," said Ray Palmer President of Pensacola Sports.
The race was supported by the area police, "There are several police departments that collaborated in this event, we began to set-up today at 3:30 a.m." said Captain Kerstan Tatro of the Gulf Breeze Police Department.
In the 15K race, the 27-year-old Kelsey Hodges from Huntsville, Alabama took first place in the female division with a time of 54:38. Tyler McCandless, 33, of Boulder, Colorado, won the men's division with a time of 45:07. Congratulations to all runners!  
[adrotate group="1"]