Cursos de emergencias médicas ahora disponibles para estudiantes de secundaria
CONDADO DE OKALOOSA, Fla. – El Departamento de Educación Técnica y Profesional de la Escuela del Condado de Okaloosa comenzará un curso de Respuesta Médica de Emergencia (EMR) el próximo año escolar (2020-2021). La clase estará disponible para juniors y seniors que asisten a las escuelas secundarias Choctaw, Fort Walton Beach y Niceville. El programa se ofrece actualmente en Crestview High School.
Este programa preparará a los estudiantes con los conocimientos y habilidades básicos para manejar una variedad de emergencias médicas y emergencias relacionadas con traumas a través del aprendizaje práctico basado en proyectos. Las áreas de estudio incluyen introducción a los sistemas de servicios médicos de emergencia, roles y responsabilidades de EMR, anatomía y fisiología, emergencias médicas, trauma y consideraciones especiales para trabajar en el entorno prehospitalario.
El programa EMR está asociado con el Departamento de Servicios Médicos de Emergencia del Condado de Okaloosa y se reúne fuera del campus en el Centro de Operaciones de Emergencia de Vanguardia del Condado en el campus de Northwest Florida State College (NWFSC). Los estudiantes interesados en el programa deberán tomar cursos de dos años en el programa EMR y uno "sin clase" para viajar a NWFSC (tres períodos en total por año). Se proporcionará transporte al programa fuera del campus. Consulte a su consejero vocacional para obtener más información.
Los programas CTE del Condado de Okaloosa están abiertos a todos los estudiantes elegibles de secundaria (high school) y preparatoria (middle school) del distrito.
Emergency Medical Responder courses now available for high school students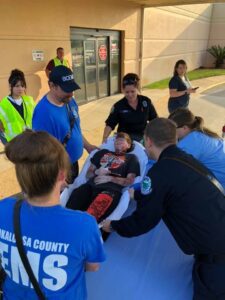 OKALOOSA COUNTY, Fla. – Okaloosa County Schools Career and Technical Education Department will start an Emergency Medical Responder (EMR) course next school year (2020-2021). The class will be available for juniors and seniors that attend Choctaw, Fort Walton Beach and Niceville High Schools. The program is currently offered at Crestview High School.
This program will prepare students with the basic knowledge and skills to manage a variety of medical and trauma-related emergencies through hands-on, project-based learning.  Areas of study include an introduction to emergency medical service systems, roles and responsibilities of EMRs, anatomy and physiology, medical emergencies, trauma, and special considerations for working in the prehospital setting.
The EMR program is in partnership with Okaloosa County's Emergency Medical Services department and meets off campus at the county's state-of-the-art Emergency Operations Center on the campus of Northwest Florida State College (NWFSC). Students interested in the program will be required to take two year-long courses in the EMR program and one "no class" for travel time to NWFSC (three periods total per year). Transportation to the off-campus program will be provided. See your guidance counselor for more information.
Okaloosa County CTE programs are open to all eligible high school and middle school students in the district. 
[adrotate group="1"]