Locales hablan sobre Venezuela
MOBILE, Ala.—El jueves 28 de septiembre, Las organizaciones de Latin-American Student Association, PSI Foreign Languages Honor Society de la Universidad de South Alabama y la organización advócate "Belong" presentaron un panel de ciudadanos Venezolanos. Estos ciudadanos contaron sus historias personales con respecto al disturbio que ocurre en su país. Estas historias incluyeron la pérdida de un buen amigo al gobierno y la pérdida de comunicación de sus familiares.
Ya hace una década que Venezuela está enfrentando este estado de disturbio. No hay suficiente comida, ni medicamentos, ni agua, ni otras necesidades básicas. Actualmente, se les están vendiendo bultos llenos de una bolsa de harina, frijol, y arroz una vez al mes. Para recibir estos bultos, los ciudadanos están obligados a pasar horas o hasta días parados en colas muy largas para además pagar precios demasiados altos por estas pocas cosas.
Según el panel, el disturbio empezó en 1998, cuando Hugo Chávez trato de disfrazar el comunismo como socialismo. También creen que el gobierno astutamente empezó a dividir a los ciudadanos falsamente culpando a grupos diferentes por los problemas del país. Sin embargo, no parece que el gobierno es el que tiene todo el poder. Es más, el panel menciono que los líderes de los carteles de droga son los que tienen una influencia enorme en el gobierno.
Muchos de los que atendieron el evento tuvieron preguntas de como se les puede ayudar a esta gente desesperada. A esto, los del panel no les recomendaron visitar el país debido al peligro inmenso de los carteles. Tampoco piensan que involucrar al ejército es la solución. Para ellos lo más importante es traer luz a esta situación e informar el resto del mundo de lo que está pasando. Para ayudar a la gente directamente, la Universidad del Sur de Alabama estará recolectando artículos para mandar a Venezuela durante todo el mes de octubre. Si usted está interesado en donar algunos artículos, por favor contacte al presidente de la organización de latinoamericanos, Erick Romero en la dirección de correo electrónico emr1322@jagmail.southalabama.edu.
Locals talk about Venezuela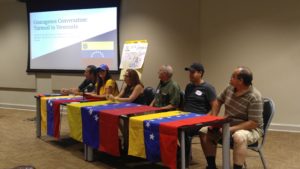 MOBILE, Ala.—On Thursday September 28, the University of South Alabama's Latin-American Student Association and PSI Foreign Languages Honor Society in conjunction with the "Belong" advocacy hosted a panel of Venezuelan citizens. These citizens recounted their personal stories regarding the turmoil including losing a good friend to the government and the lack of communication from family members.
For the past decade, Venezuela has been in a state of turmoil. There are shortages of food, medicine, water, and other basic needs. Currently Venezuelans are being sold sacks filled with a single bag of flour, beans, and rice once a month. They are forced to stand in long lines for hours or even days just to pay outrageous prices for these items.
According to the panel, much of this turmoil began in 1998 when Hugo Chavez tried to disguise communism as socialism. They also believe that the government cleverly began dividing the country by falsely blaming different groups for the country's troubles. However, it does not seem that the government has all the power. In fact, the panel mentioned the strong influence that the drug lords had on these leaders.
Many of the attendees had questions on how we could help these desperate people. The panel does not recommend personally visiting the country as the drug wars are incredibly dangerous. They also do not think that military force is the answer. Instead, they urged the attendees to spread the word on what is occurring so more people can become aware of the situation. To aid these people directly, the University of South Alabama will be collecting items to send to Venezuela through the month of October. If you would like to make a donation, please contact the Latin-American Student Association president Erick Romero at emr1322@jagmail.southalabama.edu.