La Movida tiene como objetivo informar y registrar a los latinos para votar
A lo largo del mes de agosto, los voluntarios estarán en varios lugares en todo el noroeste de la Florida proporcionando información importante y gratuita en español y registrando a los ciudadanos para votar. Gracias a la cooperación de varios propietarios de negocios latinos y un ejército de voluntarios, once sitios albergarán centros de información temporales cada fin de semana del mes para una serie de eventos en el área de cuatro condados llamada "La Movida."
Cada evento proporcionará información para llevar a casa, incluida la nueva guía en español sobre desastres preparada para los residentes de la Costa del Golfo y llena de valiosos consejos sobre cómo prepararse, qué esperar durante y los pasos a seguir después de un desastre, especialmente los huracanes.
Los ciudadanos pueden registrarse para votar en estos sitios móviles y hacer preguntas sobre cómo votar en la Florida. La información de salud también estará disponible.
"Con la reciente llegada de nuevos residentes de Puerto Rico y otros hispanohablantes, la necesidad es cada vez mayor de proporcionar acceso a la información", dijo Grace Resendez McCaffery, propietaria del periódico La Costa Latina. "Ayudar a mantener a los miembros de nuestra comunidad seguros y conscientes de los recursos locales es una prioridad."
Los eventos semanales se llevarán a cabo en los siguientes lugares y horarios:
Sábado 3 de agosto a las 4 p.m. – 7 p.m.
Rincon Latino, 3201 Tippin Ave., Pensacola
Taqueria Olgy's, 5222 North W. St., Pensacola
Sábado 10 de agosto a las 4 p.m. – 7 p.m.
Tienda La Mexicana, 31 W.Nine Mile Rd., Pensacola
Taqueria El Asador, 7955 N. Davis Hwy., Pensacola
Sábado 17 de agosto a las 4 p.m. – 7 p.m.
Joe's Caribe, 6224 N 9th Ave., Pensacola
Taco Rock, 5454 Pensacola Blvd., Pensacola
Domingo 18 de agosto, 2 p.m. – 5 p.m.
Mis Tamales, 8111 Navarre Pkwy., Navarre
Pimerica, 5205 Dogwood Dr., Milton
Sábado 24 de agosto, 11 a.m. a 2 p.m.
Supermercado Mi Gente, 699 Beal Pkwy NW, Fort Walton Beach
Restaurante mexicano Azteca, 789 N. Ferdon Blvd., Crestview
Sábado 31 de agosto, 11 a.m. a 2 p.m.
Supermercado La Chalupita, 3422 US-98, Playa Santa Rosa
La Movida aims to inform and register Latinos to vote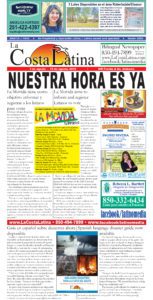 Throughout the month of August, volunteers will be at various locations throughout Northwest Florida providing important and free information in Spanish and registering citizens to vote. Thanks to the cooperation of various Latino business owners and an army of volunteers, eleven sites will host temporary information hubs each weekend of the month for a series of events throughout the four-county area called "La Movida."
Each event will provide take-home information including the new Spanish language disaster guide prepared for residents of the Gulf Coast and filled with valuable tips on how to prepare, what to expect during and steps to take after a disaster especially hurricanes.
Citizens can register to vote at these mobile sites and ask questions about voting in Florida. Health information will also be available.
"With recent arrivals of new residents from Puerto Rico and other Spanish speakers, the need is growing to provide access to information," said Grace Resendez McCaffery, owner of La Costa Latina Newspaper. "Helping to keep our community members safe and aware of local resources is a priority."
The weekly events will be held at the following locations and times:
Saturday, August 3, 4 p.m. – 7 p.m.
Rincon Latino, 3201 Tippin Ave., Pensacola
Taqueria Olgy's, 5222 North W. St., Pensacola
Saturday, August 10, 4 p.m. – 7 p.m.
La Mexicana Grocery Store, 31 W. Nine Mile Rd., Pensacola
Taqueria El Asador, 7955 N. Davis Hwy., Pensacola
Saturday, August 17, 4 p.m. – 7 p.m.
Joe's Caribe, 6224 N 9th Ave., Pensacola
Taco Rock, 5454 Pensacola Blvd., Pensacola
Sunday, August 18, 2 p.m. – 5 p.m.
Mis Tamales, 8111 Navarre Pkwy., Navarre
Pimerica, 5205 Dogwood Dr., Milton
Saturday, August 24, 11 a.m. – 2 p.m.
Mi Gente Supermarket, 699 Beal Pkwy NW, Fort Walton Beach
Azteca Mexican Restaurant, 789 N. Ferdon Blvd., Crestview
Saturday, August 31, 11 a.m. – 2 p.m.
La Chalupita Supermarket, 3422 US-98, Santa Rosa Beach

[adrotate group="1"]